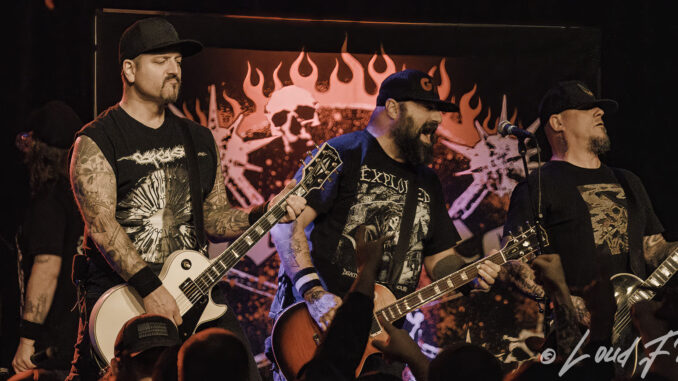 A surprise guest showed up at the Hatebreed show at Seattle's Shobox. Any guesses who?
This band with hardcore roots have arrived in Seattle to celebrate 20 years of the Perseverance album that was released back in 2002.  They have brought along some solid tour support tonight from Dying Wish, Bodysnatcher as well as Gatecreeper.  Last tour we saw them in Seattle, we saw the 25 years of Hatebreed back in 2019. 
Do you remember the video for "I will be Heard"?  That was a much played hardcore anthem song along with "Perseverance" back in the early days videos on MTV .  Although they had a lesser known album at the time, called Satisfaction is the Death of Desire in 1997, I will say that Perseverance is when this band really broke out in 2002 and we are going to hear a lot of that album this night.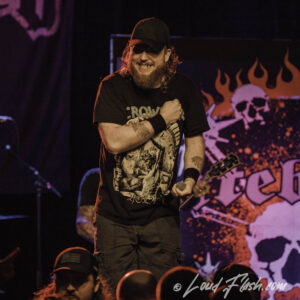 Hatebreed has had changes from back in 2002, but we still have Jamey Jasta (vocals), Chris Beattie (bass), Matt Byrne (drums) whom were all on the Perseverance album.  Guitar on Perseverance was with Sean Martin however, he left the band after the 2009 Supremacy album.  Currently they have Frank Novinec and Wayne Lozinak on guitar.
They have graduated to more of a more metal direction since Perseverance but the attitude and lyrical content are definitely embossed in the Hatebreed legacy with a discography that contains 7 albums to date.  The latest was released smack dab in the middle of the pandemic in 2020 called Weight of the False Self.  It's a crushing album with heavy riffs that they are known for.  I have yet to hear a bad album from these guys as all are solid, and yet I feel inspired with the lyrical content.  That is one thing I LOVE about hardcore in general, as lyrics and vocals are to the front of the mix. However, Hatebreed also have a knack for bringing the heavy guitars to the forefront along with it.  
If you think they are just doing the entire Perseverance album, think again, as they start the set with about a half dozen from some of the other albums.  Staple favourites like "Destroy Everything", "Live for this", "To the Threshold", "Looking Down the Barrel of Today" and one that I was really happy (and somewhat surprised) to hear off the newest album, "A Stroke of Red".   Love that song.  Only other I hoped they played was the title track to that album "Weight of the False Self"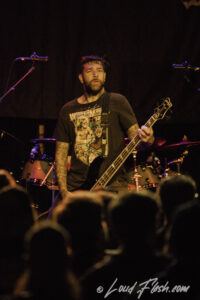 They keep the stage setup pretty much the same as with that last tour, with the same banner stands in front of their Marshall stacks.  Using the Showbox in-house lighting, with no fancy laser lights with these guys.  They don't need that, it just would be weird at a hardcore show anyway.  But the sound was head crushing and Jamey's voice was cutting through the distortion wall just fine.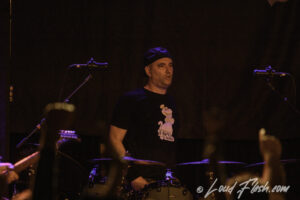 Jamey is one of my favorite front men in all of metal or hard rock.   The guy just plays the crowd so well and actually looks like he is having fun doing it.  He still 'brings it' when you consider what sort of energy is required for this type of music.  The near capacity (if not sold out) Showbox audience was definitely showing the appreciation back, with all the old school moshing and some crowd surfing.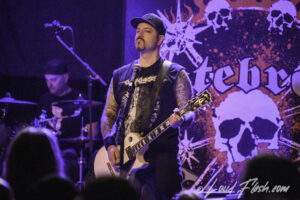 Mid set, Jamey then introduces a guest guitar player who turns out to be none other than former guitarist Sean Martin, who ends up playing the rest of the show along with Frank and Wayne starting with Perseverance.  I am beside myself in glory seeing all 3 of these hardcore masters playing together !  See them all in the same show was completely mind-blowing.   Seattle was LIT as it doesn't get any better than this! 
Hatebreed hit a good chunk of the album with highlights being  "Call for Blood", "Final Prayer", "Perseverance", "Healing to Suffer Again", "Hollow Ground", "Proven", "Remain Nameless" and the show ender with "I will Be Heard".  Jamie says "We don't play this shit ever".  I was definitely paying attention as he was right, these are deep cuts.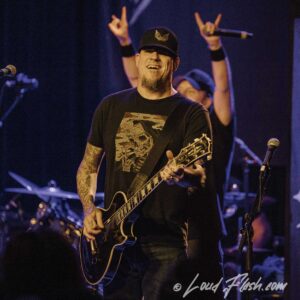 It was a great show this night.  I found the set list satisfying too, a couple more from the new album would've been nice but then again, this is dedication to Perseverance.  Seeing Sean Martin with them was a mega bonus too!  This show was FIRE!  Fantastic.   Hope we see them working on a new album after this tour.