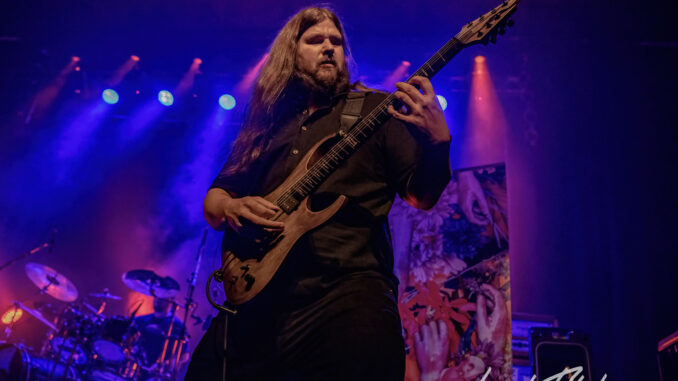 I must confess that I haven't seen or heard every metal band in existence. We all get stuck listening to the same stuff over and over and tend to have a core of go-to music.
This night at the Rickshaw Theatre I get a brand new experience from Century Media artists called Wilderun who are supporting Swallow the Sun.   This is Wilderun's FIRST visit to Vancouver and I am interested to see what they are all about.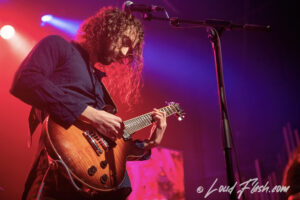 As the stage crew places a couple large beautiful backdrops of some really colorful flowers and with hands in them, l begin to wonder what sort of band is this.   Four long haired dudes from Boston Massachusetts stroll on stage and begin with one called 'Tyranny of Imagination' (from 2019's "Veil of Imagination") which starts off pretty fast then downshifts into a real headsmasher of a riff that gets the hair flying at the front barrier.
The music structure has a folk tinge, woven together with symphonic harmonies framed with progressive death metal. If I could compare them to any band, I would say they sound pretty close to Sweden's Opeth during Ghost Reveries era.  After this song concludes — I wonder how come I haven't heard of these guys before?
Next they move onto a brand new piece called 'Passenger' and vocalist/Guitarist Evan Berry announces that the new album ("Epigone") will be out in a few weeks on January 7 2022.  Some really beautiful guitar work by Wayne Ingram on this one and contains a nice searing solo.  The other two members keep it all running in time with Dan Muller (Bass) and Jon Teachey (Drums).
Song 3 is 'Far From Where Dreams Unfurl' which is another "Veil of Imagination".   Wow what a catchy hook of a riff at the start of this one.   The massive song is a 8 and a half minutes of masterful guitar work and almost sing along clean vocals.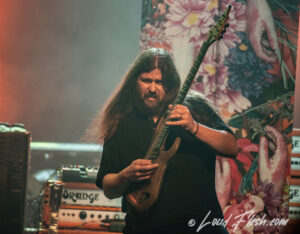 They end the set with 'Garden of Fire' (2015's "Sleep at the Edge of the Earth") where Evan goes back to the death vocals and flip back to clean vocals throughout the song.   This one is quite abit more extreme and with some fast drumming from Jon.  The almost 10 minute song is really an opus that showcases all the different music styles they do and its again, outstanding.
We got 4 extremely well crafted songs in this set, roughly 40 minutes long as they came to town backing up label mates Swallow the Sun.
I CANNOT WAIT to hear the new Wilderun album "Epigone"  and I really want to see them back here in Vancouver as a HEADLINER to play more the next go around!  This is a band to watch for and look for them to breakout large in 2022.