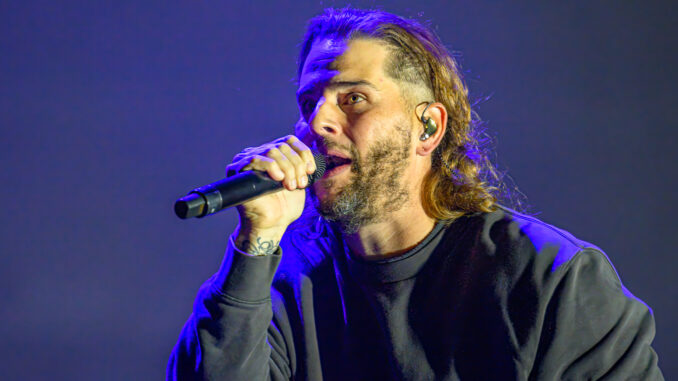 This Californian band released a new album lately; did we hear enough of it tonight?
So when you go to a concert, how many songs to you expect to hear from the band's latest album?  Well for sure, if it's a new band with one album, you're going to hear likely as much as they are allowed to play but what about a band that has been around for over 20 years?  From my experience over the last 30 years, typically the norm is about 3 songs in a headlining set of 16 songs, for those well established bands.  They know they have to play the songs that got them where they are, plus some deep cuts that will surprise us from time to time.    I can definitely see a band playing more than average if the new album is top end heavy with hits (tell me what you think in the comments below!).
Tonight at Rogers Arena in Vancouver, Live Nation presents headliners Avenged Sevenfold with support Kim Dracula and Alexisonfire.   As I scan around the audience on this Monday night, i see roughly 10000 fans here, the upper deck of the arena is closed.  So no, it wasn't a sell out, but not bad for a Monday of a long weekend.
The band has been quite solid since its inception with M. Shadows (Vocals), Zacky Vengeance (Rhythm guitar), Synyster Gates (lead guitar), Johnny Christ (Bass) and Brooks Wackerman (drums).   They have been around since the late 90's and have 8 albums in the discography.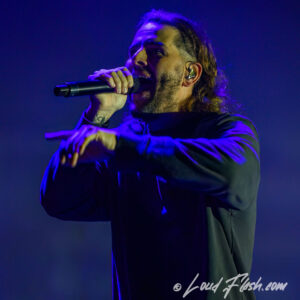 Avenged Sevenfold have just released a new album this past June 2023 called Life is but a Dream… From what I have been hearing and reading from fans of the band on the web, the reviews are kinda mixed with this one.   No doubt over the years they have been morphing genres all over the place on their albums from a metalcore like vibe to heavy metal (Hail to the King), to a prog metal direction (The Stage), and now with this new album, they are really alternative metal/rock and even pop.    It has made fans go a little cross-eyed as to what this band is up to but after listening to it myself, no doubt it's a eclectic album that is not a cookie cutter copy from album to album.  No harm in experimentation.
The show starts off with "Game Over" which is also the lead track from the new album, and all the guitar players on this stage that juts out in the middle, wider at the back (see pictures attached), with the drum set way in the back that is like a mile away in my eyes.  Not a fan of this stage setup because to me, the drummer is disconnected from the band.   Shadows strolls on the stage about a minute in, with a black ski mask ("We love you" and "Nobody" embroidered on it), singing the frantic like lyrics that midway stops on a dime that gets slow towards the end.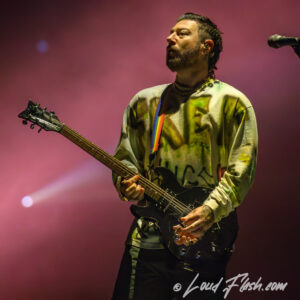 "Mattel" is next which is another heavy one, that could easily incite a mosh pit, but since this song is quite new, we don't see one as of yet.
Song 3 is "Afterlife" from the Avenged Sevenfold album  (2007), which is more of a conventional rocker that I think most are familiar as the fans eat it up and happily recover after the first 2 songs.  Synyster is ripping on guitar tonight, I mean this guy can really cut it on the guitar.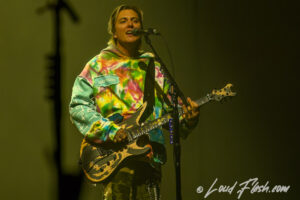 Song 4 is a really heavy song I really dig "Hail to the King", one of the heavier songs we hear tonight and my favorite of the evening.   I wasn't alone, as a lot of others enjoyed it with the fist pumping evident on the floor.
Song 5 we are back with another from the new album, "We Love You", which keeps the metal pumping heavy from Zacky and Synyster's guitars.   This song gets ridiculously fast and heavy, then near the end hits a crescendo, then drops to clean guitar and bluesy guitar in the last minutes.   I enjoyed that one.
Another highlight was Song 7, "The Stage", which is a 8 minute song that features more great playing from both guitarists, but Synyster is tearing it up tonight with his solo work.   There was some commentary prior to the song where Shadow says people need to "be lifting each other up, not down, down, down".  He had a few messages like that during the evening which was very positive to hear.
"So Far Away" was next and was a slower song dedicated to former drummer Rev.  It was a hold up the cellphone moment for everyone.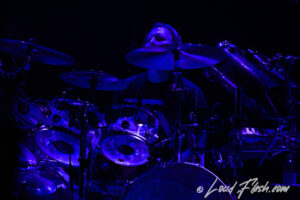 Song 9 "Nobody" is another form the new album.  I am digging the big screens behind them with the cool artwork and as well as camera footage of the band.  Sound and lighting are on par to most shows we see these days, no pyro tonight however.
Song 10 got another great reaction from the crowd with "Nightmare" from the 2010 Nightmare album.   Love watching the girl in the stands next to me yell "It's your fucking nightmare!".  Shadows vocals were on par that you would hear on the albums throughout this gig.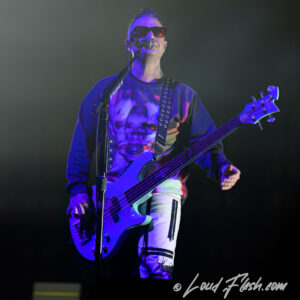 Only 1 song from the City of Evil (2005) album, which is widely regarded as one of the best from Sevenfold with the 'must play' of "Bat Country".  These guys dress alot more casual now unlike those days back unlike 2005 where they had that 'emo rocker' look going on.  Shadows even mentions it during the show that they prefer to concentrate on the music and don't really care for the dress up role much these days.
"Holy Confessions" is next when Shadows exclaims "I smell Marijuana".   We see some mosh pit action on this one with the metalcore riff.
Song 13 "A little Piece of Heaven", which is like watching a 8 minute Broadway play which is not only played out by the band through their song, but visually in the screens behind them.   This was quite well done.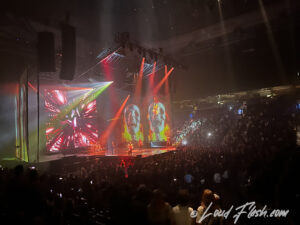 From there we get into encore songs, and to me, they really chose this time to experiment with 3 songs from the new album that are EXTREMELY different.  "G" sounded like a psychedelic rocker that is somewhat ingestible to me.    Then Song 15 with (O)rdinary, which is ironically anything but that and veers into a pop music direction.   I found that song a hard pill to swallow.  Along with Song 16, (D)eath, a slow ballad that really winded the show down to a stop.   Not the type most would be expecting, but is this preview of things to come for this band?  OR is this a demonstration that these guys can make a 90 degree turn and keep things interesting?  I am not sure myself, but I did see some leave and some eye rolling confusion here at this point in regards to the encore choices.
They did hit 7 songs from that new album out of the 16 that were played.   Was that too many for this controversial album?  In my opinion, I would say yes, I think the songs they hit in the main set were very engaging for the audience but the encore might of been a little too much of a twist.   Outside of that, the band definitely brings it with the first 13 songs, and overall it was a pretty solid show of entertainment considering some of their works are in the 6 to 8 minute range long.