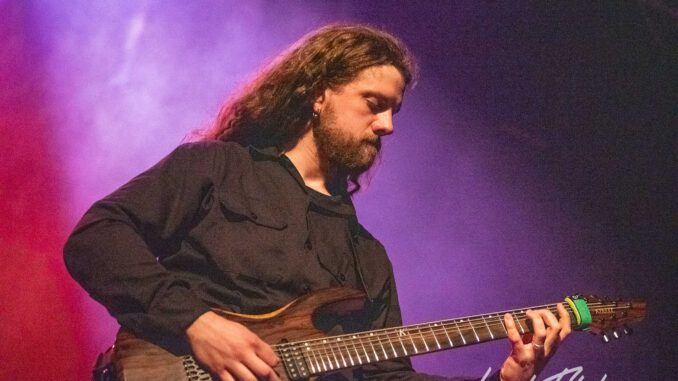 Metal Blade recording artists Rivers of Nihil make a stop at Vancouver's iconic Rickshaw Theatre and provide a taste of Progressive Death Metal.
This tour is in support of their critically acclaimed album from 2018 "Where the Owls know my name".  For this tour, the band will play that ENTIRE album from start to finish – all 10 songs in order.  Owls is an amazing album, lots of prog driven guitar solos, swift time changes, blast beat drumming and saxophone………umm ahh saxophone?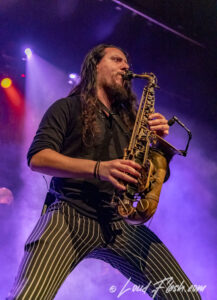 Ok, it's not entirely new to metal; I know Ihsahn has done this ('On the Shores'), and a few others.  However, you do hear the sax in a few songs with this album and they have made it work in the right places in the right songs.  I think that's important with incorporating wind instruments, they have their place and Owls definitely does it right.   After Brody Uttley (Guitar) and Jon Topore (Guitar) did their sound checks, out walks Patrick Corona with his Saxophone and kicks into a Kenny G lick (Songbird) that gets everyone excited.  Never thought I would see a bunch of headbangers (like me) get so wound up over Kenny G solo at a metal show.
The show starts with 'Cancer/Moonspeak', which is a short instrumental.  Then the band kicks into high gear with 'The Silent Life', a song that has a opening riff that just engulfs your brain and automatically has your head bobbing up and down.   Team colors for the band are –you guessed it– black and Lead Singer Jake Dieffenbach hits the front of the stage barking.  Shaking his fist at the crowd and everyone is eating it up as the mosh pit swells.  Adam Biggs on Bass (and does vocals on a few songs tonight too) is flailing his long mane in unison with the crowd.   The song slows and Patrick with the Sax makes his appearance, it sounds just like the album…..great sound this night that's for sure.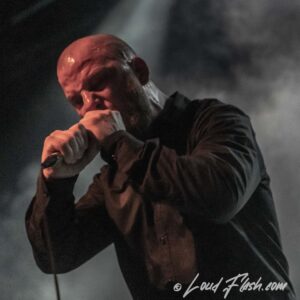 Song four, 'Old Nothing', WOW.  You want a clinic on drumming, you got it here folks.  Jared Klein is a jackhammer on the bass drum.   Blazing fast and could easily keep up to the deep rumbles of   Harley Davidson with some wild pig pipes.  Owls certainly delivers a tonne of blast beats that stop on a dime.    I am going to go on a limb here already and say this guy could be one of the best drummers I have heard in quite some time.   It was fantastic to see that he pulls it off wonderfully  on every song (check out the song 'Hollow' on Owls, you will get it).
Song eight 'Death is Real', we get some crazy shredding from Jon Topore.   Both Jon and Brody are top shelf guitarists.  The entire band is extremely talented and strong in every area in terms of their musicianship.  'Death is Real' also showcases Adam Biggs's bass playing, being quick and precise.
Song nine is the title track 'Where the Owls know my name'.  Patrick (Sax guy) lends his voice along with Jake at the start of this track.  Also a nice ripping Sax piece in here as well that blends in nicely.
After the 10 songs are over from Owls, they move on to a couple off their other 2 albums with 'Rain Eater' off "The Conscious Seed of Light" and 'Sand Baptism' off "Monarchy".  Both are SOLID songs to end a terrific display of the future of Progressive Death metal.  Soon you will know their name, much like the owls…