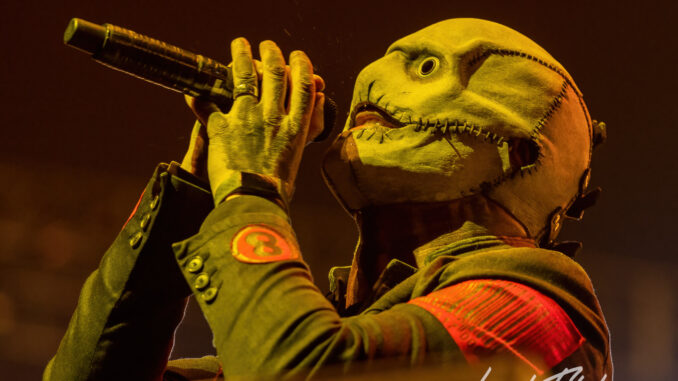 As I wait for this band to hit the stage — I think about the music that is being played while the roadies put things together.
Listening to Iron Maiden, Motley Crue, Judas Priest and Metallica over the PA system, I begin to wonder who is going to take the mantle for metal when these bands are gone?   Think about it, we don't get the big metal shows that we used to get in the 80's.  In fact, most of those bands that were headlining then, still headline now like Judas Priest, Metallica, Iron Maiden, Scorpions, Rob Zombie and Megadeth.   I am not seeing a lot of 'younger' bands breaking out and able to hold a headline position and tour large arenas around North America. If so, there isn't too many at this time that can sell the tickets, and if they do, they need some powerful support to make it fly.   Who is going to be the next bunch that can?  Gojira, Lamb of God, Behemoth, Amon Amarth?   Typically it takes a lot of cultivation and touring for years to build that fanbase and have a indepth Catalog to do these large tours.    Will we ever get back to the 80's level?  Only time will tell.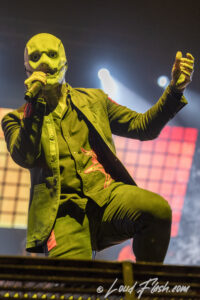 Tonight, we get Grammy award winners Slipknot, and they have been quite successful these past 10-15 years as headliners.   They have a pretty good crowd here of fresh new metal fans at Rogers Arena in Vancouver that are witnessing this Knotfest (Wage War and In this Moment supporting) for the first time.  When these boys from Des Moines Iowa first started going 'pro', they first played Vancouver in 1999 at the Croatian Cultural Centre, year 2000 – Commodore Ballroom, 2005 – PNE Forum,  2009 Pacific Coliseum, and in 2015 to the big house – – Rogers Arena.   They've paid their dues and have created 6 successful albums over the 23 years, with a new album is imminent in 2022.
They have kept the core lineup largely intact, with Shawn "Clown" Crahan (Percussion), Craig Jones (samples, the guy with the spiked head gear), Mick Thomson (guitars), Sid Wilson (turntables), Jim Root (guitars), Jay Weinberg (drums, son of Max Weinberg).   Couple of newcomers we didn't see in 2015 are Alessandro Venturella (bass, who replaced Paul Gray), and as well as Michael Pfaff (Percussion).   The masterful ringleader is Corey Taylor on vocals. He is such a charismatic and confident frontman for this band.   It would be hard to think of anyone else taking that over.   However, last weekend I saw his son 'Griffin' play with his band 'Vended' and he would be a shoe-in! Needless to say, that is quite an accomplishment to keeping the majority of these artists together and functioning for this long.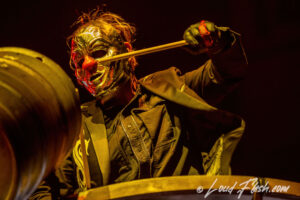 The key to Slipknot is high energy chaos for their shows, and this one is no exception. Blasting out with 'Disasterpiece' from the bands 2nd album (when I first got into them) "Iowa".   They didn't cheapen out as the stage is absolutely stunning; with large screens on either side, as well multiple screens above the stage.  Pyrotechnics a plenty during this show, and that starts with song 2 with their first major hit, 'Wait and Bleed' from the self titled 'Slipknot album.    Oddly (and this is not bad), they play a pretty equal amount of songs (20) from their entire catalog.   hey only play 2 songs from the newest album "We Are Not Your Kind" (Solway Firth, Unsainted).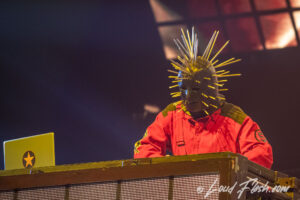 We do get a performance from an brand new one called 'The Chapeltown Rag' (song 5).   Believe me, they don't stray away at all with this one.  It's pretty crushing, and I really liked Jay's drumming on this taste of what is to come.
Some new masks and clothing we see tonight as well, mostly noticeable with Corey's face gear.  Damn, it is so creepy.  I have no idea how he sees through it, but they are all so used to the masks at this point.  Corey's voice is just as good as ever and still belts out the growling vocals but can also sing just as well.
Things really get noticeably crazy in the moshpit around song 9 with 'Psychosocial' and song 10 with The Devil in I.  I would like to say this is was my favorite 2 songs of the show since I was headbanging along to them.  Needless to say my neck was sore the next day!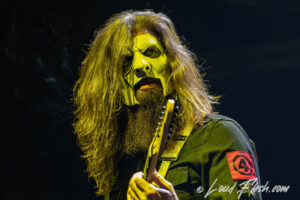 Song 13 is geared right down with the ballad-like 'Snuff'.  They really haven't played that since 2009.  I am sure it was timely, as everyone needed abit of a rest.  It's time to light up the flashlights on the cell phones,  and wave them up high.   Oh how I miss the days of taking a lighter to the show just for these moments.  Welcome to 2022.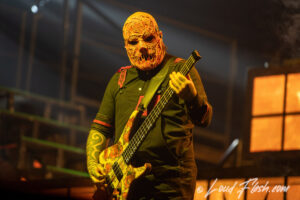 Song 14 felt a little flat in the setlist with 'Vermillion', as it seemed to put a awkward pause to the madness.  I love that song though, but maybe they were just easing us back into the mayhem with 'Duality','Custer' and 'Spit It Out' thereafter.  Corey was teasing the audience a few times with "How about one more song!" and whipping them up into a frenzy each time.
Then we go to overtime – or shall I say, the encore(s)….
They make the point clear with "People=Shit" with those lyrics completely in your face and bold on the big screens above the stage.  They end the night with a grinding slammer called 'Surfacing' from the first Slipknot album.   Starting the show at 9pm and going for 2 hours with 20 songs left just all us maggots pummeled in the Arena (Fans used to be referred to as 'Maggots').   Lots of value here and they definitely give you an idea of what sort of song writing depth you need to be one of the most well known bands on the planet.  Can't wait to hear the new album and see what momentum comes from that!