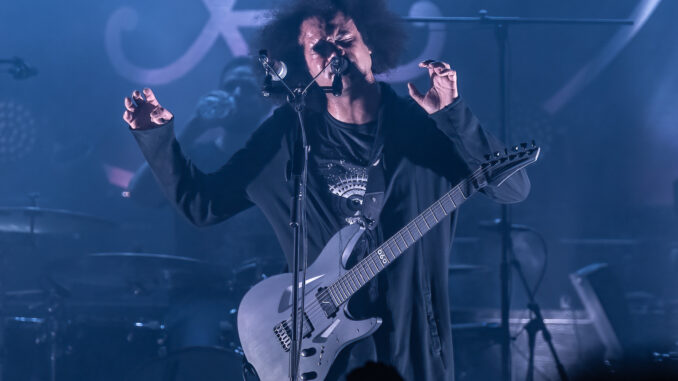 Hi Honey!  I am going to shoot Zeal & Ardor tonight "Who?" she says.
Don't get my wife wrong though.  She has a large Cradle of Filth tattoo across her tummy ('the cradle of filth' right?), so she is no stranger to extreme metal.   Being that she had some work of her own this night, she could not attend this almost Avant-garde metal tour package with Imperial Triumphant, Sylvaine and Zeal & Ardor whom all would perform at the Rickshaw Theatre in Vancouver.
"So who is Zeal & Ardor" she asks while watching a cooking show. Well if I were to describe them like music cake, then I would add a few cups of Gospel (yup), 4 tablespoons of Soul, a dash of the blues, and a whole bag of Black Metal, then bake in Hell. Viola!  Zeal & Ardor.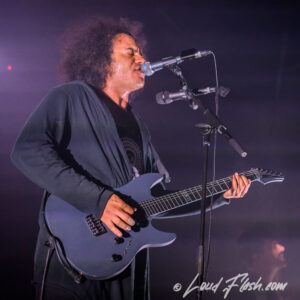 It's an incredible tasty mix of music that was conceived by Swiss-American Manuel Gagneaux in New York City and is now based in Switzerland.   Along with backup vocals from Marc Obrist and Denis Wagner, Tiziano Volante (Guitars), Lukas Kurmann (bass, but Mia Rafaela Dieu who is on hiatus, battles Gastroparesis) and Marco Von Allmen on drums.
First album in 2016 called Devil is Fine but to ME this band found itself with 2018's Stranger Fruit and continued on with the latest 2022 self-titled release Zeal & Ardor.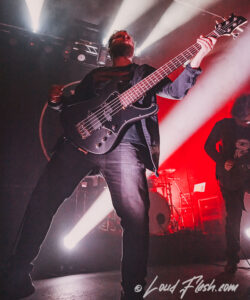 The show starts off with fog rolling behind the stage and the lights blazing with Manuel, Tiziano (guitar), Lukas (bass) and Marco on drums.  I was thinking that song 1 "Church Burns" would have a dramatic entrance to the backup singers Marc and Denis……but that never happened (?).   All we heard was taped backing vocals.  What happened to Marc and Denis?  Well, after song 4 "Ship on Fire" Manuel announced that both the guys were sick.  I look back and they have been sick for the past week or so as I don't see them performing in pictures since their Chicago date (?).   That was some sad news, as the taped vocals just didn't match that well sound-wise in the mix.  But like he said "We could've cancelled the dates but we moved forward, better than no show right?".   I was really looking forward to all 3 of them up front belting these songs out but no luck for us this night.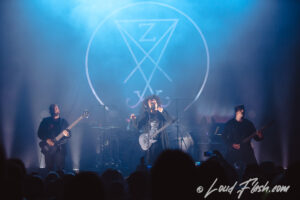 "Blood in the River"  song 6 is a perfect example of those 2 missed, but I see it as an opportunity to Tiziano and Lukas to get a lot of face time with the audience.  They did their best to get the audience involved, and both played well this night.   I enjoyed the guitar tones that Tiziano and Manuel were getting from the guitars especially.  Both Tiziano and Lukas were rocking it pretty hard and moving about the stage.
Speaking of the audience, they were also pretty rabid tonight too with some moshing happening in the pit when my favorite of the night, song 13 "Death to the Holy".   It has abit of single note guitar picking that is characteristic of the aura and ambiance of black metal.  It's pretty much a segway to the next one with "Trust No One" which has that bluesy beginning then gets ugly with Manuel's melodic black melodic death vocal phrasing.  I think it's an interesting dichotomy, with gospel vs the death vocals, and seems to work well even though the backup singers are unavailable.  Manuel's voice definitely has the balls in a live situation to go from those bluesy-gospel like styles to all out wicked seconds later. At times it could tend to get tiresome or predictable for some hardcore metal heads, but no worries, as they will add in a straight forward barn burner like song 15 with "Erase" to keep things a little different and the mosh pit churning.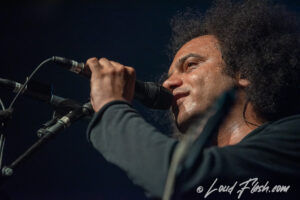 Manuel with 2 songs to go says he is not playing the encore game (meaning: leave the stage for a few minutes while everyone chants you back), so they played "I caught you" and the show ender of "Baphomet".  Right hand up! Left hand down!
So I think we all got a pretty good look at this band after close to 20 songs which I like to think is a Swiss Army knife loaded with all sorts of musical blades that they can draw from at anytime.  The majority of songs (9 of them) were from the new album Zeal & Ardor. Maybe I can talk my wife into coming out when their tour hits Vancouver next time.  This band won't be a secret too much longer…