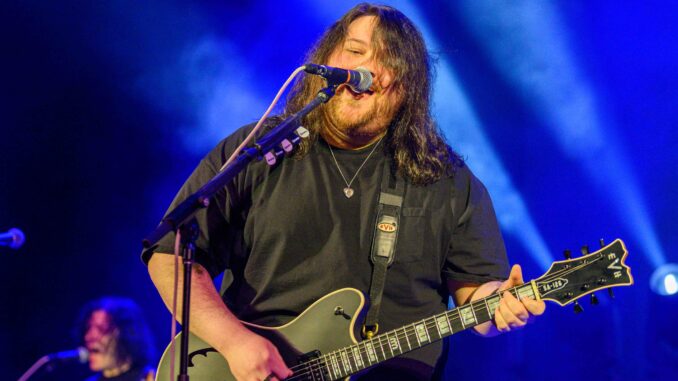 Wolfgang Van Halen or is it Wolfgang Led Zeppelin that was in Seattle this past week?
Eddie Van Halen, arguably one of the most talented  guitar players in the history of rock music passed away on Oct 6 2020.  Lucky for us, he left us a talented spawn by the name of Wolfgang Van Halen and tonight I finally get my chance to see how he does with his new band Mammoth WVH.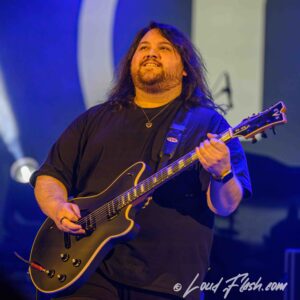 Mammoth WVH are at the Paramount Theatre this night with a close to full house in Seattle with Pistols at Dawn and headliners Alter Bridge.   There is a connection between Alter Bridge and Wolfgang as he had played with Mark Tremonti's own band called Tremonti.   Mammoth have released an album back in 2021  called Mammoth WVH  which did quite well on the charts including peaking at #1 on US Rock and US Hard Rock.
Like his father, Wolfgang is immensely talented and played all the instruments on that debut record, but touring, he can't to do it all (unless you clone him like his video "Don't Back Down").  His band consists of Frank Sidoris on guitar, who also is connected to Alter Bridge as he played with Myles Kennedy and the Conspirators.  The others in the band are Jon Jourdan (guitar), Ronnie Ficarro (Bass) and Garrett Whitlock (drums).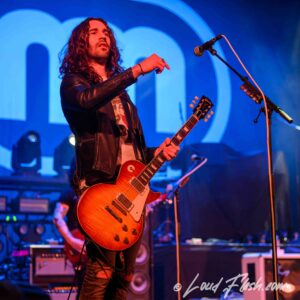 They start off with a hard rocker called "Mammoth" from the Mammoth WVH album and it's quite a explosive start that really highlights just about everything Wolfgang.   His vocals are smooth and accurate to the album, and with three guitar players onstage, we get a full guitar sound with no harmonies missing. It was a stunning start to the show that left a lot of "wow" looks in the audience.
Make no mistake though, this is NOT a carbon copy of his dad's band.  This hard rock style is more Foo Fighters than old brown sound Van Halen and from what Wolfgang has mentioned, it would be "boring" if they sounded like Van Halen 2.  You might hear some on "Mr Ed" (am sure you know who inspired that one)  near a solo at the end that Wolfgang tapped his way through however.   Enjoyed Garrett's drum playing tonight too, very solid and precise hits.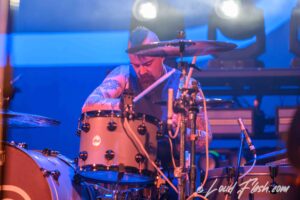 Song 4 "Stone" is a sludgy opus that stretches some 6:30mins long which slowed things down abit but is a great showcase to Wolfgangs vocals.
Song 5 "Distance" ventures into rock-pop territory, then kicks it back up a little with Song 6 "You're to Blame" which gets the audience re-connected.
Song 7 we get a special treat in Seattle as they debut a brand new song that was just released called "Another Celebration at the End of the World".     This song absolutely RIPS live!   Really catchy and Wolfgang's vocals are top notch here.  We all got excited near the end of the song with him doing some fret tapping like his dad.   This is a one ear bug of a song as I still have this one hooked in my brain.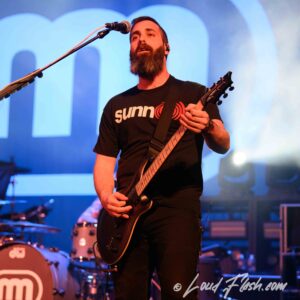 "Don't Back Down" is song 8 and last song of the night.  He left his last 2 best songs of the night and the fans in Seattle have their hands in the air on this one.   Here he introduced himself as Wolfgang "Led Zeppelin" and the rest of the band. He said that in good fun though, as he was accused by someone on Twitter of riding the Van Halen coat tails.   I don't think he has much to worry about as his musicianship speaks for itself, and will likely be in the coming future.   I didn't hear any Van Halen cover songs or some blond dude in chaps jumping from the drum riser!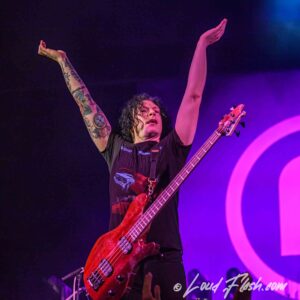 He really put some thought in the set list.  Start the show with a bang, throw some slow ones in, then bring it back to a resounding finish at the end.   Eddie once said that his kid was crazy talented, I mean all parents brag about their kids, but he certainly backed that up tonight.
Bravo Wolfgang.   I am looking  forward to the sophomore album,  Mammoth II (BMG), coming soon in 2023!