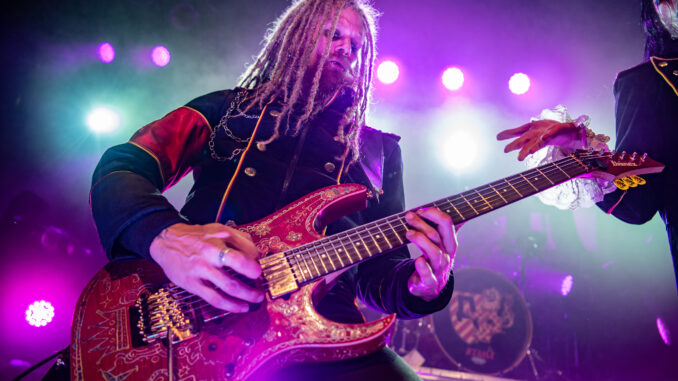 That Scandinavian freak show known as Avatar and presented by Live Nation parade into Vancouver's Commodore Ballroom.
The band was touring supporting their latest album Avatar Country – and it was only their second visit ever to Vancouver.  The first visit was with the In this Moment tour late 2017 when they played a mere three song set which it gave us just a peak of what this band is about.  This time around, we get a full hour 9 song set of this carnival that is best described as either Melodic Death metal or even Avant-garde metal.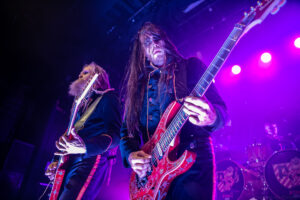 This band from Sweden is VERY unique, lets just say that!
They appear onstage fully decked out in clown corpse paint and marching band outfits starting off with "Murderer" from 2014's Hail the Apocalypse.   What a spectacle!  Even brought a cool lightshow with a huge "Avatar" light setup in the backdrop this time.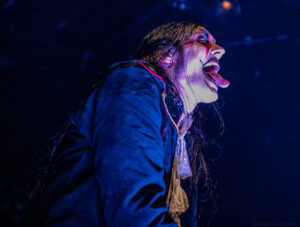 The ringmaster Johannes Eckerström on vocals is about as maniacal looking as one could get too, an extremely well rounded front man that commands the audience and is not afraid of cheeky banter between songs.  "Get in line Vancouver! Get in line Vancouver, Get in line Vancouver" then they churn out the track "Get in Line", with vicious headbanging from Guitarists Jonas Jarisby,Tim Ohrstrom and Henrik Sandelin on Bass.    Oh and lets not forget about John Alfredsson on drums, this dude stands up and smashes the cymbals like no tomorrow with "Paint me Red".  They end the gig with "Hail the Apocalypse", and nice ending chugger that leaves the audience in a sweat.
They earned a lot of new fans this night — including yours truly!  We can't wait to see them HEADLINE a show the next time!