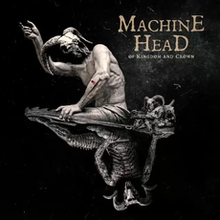 Robb Flynn's Machine Head has just released a very important album.  Does it sink or swim compared to all the other new releases in 2022?
Having been through some turbulence these last 5 or so years within the band, and as well as a previous album called Catharsis (2018) that some would say didn't quite meet the mark of his previous 3 albums. Phil Demmel and Dave McLain both left the band back in October of 2018.  A lot of people felt the band was doomed, including myself sadly. Robb really needed make Machine Head great again.
The band is 50% new blood with the addition of Wacław "Vogg" Kiełtyka.  Noteably with Vogg, he was a eye opening addition when this was announced in 2019.  He is also with the band Decapitated, and he is a much respected player who comes up with some really tasty modern metal riffs.  Also, they have new drummer with Matt Alston. However Etheos drummer Navene Koperweis likely had pounded skins on this new release. Bassist Jared MacEachern is also still in the band and wrote a lot of lyrics on this album too.
I've read that Robb had some inspiration from watching an Anime series called Attack On Titan and wrote this as abit of a concept album based off that.
Lets give this beefy 11 song album a spin and touch on some of these songs
Slaughter of the Martyr – Ok, this is a song that could easily been stolen from the Blackened album and follows that song formula.   That's no insult either; the song comes out slow clean guitar, then kicks in with a catchy riff.  I can see this song on the setlist on tour I bet.
Choke On the Ashes of Your Hate – Blaaarg !  This is totally heavy and FAST.  Not a doubt Vogg had some influence on that one, I can hear those modern metal tones and a BLAZING solo at the 2:30 mark.  This song is a mosh pit churner.
Become the Firestorm – Wow, if things were not ferocious with 'Choke…', this one is off the hook.   This song is one of the heaviest Machine Head songs you will ever hear. I am totally impressed.   Robb is sounding pretty vicious here with the vocals. The guitar sound is completely crushing too, sounds out of this world in my truck.  Hopefully I don't bruise my forehead on the steering wheel.   Solos, breakdowns, blast beats, its all here folks.
Overdose – Filler
My Hands are Empty – Whooooah wooooah, whooah whooah whoooooo, whoah, whoah.  Nice riff there, but I really enjoyed the drums on this one as they have a 'live' concert feeling to me.  It's geared down song from the previous 2 but still heavy.
Assimilate – Filler
Unhollowed – Some nice chuggy guitar on this one, dual vocals I hear too.   Nice guitar work 2/3rds of the way in with some dual guitar parts.  That should be fun to see live.
Kill Thy Enemies – You know with a song title like this, it wont be a ballad, another super heavy head banger.with more crazy soloes.  Love that one
No Gods, No Masters – This one has some nice clean vocals at the start with Robb with some nice pick work behind it.  Nice breakdown at the 2.55 mark that kept my finger off the fast forward button.
Bloodshot – BACK to the heavy stuff – might make some melodic death bands blush with envy..  I am serious, it's pretty damn good.
Rotten – Doesn't veer to far off from what just occurred with "Bloodshot".  Some serious deep picked palm mutes.  This one will shake your car rotten to the core when you blast this one.
Terminus – Filler
Arrows in Words From The Sky – Starts off kind of ballady, slower paced.  Well crafted with a lot of feelies in it.   BUT again my finger was just about to hit fast forward until I heard at the 3:10 mark with some modern djent like rumbling and that engulfed my brain.  Ya it returned to mellow at the end but that was interesting catch to keep me interested.  They do include an acoustic version of this song at the end of the album.
Exteroception – ok this is the instrumental of this album.  WOW, I am digging this hard..  It seriously kills and not a doubt who had their hands on writing this one right Vogg?  The sound is off the hook, with a face melting solo about ¾ through it.  THEN it gets even better and grindy with some modern metal riffs in the breakdown.  This is one of the best metal instrumentals on an album, and from anyone, I've heard in years.  Seriously, it will have your head banging and hair wind milling
Ok so let's just quickly summarize what just happened.  Sounds like Robb made the right staff changes here because the songs are much tighter but the guitar riffs really hook you and keep you interested throughout most of the album.   I really think they might of turned the corner bigtime with this album, and surely will make you forget what happened with Catharsis.   He appears to have looked back in the discography to where his best work was, obviously that being 1994's amazing Burn My Eyes and the highly acclaimed The Blackening from 2007.
Honestly, I didn't see the coming; I was really thinking this album would be Catharsis 2.0 and it would be buried on my hard drive.. But after 10 full spins of it, and still want to listen to it, it will not be ignored as one of the best of 2022.  I think he might of just made Machine Head great again.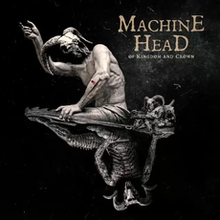 Machine Head – Of Kingdom and Crown
Released: August 26 2022
Produced by: Robb Flynn, Zack Ohren
Track List:
1.  SLAUGHTER THE MARTYR
2.  CHØKE ØN THE ASHES ØF YØUR HATE
3.  BECØME THE FIRESTØRM
4.  ØVERDØSE
5.  MY HANDS ARE EMPTY
6.  UNHALLØWED
7.  ASSIMILATE
8.  KILL THY ENEMIES
9.  NØ GØDS, NØ MASTERS
10. BLØØDSHØT
11. RØTTEN
12. TERMINUS
13. ARRØWS IN WØRDS FRØM THE SKY
14. EXTEROCEPTION (Instrumental)
15. ARRØWS IN WØRDS FRØM THE SKY (Acoustic)