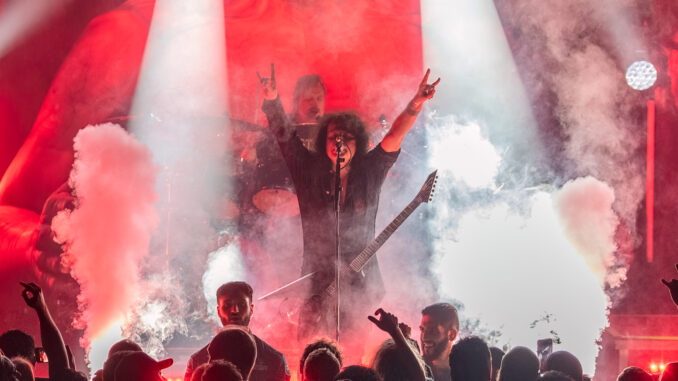 These German thrash titans are back on tour to wave the "Flag of Hate"…
We always talk about the "Big 4" of thrash metal with Metallica, Slayer, Megadeth and Anthrax.  But now that Slayer is gone, should a European band be considered?  I would definitely say yes to this question and my first pick would definitely be Kreator.  I know a lot would say either Exodus or Testament first, and they have good reason to, but over the last 10 years Kreator have consistently put out one great album out after another since 1985.
Kreator started in 1982 during the birth of thrash metal, and have put together 15 albums since their inception. Their latest release was in 2022 called Hate Über Alles (Nuclear Blast) and it's another solid collection of scathing metal that doesn't disappoint.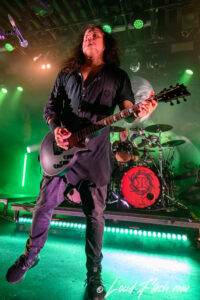 The band itself has 2 core members remaining since 1982, with Milie Petrozza on guitar and lead vocals, and Jurgen Reil on drums.  Also, they have Sami Yli-Sirnio who has been with them for 22 years on guitar, and a relative newcomer in 2019 with Frederic Leclercq on bass.   You may remember Frederic who was formally with DragonForce where he was with them from 2005 to 2019.
Tonight we are at the SOLD OUT Commodore Ballroom in Vancouver Canada, which was the first venue to sell out on the Klash of Titans tour. Kreator is with co-headliners Sepultura, with additional support from Death Angel and Spirit World. It's one amazing tour package and believe me, the first 3 bands cranked out solid sets prior to Kreator hitting the stage.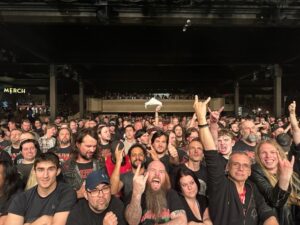 The curtain is down in front of the stage and I get abit of a peak, as I am getting ready to enter the photo pit before the curtain falls.  They are putting air in a massive blowup statue of what appears to be the centre character from the Terrible Certainty album cover that sits behind the drum kit.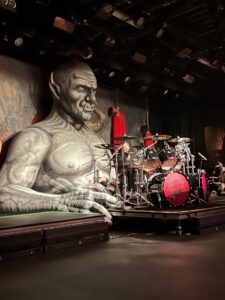 They start off with "Sergio Corbucci Is Dead" an acoustical instrumental recording that starts the show.  If this sounds like it's from a spaghetti western movie, your close, as Sergio directed a lot of those types of movies.  According to Mille,  "Sergio Corbucci was someone who was very anti-authoritarian in his films. In all his films he has a protagonist who rebels against the authorities. Often these characters are very obscure. I was wondering if there are still people like that who make really political films without trying to preach anything to you. It's a bit of a dig at the bands who don't speak their minds out of fear of losing fans." (from Album Review).
Next they get into the thrash with "Hate Über Alles" from Hate Über Alles and the crowd replies back with fist pumps and the mosh pit begins to gyrate, along with a "Wall of Death" at the center of the ballroom.  Oddly, this is the only track (other than the Sergio Corbucci recording) that we see them perform live this night from Hate Über Alles.  Usually we hear at least 3-4 songs from a new album but only this one tonight.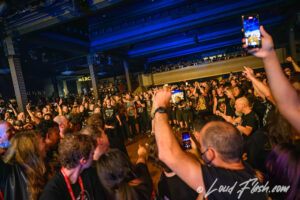 Kreator have such a deep discography to chose from however, and they go with one from 1990's Coma of Souls with "People of the Lie" a caustic song about those that spread hate.  Thereafter song 4 continues the relentless speed with "Enemy of God" from the Enemy of God (2005) that has that breakdown at about the 2 minute mark that gets everyone's head banging, including mine.
If you think they stop and do a ballad at this point, not a chance tonight, as they kick in with "Betrayer" from Extreme Aggression.  Mille's much younger voice on that album was much different but still, he sounds good at 55 years old.   As much as I love "Betrayer", my favorite all time Kreator song is "Toxic Trace" from Terrible Certainty .I have yet see them do that song live in Vancouver (at least in the last 20 years).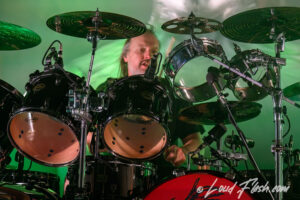 Song 6 with "Satan is Real", I think it would've been nice to hear that, then "Killer of Jesus" from Hate Über Alles but that was not to be, as "Hordes of Chaos" was next thereafter.   I love "Killer of Jesus, maybe next time!
The sound is crazy powerful this night as the Commodore has a premiere sound system onboard.  Lights were not to dazzling but there was lots of fog machines, and some spraying upwords.  How musicians tolerate getting blown in the face is beyond me.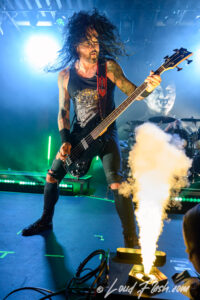 Frankly I would've rather heard more from Hate Über Alles than "666 – World Divided".  This is the only song on the set that I would've crossed off the setlist if I had a sharpie and longer arms.  How about "Phantom Antichrist" instead?  This was my only "meh" moment in the set.
But no worries!  "IT'S TIME TO RAISE THE FLAG OF HATE" as Mille waves the white Kreator Hate flag.  At this point Mille works the crowd over and gets the back and front crowd cheering to see who is louder. "Flag of Hate" is from Kreator's first album Endless Pain (1985).   Near the end of this barn burner of a song, Mille yells "One more time, Canadian style, CIRCLE PIT! CIRCLE PIT!  Do we have a mosh style compared to other countries?  Never noticed, maybe something that should be researched!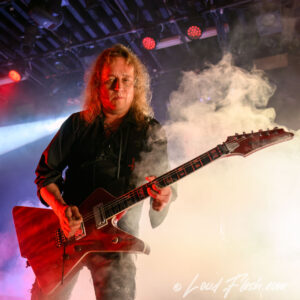 The night ends with "Violent Revolution" from Violent Revolution (2001) and lastly an ancient one, "Pleasure to Kill" from way back in 1986.  Both of those were the stamp of approval for most hardcore Kreator fans in attendance as a show ender.
With 11 songs, was that enough to feed the hunger of Kreator fans from the last visit in 2017?  Hard to say,   But since they are on a co-headliner with Sepultura I think everyone left the show quite satisfied.   Mille can still krank out the vocals and sound much like the albums from the last 10-15 years too.  I was pleasantly surprised how well he can still pull it off and bet he still has a good 5-7 years before his voice begins to crack up.   It was a stellar show from Kreator, who are widely regarded as one of the pioneers of Thrash metal.