The Kings of Brazilian thrash metal are in town as we are ready to Samba dance in the mosh pit.
Sepultura are back to Vancouver's SOLD OUT Commodore Ballroom, as part of the Klash of the Titans tour that features Spiritworld, Death Angel and co-headliners Kreator.   This is their first appearance since 2017, but this time around they are featuring their latest album called Quadra that came out during the pandemic in 2020.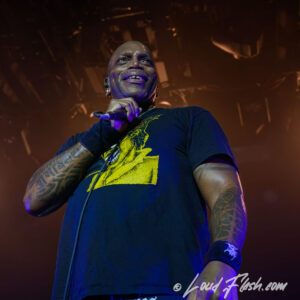 No lineup changes to report since 2011.  Paulo Jr. Is on bass, Andreas Kisser on guitar, Eloy Casagrande on drums and Ohio native Derrick Green is on vocals.  If your still hung up on Max Cavalera not in the band, give it up bro, that's so 1996.
Its 8:30pm and a recording of the song "Policia" is played prior, which is a cover by the band Titã found as an bonus track on 1993's Chaos A.D. album.
Thereafter the boys from Brazil breech the stage and start off with "Isolation" from the Quadra Album.   Its an explosive start as we see Derrick pacing the stage and Andreas headbanging like crazy, flailing his long mane of hair up and down.  Paulo is on the left side of the stage and Derrick is pacing back and forth with the mic in his hand.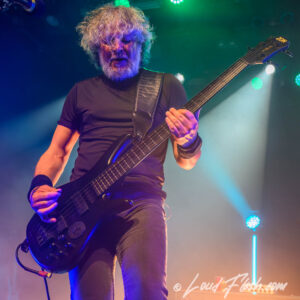 Next is "Territory" from 1993's Chaos A.D. album.  That riff at the 1 minute mark just engulfs your brain and makes you froth at the mouth, it's so heavenly, And Kisser does it to perfection 30 years later, and just being the lone guitarist.  Whereas, back in 1993, Max was also playing guitar. Albeit he just played the top 4 strings.   A couple of weeks ago, Mr Bungle also played "Territory" as an encore song.   It was good, but I think Kisser really digs deeper on the strings and makes it grind better, than Scott Ian and Trey Spruance could together.
Song 4 "Means to an End" from Quadra, is another mean one with some tribal drum playing influence from Eloy.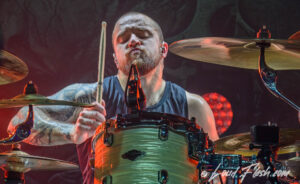 Song 5 "Kairos" has such a doom filled opening riff.  This one sounds great, with the powerful guitar tones from Kisser's amplifier.  It just punches you in the face live when Derrick adds in his angry vocals.
Song 6 – "Propaganda", that opening riff didn't sound quite the same as the recording but then it kicks in and you realize which song it is.  This is a song from Chaos A.D. I have no heard live in sometime, if at all.  That breakdown at the 2:30 minute mark has everyone viciously headbanging their heads off.
Thereafter, they do some more new stuff for the next 3 songs, "Guardians of Earth", "Ali" and "Agony of Defeat".  They are good, but I am just like everyone else that is just patiently waiting for more Songs from either the Chaos A.D. or Arise albums.  And we get our wish at song 10, with the classic "Refuse/Resist" and my favorite of the night "Arise".  Arise was the album that got me started with Sepultura, it was such an astonishing piece of work at the time 1991.  That was a time when grunge was really hitting its stride with Nirvana or Soundgarden.   If I wanted to flush Pearl Jam out of my head, i would crank "Dead Embryonic Cells" to 10 on my dad's Radio Shack stereo system.  That is a song I really wanted to hear tonight.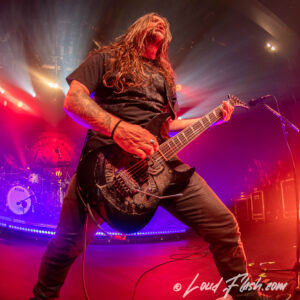 2 songs to go, and they stick to their roots with the album Roots.  Song 12 is Ratamahatta, with some nice technical tribal drum work again from Eloy.  If they didn't play "Roots" am sure Vancouver would've showed them a riot, and the Brazilians didn't diss their fans with a resounding finish to the set of 12 songs.  The moshpit was in full carnival mode.
So to sum it up, we got ALOT of songs from the Quadra album with 5.  To me, that was a couple songs too many and would've rather had a couple from earlier albums like Arise instead or some other deep cuts.  I was totally impressed with Kisser's guitar playing, damn he was doing a clinic on how to perform thrash!  The overall performance from all musicians was the absolute BOMB though, I was quite happy with the sound, as it was pummeling.  Derrick laid it all out there vocal wise too, he is a great front man that is for sure.   Highly recommend Sepultura, you can never go wrong with this legendary band.