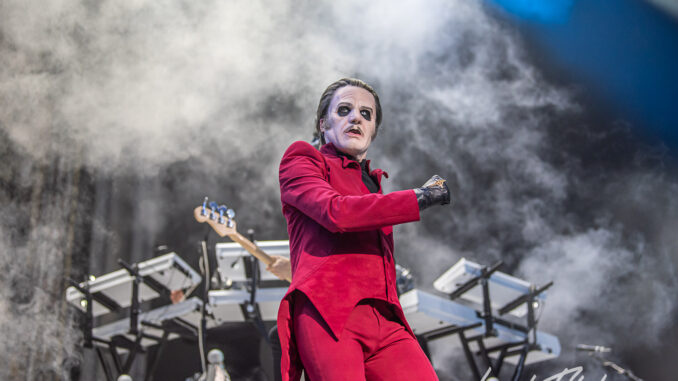 Highly acclaimed eccentric hard rock/metal band from Sweden, Ghost, make their way to Vancouver's Pacific Coliseum as part of their "The Ultimate Tour Named Death".
If you recall, this band is a Grammy award winner back in 2016 with "Cirice" as Best Metal Performance, among many other accolades and awards over the years.   They really hit the scene hard in 2010 with 'Opus Eponymous', and have released 3 albums since, with the latest being an album in 2018 called "Prequelle".   This is my first show ever with this band, and I am quite excited to see what all the fuss is about as they have been on my bucket list for years.
In case you are not too familiar with them, they have loads of mystique.   So much so, they make it very easy for me to tell you who they are, Tobias Forge (Cardinal Copia stage name) and the rest are the nameless ghouls that remain anonymous.   All the ghouls dress virtually the same with the same style of face mask and clothing.  Only real difference might be the musical instruments (3 guitar players, Bass, drummer, 2 on keyboards/FX), but nobody knows their identities, which I find fascinating.  Classification for the band to me is hard rock with definite metal overtones.  They can veer into ballads, psychedelic rock to pop.  Needless to say, they are not afraid to experiment in all the genres.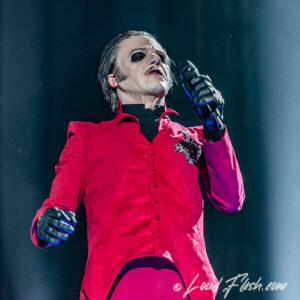 They start off with "Ashes" intro then the song "Rats" (off of Prequelle) . Tobias is wearing a all red suit and mask of course, his voice pretty much identical to the recording.    This song could easily fit in the 80's era with those sorts of melodies and guitar solos.    By the forth track we get to 'Faith', more of a heavier song but with their entire ambiance, they are more hard rock than anything.
Lots of great stage lighting and some pyro made their way into a few of the songs.  They don't skimp out on the entertainment value here folks.  The stage is also massive with a small part in the centre extending out in the middle.      Tobias has several costume changes and in between that the band gets to do some musical numbers before they rip into a established songs like 'Cirice' (song 7), or the epic "Year Zero'.  The show sound was very good as well, no issues there as it was top notch.
Song 17 of the night, "He is", a very textured ballad that slows things down abit, with more of that 60s or 70's feels to it   Some interesting mic break chats, especially thereafter of 'Mummy Dust' (song 17) asking the crowd "did your asses wobble?  Did we tickle your taint?" Yes I think these fans did wobble from what I saw!   During 'Mummy Dust' they shot out their ghost bucks of out a cannon, 666$ each, ok, its fake money, but it's fun!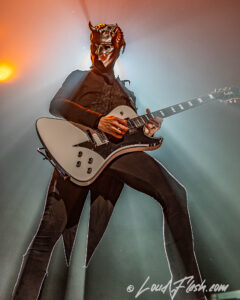 All in all it was a dazzling performance with 20 songs in the set.  "Kiss the Go-Goat, a song that would fit right into the 70's, some psychedelic keyboard work from a newly released 2 song album called "Seven Inches of Satanic Panic" (released Sept 13 2019).     The last 2 songs, with the first being 'Dance Macabre' (from Prequelle), is super hooky song with a definite dance feel built in.  They are not shy about it either with the rainbow colored lights during the song which had the crowd dancing in glee.  Lastly, their big hit "Square hammer', another well written, catchy foot stomper that left everyone on the floor breathless at the end of the show.   So, in the saying all this, I give this show a big thumbs up, you definitely have to witness the spectacle of a live Ghost show!