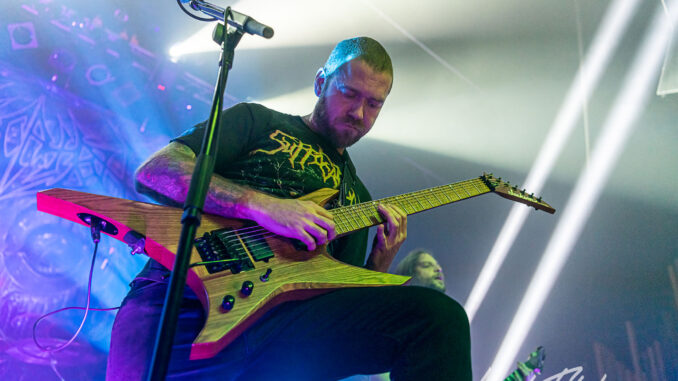 Metal Blade recording artists, Revocation, are back at Vancouver's Rickshaw Theatre with some high octane technical death metal.
Based out of Boston, they have released 7 albums since 2008 and are currently touring with the album called "The Outer Ones".   The band is comprised of David Davidson (lead vocals/guitar), Dan Gargiulo (vocals/guitar), Brett Bamberger (Bass) and Ash Pearson (Drums – former 3 Inches of Blood drummer).
I myself, am very interested to see what this band has in store for us tonight as they have been playing the ENTIRE new album (Outer Ones) from start to finish in exact order.   All the songs are extremely technical in nature with intricate solos and lots of high speed note picking.
The show starts with 20 seconds or so with some Slayer audio track, which is a brief warm up for what the crowd is going to get pummeled with for the next 90 minutes so.  You get that right at the start as the drums kick in and the high speed work in "Of Unworldly Origin".   David is a master of guitar (trained at Berklee College of Music), some beautiful solo work near the end of the song.  But really the whole band is intensely talented, with the precision and timing within 'Blood Atonement'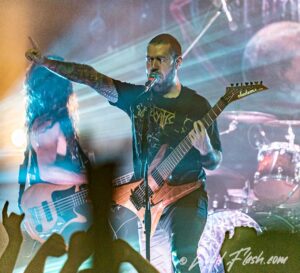 (3rd song).  They can go from high speed to dead stop, and then to a pretty bass solo and still remain CRUSHINGLY heavy.   You can certainly see some of the jazz influences from David seep into these songs such as song 4, 'Fathomless Catacombs'.  The guitar wizardry continues on and my personal favorite of the night with the instrumental "Ex Nihilo".
Lets talk about this stage setup.   They have lighted risers for the guitarists, which is really cool.   The light show was the major story here, lots of laser lights moving in all directions that really worked in enhancing the entire show.  I thought it was just amazing to be honest with you, well timed to the music made it a sight to behold.  This is usually something I see reserved for VERY large shows so I have to mention, I was simply impressed with show of this size at the Rickshaw Theatre.  Also particularly appropriate, was during 'Luciferous' (song 8) where David was lit up in a red hue light. The backdrop was a large version of the "Outer Ones"  record cover of some grotesque googly eyed space beast eating planets, pretty cool!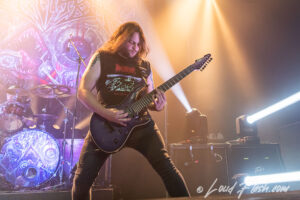 I Really dig this new album and comes off amazingly well live.   I love the speed tempo changes and the extremely heavy crunchie guitar riffs are thunderous.  They complete the entire album and play one more for the night, 'Dismantle the Dictator' (2009's "Existence is Futile").
All in all, this was a great show all around!  Go see them on tour if they are coming near you!