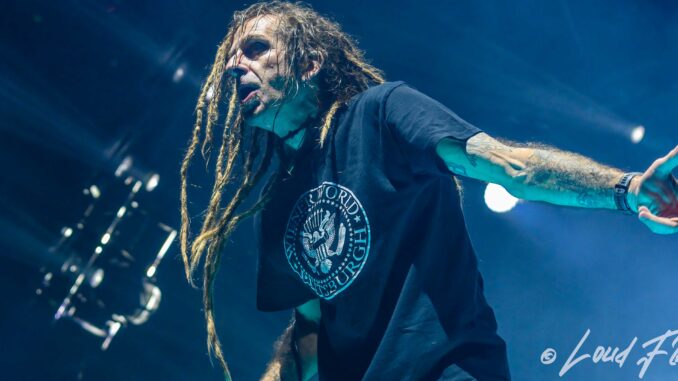 Lamb of God is missing one in their flock this night.  Can you guess who filled in?
Lamb of God (LoG) is headlining an absolutely stacked lineup of bands tonight at the Doug Mitchell Thunderbird Sports Centre in Vancouver.  The bands that are supporting this tour are quite formidable, starting with Fit for an Autopsy, Spiritbox and Killswitch Engage.
However by the time those three bands pummeled the Vancouver audience, Lamb of God was ready to finish them off with a devastating set.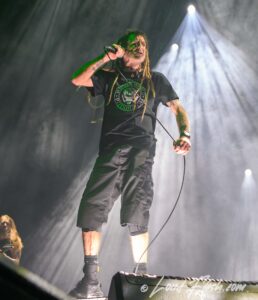 Lead vocalist Randy Blythe begins singing the clean start to "Momento Mori" from 2020's Lamb of God album from behind the backdrop.   With a loud bang the backdrop falls and we see a different member that we were not expecting in Vancouver.   We have John Campbell on bass, Mark Morton on guitar, Art Cruz (since 2019) on drums and Phil Demmel (Vio-lence, ex-Machine Head) on guitar?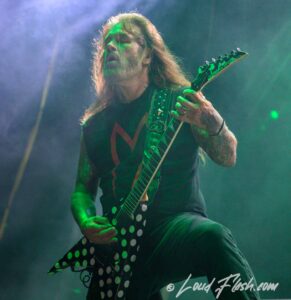 Where is Willie Adler on guitar?  Willie has been part of the US leg of the tour and has been rumored not to want to be vaccinated and was absent on the European tours this year as well.  BUT, Canada stopped the restrictions on Oct 1 (8 days prior to the show).    So my thought here is that maybe the visa was issued to Phil Demmel prior to that and that is why we got no Willie?  Or does Willie have passport issues? Either way, Phil Demmel is a VERY competent substitute for LoG and has filled in for those European tours that Willie could not attend.
The Richmond Virginia band just released a brand new album on October 7 called Omens (2022,Nuclear Blast) and we get a couple of the head crushing songs off that one being at Song 5 with "Nevermore" and song 9 with "Omens".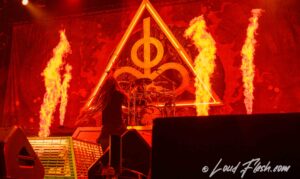 We saw LOTS of pyro, fog spraying, and excellent lights with a large stage for the guys to wander around on.  Phil is on the left side and Mark on the right side, and for the most part the stay on their respective sides.  The sound at Doug Mitchell was quite good and the stage was well done. This is the 2nd larger metal show here this year, and I can see more happening in the future at this venue.
But this band knows where their bread is buttered. They play 8 older songs out of the 15 this night,  like "11th Hour", "Ruin", "Laid to Rest","Walk Me to Hell", "Omerta", "Vigil", "Now You've Got Something to Die For" and of course "Redneck".  Did you know that British Columbia native Devin Townsend produced As the Palaces Burn (2003)?
Sadly, nothing was played from New American Gospel (2000).  I would've loved to hear "Black Label" or even better "The Subtle Arts of Murder and Persuasion", which hasn't been played in Vancouver since 2006.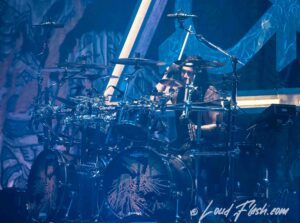 My favorite performance of the night would have to be 512 from VII: Sturm und Drang (2015).   Randy had a interesting comment at the start with "I wrote this about my extended vacation in Europe".   He had a very controversial stint in prison in the Czech Republic back in 2012 if you recall, read about the details here.
Randy is such a charismatic frontman however, he has no problem with his commanding vocal presence and throaty screams as in song 10 with "Contractor".  He will take the mic to the spotlight to talk to the audience or introduce songs, like the beginning of Song 8 "Omerta".  He is quite the seasoned performer at this point of his career.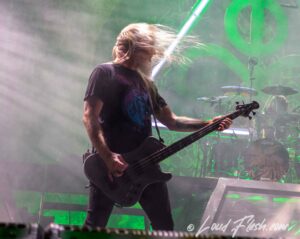 But the other boys of LoG put on quite a show and a very tight performance too.  Demmel along with Morton were both flawless on guitar, Art Cruz (who we haven't seen with LoG in Vancouver ) was outstanding especially on song 12 "Ghost Walking", John Campell with some of the whitest hair in metal was also keeping that bottom end on bass to LoG standards, even got a little solo in!
Near the end of the show with "Laid to Rest and "Redneck" being the last 2 songs played, there was one helluva huge mosh pit vortex on the floor area.  Wow, how could you of not been forced to be pulled into that if you were on the floor!   This was definitely one of the must see tours of 2022 and we were all happy to be at this one. I highly recommend and check out the new album Omens