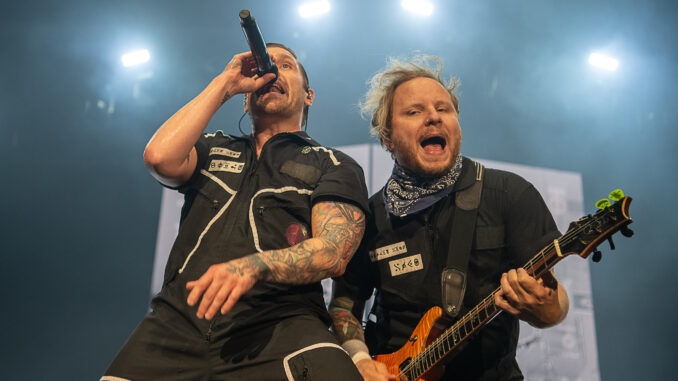 Hard rockers Shinedown come to Abbotsford to burn the place to the ground.  Did they throw it down this night?
These Floridians were doing a tour of Canada that was put off abit due to the covid cancellations, but finally made it up to support their new album "Zero Planet" (2022).  Tonight's show at the Abbotsford Centre, which I would say was about 60% full (roughly 3500) of charged up fans from the Lower manland who were ready to see what they've come up with since the pandemic.   If you're not familiar with this band, they have a similar heavy sound likened to such bands as Three Days Grace, Skillet or Theory of a Deadman.
There was some strong supporting acts prior, with Aryon Jones and Pop Evil which put on some incredible performances to whip up the crowd for them just prior to their 9:25 pm start (about 10 minutes later than we expected)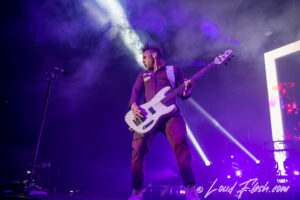 Shinedown have had no lineup changes at all since the last couple of times they appeared in Abbotsford back in 2018 and 2019.  Barry Kerch (drums), Zach Myers (guitar), Eric Bass (bass) and Brent Smith with vocals make up this 4 piece powerhouse.
We see a nice stage setup here, with some great lighting, as the boys start off with 'The Saints of Violence and Innuendo' from the new Zero Planet album.  They are wearing coveralls with some wing ding text on the patches, maybe a space suit?   We get some good flash bang fireworks type explosions on this song.
They continue on with a really heavy vibe at the start of this show with 'Devil' and 'Planet Zero'.  So yes, they certainly got the fanbase completely engaged by this point.
From there,  Brent Smith tells the audience that they will be hitting songs from the entire discography.  They didn't lean too much on the new album with only playing 3 songs from it but also notably didn't play anything from the "Us and Them" (2005) sophomore either.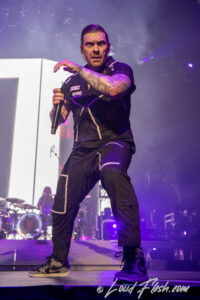 Brent Smith is a charismatic front man in this band, however, not shy on inspirational sayings (never quit etc), which some a little cliché, but in saying that I think the youth in this crowd need to hear.  They also are not afraid to 'toot their horn' on how well they have done in their past but I think it ties in with the inspirational banter of keep going and you can go far in life tone.  At times, it got a little excessive and might have slowed the show down a smidge, but at least its positive!
Of course we hit some of the big songs this night like 45, Enemies, Get Up and Monsters.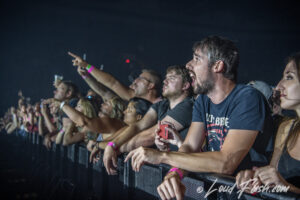 At song 15, Call Me…we heard Brent's voice lowered a few octives and  sounded very country like, almost like George Strait. It works for this predominant farming community I think!
After watching some youtube videos of recent live shows I was pretty excited to see all the pyrotechnics tonight.   We did not see that here in Abbotsford.  Prior to digging into Simple Man (Lynard Skynard cover) they went off about the last 2 British Columbia shows they did with the wild pyro and flames we see in the videos.  Unfortunately word must of reached Abbotsford's Fire Marshall and they denied that for Abbotsford Centre sadly.  Brent said they really wanted to do it but didn't want to be banned from Abbotsford for future shows.  So, no, Abbotsford centre was not burned down but they sure tried figuratively in music!
They ended the 17 song set with a rocker with 'Sound of Madness' that left the fans pumped and satisfied.  Certainly was a show not to be missed in Abbotsford this night!