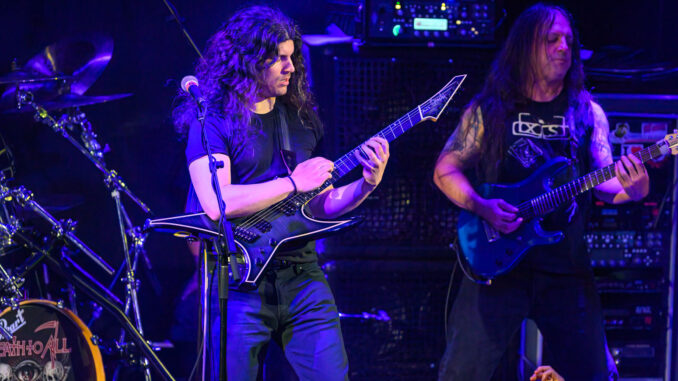 Normally we don't cover tribute bands but this show is just so special not to ignore…
Chuck Schuldiner who was the vocalist and main genius behind the band Death passed away at a very young age or 34 with Cancer back in December 13 of 2001.  Many, many bands have pointed to him as a major influence and Death is widely considered one of the first Death metal bands.
Death To All is a tribute to the band Death, but what makes it stand out is that it's made up of former members of the band.   The exception is of Max Phelps who does the lead vocals and guitar but the others are former Death alumni, who are Steve Digiorgio on bass, Bobby Koelble on guitar and the mighty Gene Hoglan on drums.   They are celebrating 30 years of the album, Individual Thought Patterns (1993) .  No worries, they will play a good song variety tonight of the entire discography.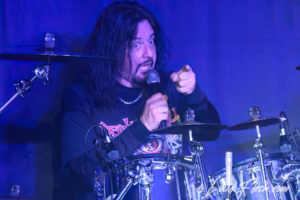 Tonight we see them in Vancouver at a feisty concert hungry crowd at the Hollywood Theatre with Nukem and Suffocation supporting Death For All.   Vancouver fans were salivating for a metal show, as the last few big shows for various reasons, had been cancelled.   
This is my first time seeing Death To All, and frankly after hearing the first couple of songs of the 19 song set (19 songs!), I was blown away how authentic they actually sounded.    Seeing Max do song 2 (and my personal favorite Death song), "The Philosopher", was just crushing.  If your eyes were closed, you would've thought Chuck was back.  Heck, Max is playing a guitar (actaully a Ormsby Metal X, rather than a BC Rich) that is similar to what Chuck played.  Even looks like Chuck abit too!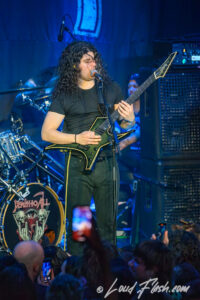 Another Death Classic "Spiritual Healing" (song 5)  from 1990's Spiritual Healing album was another masterpiece that was played this nigh, all 8 minutes of it.  Steve mentions prior to they will be playing songs from every death album and that they did with some notable others being "Trapped in a Corner", "Leprosy", "Suicide Machine", "Symbolic", "Spirit Crusher" and the last 2 of the night being a couple of classics with "Crystal Mountain" and finally "Pull the Plug".
This is the first metal show I believe to be at this facility (Hollywood Theatre) , and it was sold out.   Sound was good, lighting was not bad, but could be better.   The stage is a little high but needs a barrier as stage divers were prevalent.   It is a very elaborate establishment, and I am sure we will see more shows here in the future judging by some of the positive comments I overheard.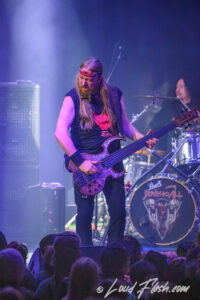 This performance was absolutely exceptional from a musicianship point of view.  Gene on drums was solid,  and he is still one of the best metal drummers on the planet right now.  Steve was the main mouth piece tonight between songs, and his bass work is out of this world. Max and Bobby's shred work was dead-on to the albums too.  Overall they really played off one another really well, and were extremely faithful to the Death sound.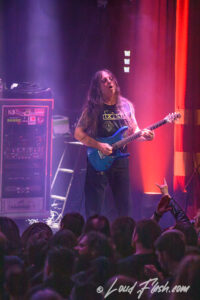 I HIGHLY recommend this show!  IF you are a fan of Death, I guarantee you will not be disappointed with this show at all.   This was the 2nd stop in the tour, so they have lots of cities to hit yet! Go get your tickets before they sell out!