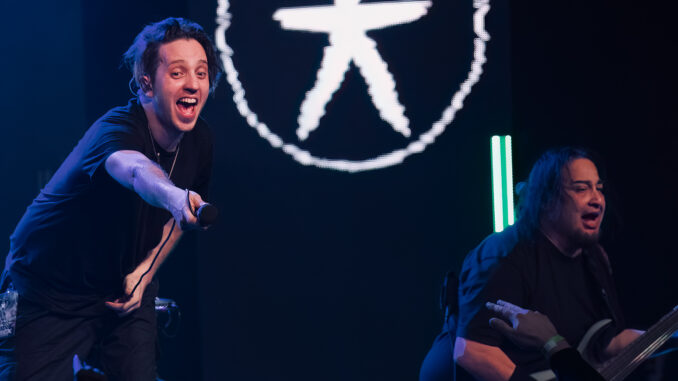 Have you ever feared for one of your favorite bands after the singer as left?
Well, I have. Several times.
Shit happens right?  Band turmoil, health issues, lack of popularity.
I really wondered what was going to happen to the iconic industrial metal band Fear Factory after vocalist Burton C. Bell left.   From all the stories we have read over the years, they were in utter turmoil with co founding guitarist Dino  Cazares and Burton constantly going back and forth through the media channels against one another to establish a strangle hold on the band.  It sure left all the hardcore fans in a lurch,  and we wondered if Fear Factory was unplugged and gone.
2021 we had the last album with Burton and it was a really crushing piece of work which caught a lot of people by surprise.  Aggression Continuum was on many best albums lists of 2021 yet the band was on the verge of dissolving.  We were comforted by a great album during the pandemic but will we ever see them perform any of it?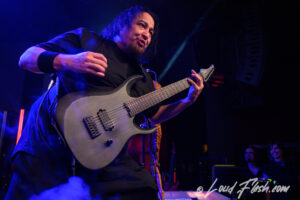 Dino is not one to give up on this project.   He promised fans that Fear Factory will be back.  The dust settled with the feuds  and Dino got down to business auditioning singers and was completely open to male or female alike.  He had lots to chose from, and his choice is a young dude named Milo Silvestro from Italy.  Wait, who?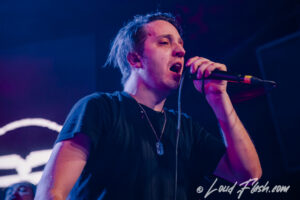 So tonight we are excited to see how this new vocalist measures up to Burton as they are at the Showbox in Seattle with a heavy lineup with Society 1, Dope and headliners Static-X.  This lineup tonight has Dino on Guitar, Milo on Vocals, Tony Campos on bass (Static-X too)  and Havok drummer Pete Webber on drums for this tour.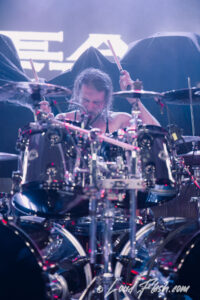 Roadies are setting up the stage and I see Milo along with them setting up a vocal effects unit, its great that he is right in there making sure his gear is ready to go for just the 2nd show on the tour.
They start off with "Shock" from Obsolete(1998).  What an incredible song to start off with!  "Welcome to my World, Headfirst to the Earth", as Milo sings and wow, he is sounding pretty damn good too!   The crowd was hanging back abit to listen to Milos's chops and I think Dino might be looking like a damn genius here as that was indeed "Electrified, Amplified"!
Song 2 is again with Obsolete with "Edgecrusher".  Guess what, after that song the crowd started chanting "MILO, MILO, MILO".  It certainly didn't take long for acceptance to occur in Seattle.
Song 3 "Disrupter", the only one from the latest album Aggression Continuum, which sounded great as well. Only thing I wish was a better mix on the guitars but I think that was reserved for the headliner.  They just seemed a little thin and I was right behind the sound board.
Song 4 with "Dielectric" song 5 from Genexus (2015).  We start to hear some clean vocals and Milo is starting to settle in abit and feel comfortable on stage.   Certainly helps that everyone is supporting him during this entire show.  He had a little blip with mentioning the wrong date for an upcoming song as Dino came up and whispered in his ear, which was a cute moment that made everyone smile.  But he corrected himself and continued on like a champ that was in only his 2nd show with this top tier metal band.  "What Will Become?" (song 6) we saw that Milo can command the crowd and get them involved like he has been the singer for 10 years.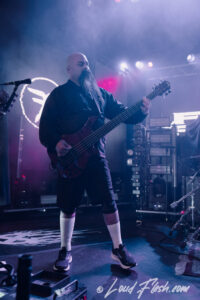 Song 7, "Archetype" was a interesting choice since Dino had no hand in writing that one, but all in all the entire set felt to me that he was showcasing his new vocalist, which is pretty unselfish.   Dino had a smile on his face the entire set and I think he was ecstatic to be back on stage again. Likely a little relieved that his new guy is powering through some classic Fear Factory songs.
Other songs they hit, "Powershifter", "Demanufacture", "Zero Signal" and the show ender with the bitchin' "Replica" from Demanufacture (1995).   No problem for Milo as he got better and better as the night went on.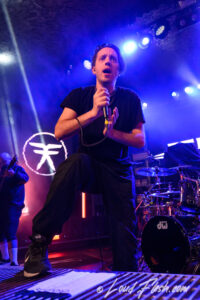 Really, there were no other hiccups to report on this 10 song set!  Milo did amazing, and I should mention Pete Webber as well who is no slouch on the drums, did fantastic, Dino and Tony played as we expected them to.   Hopefully after a year or 2 we can see Fear Factory back in a headline position and a new album with Milo?  Only time will tell, but this is early into this tour, but looking forward it's very positive so far!  Great start