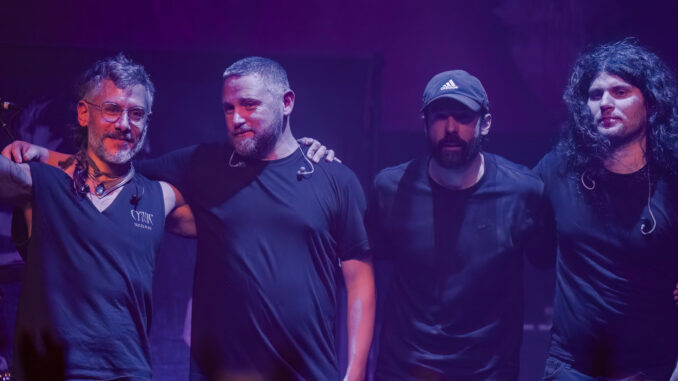 If your a fan of fusion laced progressive technical  death metal, this would be the band to focus on as one of the pioneers of the genre.
Tonight I make my way to the Rickshaw Theatre, and as I stand in line with the rest of the metal horde, I strike up a conversation with a pleasant young lady that tells me she got a free ticket to this show but not sure who they are.  I tell her that she is seeing a couple of the innovators of progressive metal based out of Florida and that it will be a good experience to see some of the main influencers in the genre.
Cynic are headlining this show, along with support from Atheist and local Vancouver band Thirteen Goats.   Cynic has had a very turbulent history with break ups and band changes since they began back in 1987.   They recorded their first album back in 1993 with Focus with Sean Reinert (guitar), Sean Malone (bass) and Paul Masvidal.   However, in 2020 both Reinert and Malone past away within 11 months of each other, with Masividal being the sole founder left   Currently on this tour he has Max Phelps (guitars, vocals), Matt Lynch (drums) and Brandon Griffin (bass).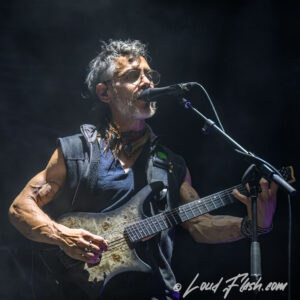 I find it quite interesting how talented of a group of musicians Chuck Schuldiner  had along with him to make some of Death's best music.   Both Paul Masvidal and Sean Reinert played on Death's 1991 Human album.   Another thing to note is Max Phelps is also with Cynic, if you recall, he is the vocalist for the Death tribute band called Death to All.  They had made their way to Vancouver earlier this year and Max's performance in that was beyond stupendous.
This is a unique show for Cynic, as they have just very recently released a remixed and remastered version of the Focus album and renamed it as ReFocus to celebrate the 30th Anniversary of Focus.  I think this was a smart move that should help them reboot the band as this is one masterpiece of an album that all prog metal fans should give a listen to.    They will play the entire album of Focus in album order, from start to bottom tonight!
The stage setup to this show is a little different than most metal shows you will see.   The drums are on the extreme left side of facing the stage, with the bassist close to that, then on the right side you have the 2 guitarists with Masvidal and Phelps.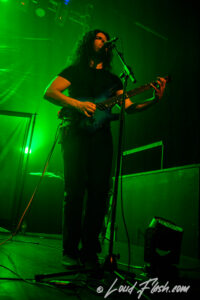 Despite a little technical difficulty that Masvidal was having before the start, they began with the anticipated "Veil of Maya", as the fog machine is on full, and the lighting (for most of the night) is VERY minimal.    Max's growly vocals are on point as well as Masividal's clean vocals, its a quite a solid start as the song is played it impeccably.
As they move to the technical "Celestial Voyage", you can sense these guys are serious musicians.  Masvidal, Phelps as well as bass player Griffin  are using headless guitars and they are sounding supreme with the intricate riffs.  Very Prog metal.
Song 3 we start to hear some of the vocal FX that Masvidal uses with the Vocoder FX.   He even leaves that effect on when talking to the audience a few times throughout the show.  Sounding very robotic if I could describe it.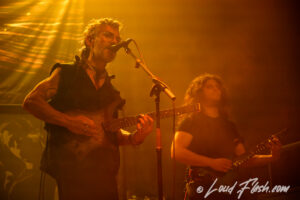 The musicianship and fusion influences really become evident during song 4"Sentiment" and the start of the 5th song "I'm But a Wave to…".  Both played to utter perfection in the mostly thick fog on the stage.   Masvidal really gets into his playing however, spending minutes on his knees either looking at the drums or a stage center looking towards the crowd.   I don't know if you noticed, but the his arms are ripped and muscled. The dude looks to be in decent shape at 52 years young!
Backing tracks were used for the synth parts like on the last song of the Refocus set with "How Could I".   Both Masvidal and Phelps are incredibly talented guitar players, I hope they can continue on with some new music in the future.
I would see moshing is pretty nonexistent for this band's music tonight.  It's really about watching them perform them.   There was lots of rowdy stuff with Atheist's set but none with Cynic. I did notice the crowd thin out a little, maybe Cynic was a little too mellow Atheist fans.   As I look around the Rickshaw was only about half full for this show.  The upper deck was closed.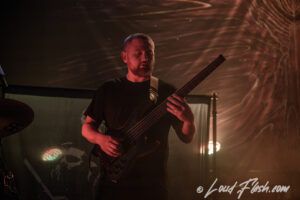 After all 8 songs of the Focus album is completed, Masvidal walks back on stage to do some incense burning and waves the smoke dedicating a tribute to both his past band mates Malone and Reinert.  It was a touching moment and respectful that I don't see often.
The tribute set started with "Kindly Bent to Free Us", with some really feel in Masvidal's solo that ended that one.   "Adam's Murmur" from Traced Air is next which is full of prog metal measures and ambiance that you hear in todays modern prog bands.   They also do a song from the recent Ascension Codes album (2021) called "In a Multiverse Where Atoms Sing", which to me showcases some of the drumming from Matt Lynch on stage.
Last but not least, Masvidal thanks the crowd and tonight's support acts and they precede into the last of the 12 songs tonight with "Evolutionary Sleeper" from 2008's Traced in Air album.  The song is characterized as heavy at the start and trails to more mellow by the end which I think is a pretty fitting completion of the show.  Thereafter, all four put down their instruments and gave a bow to the audience, completing a satisfying ending to the performance.
All in all, this was a great show to see if you wanted to get into this band. They are arguably showcasing their best work, and re-introducing this band to new fans that have not seen them before their last visit in 2014.  This was my first Cynic show myself, and I was thoroughly entertained by the music and how they can go from Death like influenced guitar work to really mellow and somewhat new wave synth fusion like textures in the music.  I highly encourage you to see Cynic if you are just digging into technical progressive metal, and see these talented musicians perform one of the finest landmark albums in the genre.