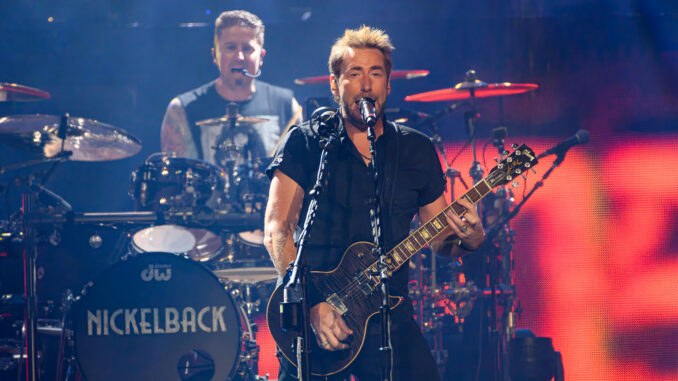 "Worlds Most Hated Band" or are they and why? Tonight I find out if this is true.
So I googled "Most hated rock band" and just about everytime the clear winner was Nickelback. So when I learned they were performing in Vancouver at Rogers Arena, I just had to see what all the hate is about with this band. I am not totally naïve, as I realize for the past 25 years or so these guys have made a meteoric rise to the top and have played just about every venue in Canada to get there.
The Vancouver based Nickelback who are Chad Kroeger (vocals), Mike Kroeger (bass, brother to Chad), Ryan Peake (guitar) and Daniel Adair (drum) from smalltown Alberta (Adair is a BC boy however) have definitely paid their dues since 1996. Selling over 50 million albums worldwide and just recently inducted into the Canadian Music Hall of Fame. Heck, the day before this show, they received a star on Vancouver BC Entertainment Walk of Fame along with fellow rockers Loverboy.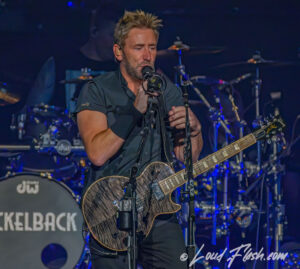 Personally, I haven't had to buy any Nickelback albums and stayed neutral on them because everytime I turned on the radio they are on it. Could this be it? Sure they write commercially acceptable hard rock that at times could straddle hard rock, soft rock, country, and touched the metal hemisphere early on. It's VERY accessible on many formats and judging by the crowd tonight, it spans generations now too. I am looking at 60 plus year old's in the crowd as well as 15 year old's both fist pumping to their music. Did we all just get beaten down from hearing 48 year old lead singer Chad Kroeger constantly on the radio and seeing them winning a plethora of awards?
Over the past year, I think they have been on a campaign to change the image of this band as I have been reading alot of tidbits of positivity from various online webzines showing some respect. Chad admitting on some articles about why the band is so "hated" and that he has developed a "thick skin" over the years, but indeed i believe they are marketing their brand in a different direction as of late. Is it other rockers jealous about this bands huge success over the last 25 years? Hard to say.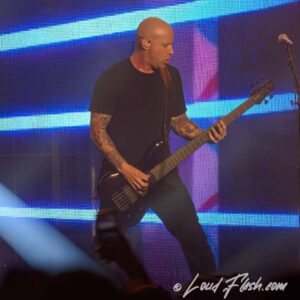 Tonight they have home field advantage at the sold out Rogers arena (Capacity 19700) with supporting acts country singer Josh Ross as well as American country rock singer Brantley Gilbert I will for the first time witness this 'A' Level show and come to my own conclusion.
At the start the lights go out and through the monitors they play Pantera's "Walk" to get the crowd pre-pumped up and believe me, it worked. You can never go wrong with that song. Then the show at Rogers Arena begins with a computer generated animated video and with the band in wanted posters then a yellow van breaks through a wall and they (I think they are in the van?) are chased by cop cars. Thereafter, we see on a Street sign "Vancouver 12 parsecs and the audience screams, as they begin with a new one called "San Quentin" off their latest opus Get Rollin' (2022). What a roaring hard rocker of a song, and a bad ass start to the show!
They really don't spare any expense on this"Get Rollin' tour with the stage setup. Huge jumbo screens, pyro, amazing lighting start as a song you've probably heard alot with "Savin'Me". Then things really gear down with "Far Away" at song 3.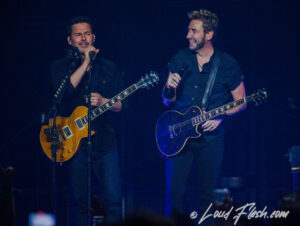 They crank it back up with "Animals" that gets people moving and jumping in the crowd which where this band really excels. Another familiar one you hear on the radio alot is, "Someday", with their memorable sing along chorus that strikes emotions in the person i was standing near.
Chad and Ryan do most of the talking and all the singing in this show in between songs. Both like to laugh with each other and it looks pretty genuine. You don't hear much from Mike and Dave. All four pretty much stay in their zone on stage but Chad will move from side to side occasionally on stage and wave to the crowd.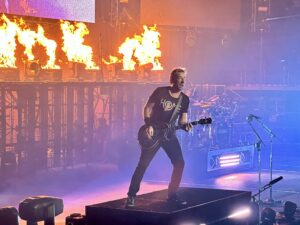 The hits just keep on rollin' with "Worthy to Say", "Figured You Out" and one of my favorites "Hero". Ryan steps in nicely to duet with Chad, and it he fits well substituting for the originally Josey Scott of the band Saliva. The sound is impeccable for this show, I am sure they have the best gear available which is to be expected at this level.
At song 9, they do a cover of Steve Earle's "Copperhead Road" (1988) and this is where country rockers Josh Ross and Brantley Gilbert make guest appearances to add that extra country flavor to the song. It was well done and the crowd embraced it as who doesn't know that song right?. So this was abit of segway to more of a country genre type rocker from Nickelback, with "High time" from the new Get Rollin' album was next. Very clever way to insert in that into the setlist as we where subliminally carried into Country rock territory.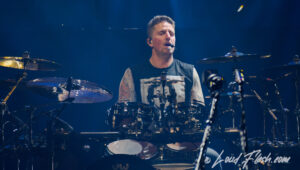 Song 11 with the acoustic guitars in hand, with the hit song "Photograph" from 2005's All the Right Reasons album. That album originally got criticized harshly for its relative simple lyrical content but guess, what, that's what alot of music listeners like sometimes, as they play 5 songs from that album. Not one person booed.
Its Karaoke time with song 12 "Rockstar" and the person singing it is none other than Vancouver Whitecaps coach Vanni Sartini who carries with him the Canadian Championship trophy that is eventually placed down on the tip of the stage. He does quite well too, and party atmosphere is blowing up, while we watch Vanni sing about likely how Chad and his crew roll.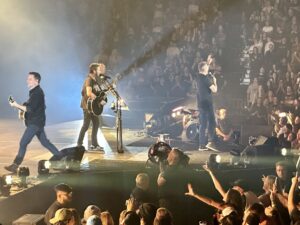 Thereafter we get "Too Bad", another new one "Those Days" that is country rock tinged and thereafter, their big song "How You Remind Me" at song 15 of the set. I have been cursing that worm bug of a song all week, and just cant get it out of my head. Is this why people hate Nickelback? Maybe it's because they write catchy songs and they write burrow into your brain for weeks?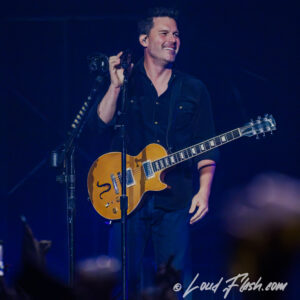 They end the night with a light rocker with "Gotta Be Somebody" and then thereafter a pyro filled "Burn It to the Ground" from 2008's Dark Horse album. Definitely alot of fun to watch and see the fans totally charged up and having a great time on the floor.
With exception of the new stuff, you probably would fit right in with this show as you have heard all these songs on radio, TV or the grocery store. You just cant escape them. I really think that is why this band is so hated. They are everywhere with their hit songs but I totally respect that and I think these guys deserve alot of credit and respect over the years for making such solid and incredibly hooky songs.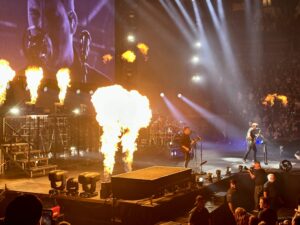 The live show is actually quite amazeballs and alot of fun to watch. And I mean the entire package here, with the pyro, lights, large screens, the band, and the fanbase too. Even if you are not the biggest Nickelback fan but your friend wants to go, I suggest you give it a try, and see for yourself. You might set aside your hate briefly and enjoy a really solid rockshow that many cannot top. I give total props to these guys and I had a surprisingly great time, respect!