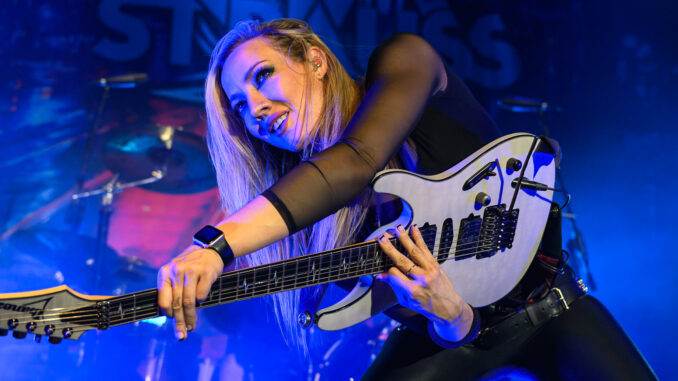 A Summer Storm has rolled in to Vancouver and Hurricane Nita is about to blow us all away.
Back in the day when I would see solo guitarists come to town to perform a show, I roll my eyes with boredom because all I used to see was an 60 minute guitar wankfest .   These guys would get on stage and do non stop solos and finger taps and try to be original but in most cases they are not.
Now fast forward to the modern era of concerts and now they have tuned in to that, and added some excitement and stage presence to accompany their skills as guitarists and songwriters.   Adding more sizzle around them with a cool stage setup, along with a proficient band around them.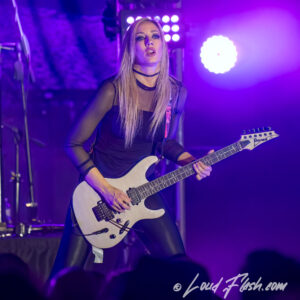 Nita Strauss is at the Rickshaw Theatre in Vancouver with support from Misyrion and Lions at the Gate.   I am interested to see if she lives up to all the hype as she is ranked among the top female guitarists on the planet right now.   Not only does she have her own band but is also a touring guitarist for Alice Cooper and has recently toured with Demi Lovato as well.   Not to mention all the other one offs we have seen her with in the WWE as I succinctly remember watching her doing Shinsuke Nakamura's entrance music at Wrestlemania, which was brilliant.
She currently has one solo album available called Controlled Chaos (2018) but has another to be released on July 7 2023 called The Call of the Void.   From the videos she has released from the new album, it contains some of the biggest star vocalists in hard rock and metal like Alissa White-Gluz (Arch Enemy), Lzzy Hale, David Draiman (Disturbed), Alice Cooper and many others.   It sounds like one doozy of an album she has cooked up, but how will she pull some of these off tonight without them?  Will it be just instrumental?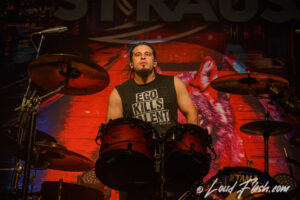 Nita's bandmates on this tour are Josh Villalta (drums), Johnny Young (guitar), Christopher Dean (bass) and later on in the show we see a new vocalist by the name of Kasey Karlsen.  I have seen Kasey on youtube prior to joining this band and she can sing just about anything from cleans to the grittiest death core vocals.  I think this was quite a catch for Nita to bring her on board.
The first song tonight is "Summer Storm" from the new upcoming album Into the Void and there is no mistake, we are at a metal show tonight.   Definitley has a Arch Enemy feel to this one, she would definitely give Michael Amott and Jeff Loomis a riff challenge.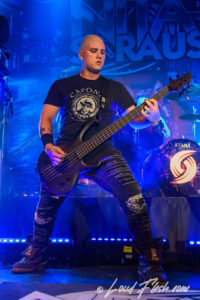 Thereafter, she concentrates on the Controlled Chaos album with "Our Most Desperate Hour", "Mariana Trench".  She is very precise with her fingering of the notes and slides to play all these to utter perfection.
At song 5 "Algeria", it's a blistering pace with frantic sweep picking and rifling through scales like it was nothing.  As well,  as flailing her hair and windmilling all through this process, and leaving you breathless watching her.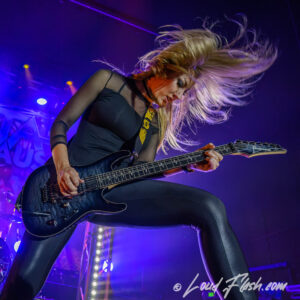 At song 7 "The Quest", she gives a little of the limelight to her band mates and even let Johnny in on a little solo action along some highlight to Dean on bass.  The last part is a drum solo by Josh, who is no slouch on drums as proven thus far in the show without the solo, but he really is a great back bone to this band.
Song 8 "Pandemonium" is another dizzying display of shredding exemplified from Strauss, as her guitar tone really pops on this one.  I have no idea what gear she is using but damn, it's golden.  The Stage lighting that they brought along is pretty decent too, and I liked that they didn't over fog the place so we can actually see the band.   Too many bands hide in fog or dark lights, how do they expect great promo that fans give them on their phones?  Well done here with the stage setups.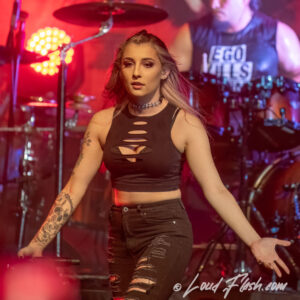 Ok, so at song 9, this show takes abit of a twist as Kasey Karlsen finally makes her appearance and takes on the new song called "The Wolf You Feed".  This song is actually sung on the album by Alissa White-Gluz and I must say, if I closed my eyes, I would've thought Alissa was here in Vancouver.   Kasey really nailed this one and the song itself definitely slaps.
Song 10 Kasey takes on "The Golden Trail", she handles the growly vocals that Anders Friden (In Flames) does on the original song, but she sounded a little off key on the chorus to me.   Admirable job however.
Song 11 is a Lzzy Hale sung song which fits better for Kasey on "Through the Noise" as well as another catchy one called "Victorious" which is done by Dorothy.  With this star power, it's difficult to imitate their unique voices on both those songs, but Kasey can come close.  She is not an perfect match on the songs but she does well and stays within her vocal range.  Nita has a pretty scorching solo on Victorious too.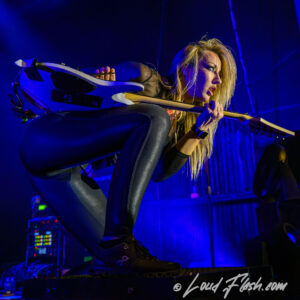 Song 12 is another great song that was sung by David Draiman originally, and again Kasey makes it her own on this one as no one can match the ferocity of Davids unique vocals
The last song of the night is a cover of Pantera's "Cowboys from Hell" and  Kasey does a bang up job here on vocals as  both Johnny and Nita share Dimebag's solo on this one.   It was a great end to the set, and as you can probably tell I am talking alot about Kasey on this last half of the review.  She is a pretty competent singer with great stage presence, and can do just about everything on Nita's new upcoming album really well.  I am pretty sure Nita took that all into consideration when auditioning vocalists too, as those are some big shoes to fill in some of these songs.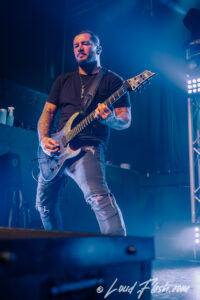 I liked the setlist on this one, concentrating a Nita's guitar prowess and mastery on the first 8 songs, then bringing Kasey in to do the songs that require vocals.  It would be interesting to see if Kasey does songs on Nita's future albums so we can really get a feel of what she sounds like on a recording.
I really can't wait to get my hands on this new album soon!  There are some real bangers on Into the Void and I am sure this will propel Nita and her band to the next level.