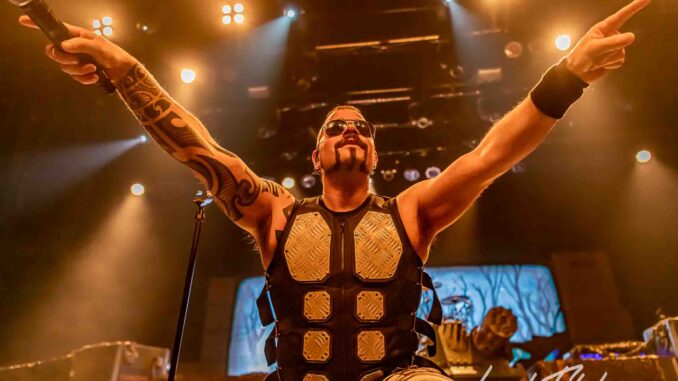 Swedish Power Metallers, Sabaton (with tour support from Hammerfall), invade Vancouver's Vogue Theatre and a sold-out battalion of fans are ready to go to war with the band.  Ok not quite, but they did have the drummer on top of a tank the whole night just in case things got out of hand.
All kidding aside, Sabaton songs centre mostly around war history, combat and stories of battle and have done this through much of their discography.    The latest album  "The Great War" was released July 2019 and it's a fabulous album to say the least.   But what is so appealing about this band?   They write very hooky songs with glorious chorus's that people can actually learn some history, educational metal I would say!  That being said, there have been other bands that had a war history theme going on, one notably is Bolt Thrower but they are a different genre of metal altogether.   
Sabaton also have a charismatic baritone vocalist in Joakim Broden, who sports a Mohawk, bullet proof vest, camouflage pants and his signature look with those Sunglasses.  By the way, I have read that he is endorsed by a Swedish Sunglasses company with those glasses and gives them away at the show as a souvenir.   Back to the camouflage, the entire band wears it Chris Rörland (Guitar), Tommy Johansson (Guitar), Pär Sundström (Bass) and Hannes Van Dahl on drums.   I like when bands play the "look",  kinda gives me an indication that they are all in sync and on a team.    This "team", plays very well and tight together as I eventually witnessed this show.  I think all these ingredients is why they have been so successful over the years and like I mentioned, their latest album is stellar.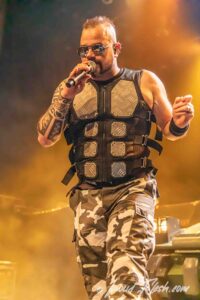 The band enters to the stage with triumphant smiles and they start off the show with an older one 'Ghost Division' (Art of War, 2008).   90% of shows I have seen, most bands start off with a new song from the latest release but Ghost Division starts off with 'Fast as the wind, the invasion has begun' and that pretty much is the signal that we are in for one doozy of a show.
As I watch this band, they actually seem very playful on stage, guitarists doing rock/paper/scissors, playing tag, wrong shoulder tapping, so they keep things very light and the fans are licking it up.  They just don't stand in one spot all night as a lot of performers I see some nights, which is entertaining.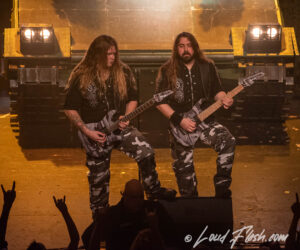 The stage (as you see in the pictures below),a real combat area with a tank drum risor, netting, guns and helmets.   No pyro, as I don't think its allowed in the Vogue but the lights and a large screen behind the drummer give lots of war images and appropriate scenes to the songs.    I think they did a great job of it without being too distracting.
They hit 5 songs off the new album (which betters most bands that do 4), however I think this is an exceptional album and the songs are top notch.  My favorite of the night is actually off the new one 'The Red Baron'.  It lacked a keyboard player but they used a backing track (I believe), which is ok too.   But it is one catchy song that stays in your head.  Other songs they played among the 18 (see picture of setlist),   'The Price of the North', 'Carolus Rex', 'Night Witches' and 'The Last Stand'.   Then 'Primo Victoria', the almost danceable 'Swedish Pagans', and ends with another 'To Hell and Back' that sounds like a inspirational pep talk from a army captain.
This show will leave you breathless, one epic song after another.    If you can get a ticket to see these metal warriors, then do it!  Get to it soldier!