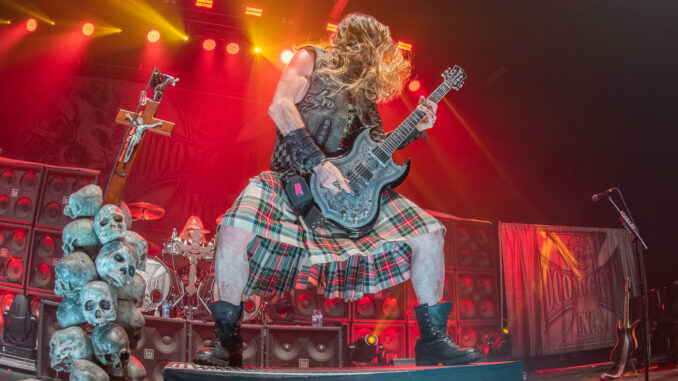 You know you are in for an electrifying performance when Zakk Wylde is on the stage.
Black Label Society (BLS for short) have returned to Vancouver's PNE Forum in support of the Anthrax 40th Anniversary Tour.  They are currently supporting an album that was released during the pandemic in 2021 called Doom Crew Inc.
If you are not familiar with BLS, one could describe their music as more bluesy tinged, combined with Black Sabbath influenced riffs, and interweaved with hyper harmonic solos done by the band leader Zakk.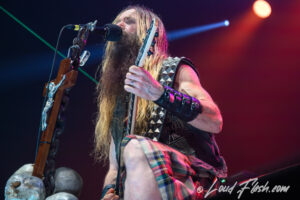 Other than guitar wizard Zakk Wylde on guitar and lead vocals, we have John DeServio on bass, Dario Lorina on rhythm guitar, and Jeff Fabb on drums.  Make no bones about it though, this is Zakk's project.  All eyes are focused on him.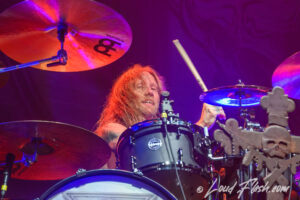 We start off with a giant curtain in front of the stage and once that drops the band starts off with "Destroy & Conquer" from Doom Crew Inc. It's a pretty upbeat song, and Zakk parks himself in front of his microphone that has a pile of skulls near bottom of it.   The muscle bound 6'1″ tall Zakk is wearing his BLS battle jacket and kilt, and of course his signature guitar.  In fact, we see alot of his line of guitars this night, all pretty uniquely shaped with one or 2 with his target image that goes waaay back to those Les Paul's he played with Ozzy.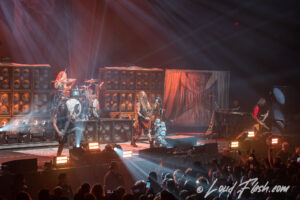 The BLS stage setup is impressive to look at.  A wall of 4×12 guitar cabinets stacked 3 cabinets high with the drummer in between them on a riser.  However its just for aesthetics as only a couple of the "W" cabs are mic'd up.  You can definitely see that he has his own business going on, rather than doing advertising for Marshall Amplification.
Song 3 is "Funeral Bell" off The Blessed Hellride (2003), which is one of my favorite albums off the BLS discography.  It's a little more thrashy at the beginning than most of BLS songs.  I think that is why I find The Blessed Hellride the album that most appeals to me.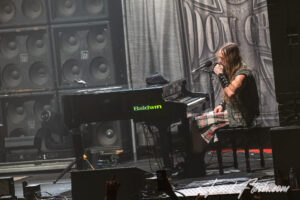 Song 8 "In This River", Zakk is off guitar duty and takes the baby grand piano.  This is a song that is dedicated to his close friend Dimebag Darrell of Pantera who we all know died shockingly back on December 8 of 2004.   Zakk is now on guitar taking Dimes place for reactivated Pantera that recently announced a North American tour.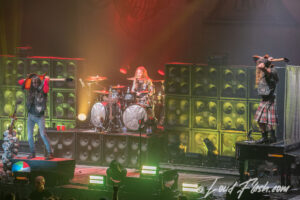 Song 11 is a real jaw dropper of a performance.  "Fire it Up" from 2005's Mafia album mid song go wild on the guitar shredding with Dario getting into the action.  Dario is NO SLOUCH on guitar either!  That dude can cut it.   Dario and Zakk trade solos back and forth,  then it gets super insane with Zakk standing on the piano while both playing behind their heads for a solid 2 minutes.  Crazy!  I was ready to quit playing guitar after seeing that.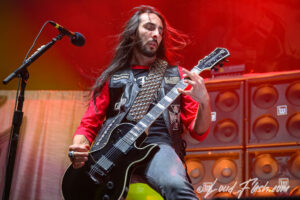 Song 12 "Suicide Messiah" as well from the Mafia album, then finishing strongly with what I think is the best song in the discography "Stillborn" from Blessed Hellride.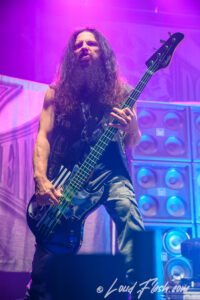 All in all this was an solid show with 13 songs.  They actually played more than the headliner Anthrax.  Zakk's voice holds up through the entire show and his guitar shredding, as you might of guessed, is always out of this world.  I was bedazzled.