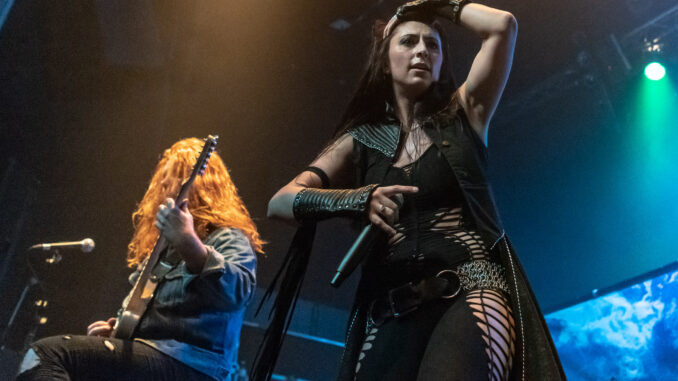 The Invisible Orange proudly presented Canadian recording artists Unleash the Archers to the fabulous Rickshaw Theatre.
These Vancouverites were finishing 45 days of a Headlining tour of North America in support of their extraordinary album "Apex".   It was a highly anticipated show for Vancouver's Metal community as the band concluded their touring.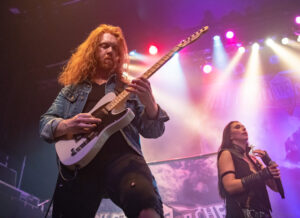 If you were asleep prior to the start of this show, you are definitely awake now, as vocalist Brittney Slayes belts out a howling scream with a seven minute plus opus from  Apex called "Awakening".
Wow, I am out of breathe already.  This song has everything it seems, crazy fast technical guitar solos (Andrew Kingsley and Grant Truesdell), blast beat drumming (Scott Buchanan), galloping bass guitar (Nick Miller), death metal vocals (courtesy of Grant Truesdell) and Brittney's SONIC voice.   By the third song, they get into my personal favorite song of 2017, "Cleanse the Bloodlines" (from Apex).   I am utterly shocked that this song didn't make it onto everyone's top 10 of 2017!  What is wrong with people?  Another epic song that has absolutely everything that reaches all the demographics of the genre of metal.  The Archers are extremely fun to watch too!  They actually move about and head bang like mad, wind milling a L'Oreal vortex, that had everyone pumping the devil horns in glee.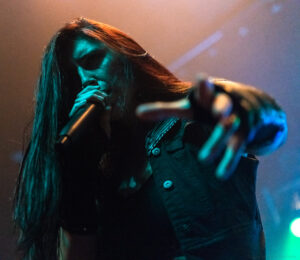 They arrived from a gig in Edmonton (13 hour straight drive) which they praised their driver, and gave props to the merch guy too, just something we don't normally hear at concerts but kudos for them doing that!  Later then get into another one of the bigger songs "Time stand Still", a real cool metal anthem from 2015's same titled album.   This is a song that really highlights Brittney's vocal range, which is really unique and powerful in all the ranges.  After 7 songs like 'Dreamcrusher', "The Matriarch", "Test your Metal" we head into overtime with 2 more head shakers with "Tonight we Ride" and "Apex".  The later, "Apex" features some incredible Iron Maiden-esque type guitar work that even brings a British soldier dressed in colonial red attire waving a British flag (possible ode to Maiden?) that brought a lot of smiles at the end to their adoring fanbase, including myself.
IF you find out this band is coming to your town, get the tickets!  Check them out, and buy some merch too!