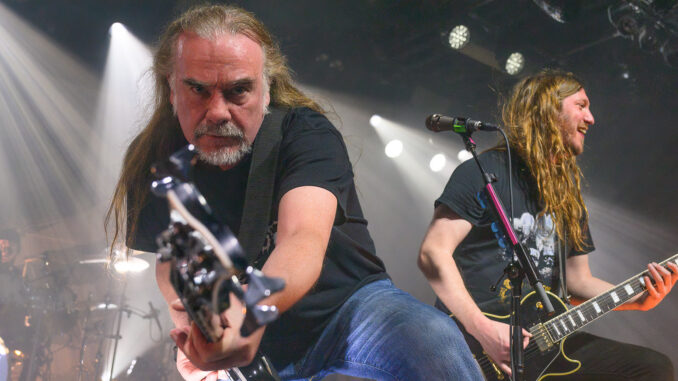 This band is back to carve up another audience, but are they keeping the meat of the show fresh?
The legendary Carcass have returned to Vancouver after 5 long years and we are excited to see them perform some of the new songs of their new album Torn Arteries which was released in 2021.  The brought along with them a STACKED lineup with Creeping Death, Sacred Reich and Municipal Waste that will certainly have this crowd worked up to a frenzy before they hit the stage.
The four member UK based band is comprised of 2 founding members that are the core of the band and that is Bill Steer on guitar and Jeff Walker on vocals and bass.   Daniel Wilding on drums has been with them since 2012 and we see a new face with touring guitarist James Blackford.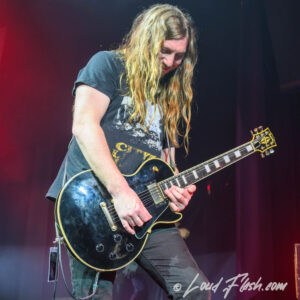 Carcass are usually in no hurry to release albums as their incredible comeback album Surgical Steel was released in 2013, then in 2021 they finally released another with Torn Arteries.  They have a total of 7 albums in their lifespan.   Cut them a break though, because after 1996's Swansong album was they buried Carcass until around 2006.  Then in 2007 they reformed and have been touring ever with the 2 albums ever since 2013 with Surgical Steel and Torn Arteries.  This is the 4th visit to Vancouver since they reformed back in 2007.
Tonight we get see them at Vancouver's fabulous Commodore Ballroom, and they start off with "Kelly's Meat Emporium" from the Torn Arteries album.  It's a frantic start to the show with this one, and if we were wondering if Jeff still can sound vicious on the mic, no worries, he still rips most death metal vocalists at the age 54.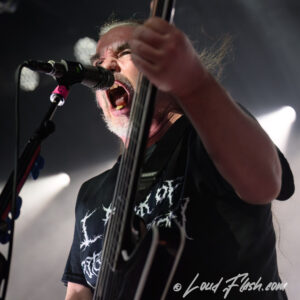 They slow it down abit on song 2  "Buried Dreams", one of my all time favorite Carcass songs is at song 2.  Along with song 3 "Incarnated Solvent Abuse" from 1991's Necoticism: Descanting the Insalubrious album.   Those 2 are core Carcass songs that need to be played and believe me, they absolutely SPANK live.  Yes, we get other Heartwork album songs too, such as "This Mortal Coil" and "Death Certificate".
The other guitarist James Blackford does a admirable job this night on the right side of the stage keeping up with Bill Steer.  Both players I noticed are using those 50 watt 6L6 5150 EVH amplifiers.  IF you think those little 50 watt amps are not good for big shows, think again……they sounded great for Carcass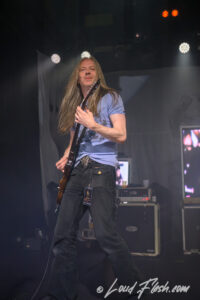 The lighting was good too, but the Commodore Ballroom has really stepped their game up as a concert facility and is top notch in sound, lighting and staff.   They have definitely leveled up since the pandemic.  They also have a designated Merch area and the Carcass merch was well stocked as I picked up a autographed tour poster at a reasonable 60$ (Canadian).  When Anthrax was around earlier this year, their autographed tour poster was 100$.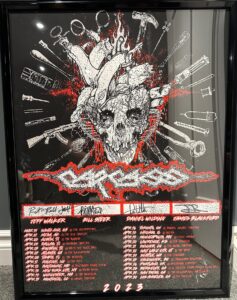 I think the real surprise for me this night was the Swansong songs that they played and the lack of songs from their highly praised Surgical Steel album.  Swansong was deadpanned by many fans but I for one liked a few of the songs on it, with tonight playing "Keep on Rotting in the Free World", "Black Star" and one we have not heard here in Vancouver is "Tomorrow Belongs to Nobody".
One deeper cut from the discography was off 1992's "Tools of the Trade" EP during the encore at song 15.  Quite confident they have never played that in Vancouver (or ever before this tour).   Daniel led the quintessential Carcass song "Corporal Jigsore Quandary" was at song 12 as his drumming was impeccable.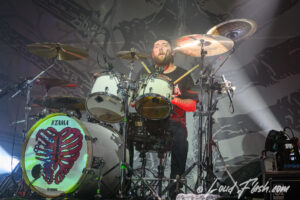 The only 1 Surgical Steel song was at the last of the set with "316L Grade Surgical Steel".   We did not get as many Heartwork songs, notably "No Love Lost" but we did get that back in 2018.  Speaking of 2018 we also got 20 songs with tonight's song count at 16, but all things considering with this entire bill of top tier bands, I am not complaining.
Carcass is still a guaranteed premiere performance metal band to see live.  They don't appear they have lost anything in the way of ability or vocals and are still very relevant in 2023.  If you want to see one of the most influential extreme metal bands that can still "bring it", these guys deserve your attention.