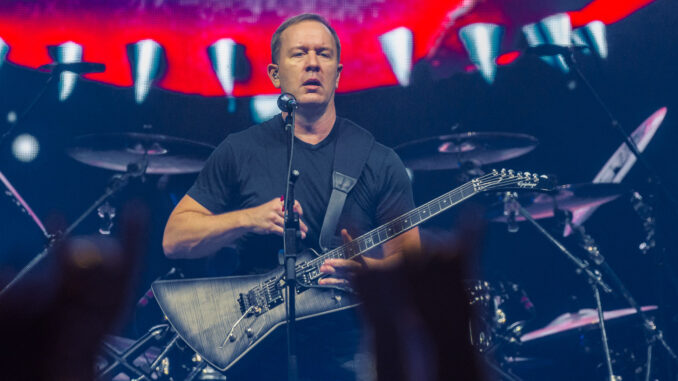 How well does an animated series about a fictional death metal band translate into a live setting?
The Metalocalypse animated series first appeared back in 2006 that was a parody about a hyper rich and popular death metal band called Dethklok.  To every metal head, this was the ultimate show as it contained brutal violence, sex and best of all, humorous death metal.  Did you know that Mark Hamill (Luke Skywalker of Star Wars) voices a handful of characters for the series?
After 4 seasons, the show was cancelled but Dethklok lives on with one of the creators, Brendon Small, who has assembled a real life band and has created 4 albums to date.   The latest being Deathalbum IV which has been recently release in 2023.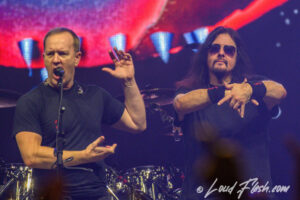 The live touring band is a heavily accomplished group of musicians.   Bryan Beller (bass) who actually resembles Murderface, has played with a long list of pros like Joe Satriani, The Aristocrats and Steve Vai to name a few.  Nili Brosh (guitar), is a Berklee Collage grad of music and also has play and recorded with the likes of Tony MacAlpine, Paul Gilbert, Jeff Loomis and many more.   If that wasn't impressive enough, Dethklok has one of the very best drummers in all metal with Gene Hoglan who also is involved with composing much of Dethklok's music.  Show creator, Brendon is on guitar and does all the vocals.  The latest Dethklok project is a full feature film that was just released this past August, called Army of the Doomstar.
Tonight, its a date night for my wife and I, she is a huge fan of Dethklok and their music.   We are at Vancouver's PNE Forum along with co-headliners Baby Metal to see how this band performs along with the Metalacopylpse (Dethklok) animated show.  The very next night I saw them in Seattle's Wamu Theatre to take some pictures of this performance.  Dethklok supported Baby Metal on these dates as Baby Metal performed last.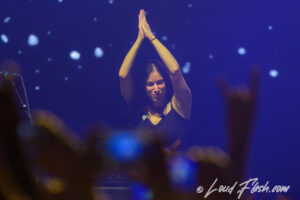 Dethklok is back, a mini animated series starts the show and the military general goes on about how stupid their fans are about buying tickets and merch.  The band appears on stage and they start off with the familiar "Deththeme" intro that the show always begins with.
The band itself has no front lighting whatsoever, so really all you see is them as dark figures on the stage.  The idea here is to focus on the large full screen behind them with animated excerpts of the show.  "Briefcase of Guts" was next and it was performed exactly like you hoped it would be.  Brendon's voice stays the course of what Nathan Explosion would sound like and of course the band is flawless.
Each song is animated short, so for the next hour we are treated to a loud thunderous live performance as well as some of the adventures of the TV show like in "Bloodlines" which was at song 5.
After the first 5 songs we got short with Facebones explaining proper concert etiquette.  Apparently, 'etiquette' in french means how not to act like a stupid asshole.   I mostly agree with the entire segment.  A few songs later, Facebones comes back with a skit about drinking booze and smoking pot…wayy to funny!  DRINKING BOOZE, SMOKING POT he gets the crowd chanting.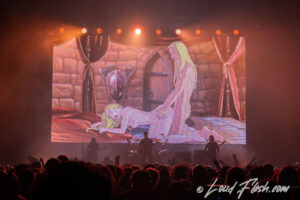 Lots of forward shooting lights on this one but like I mentioned, you never see the band throughout the set.  Merch was not bad, as we pickup a Tshirt (55$) and a signed by Brendan and Gene Dethklok IV album for 95$ (Canadian dollars).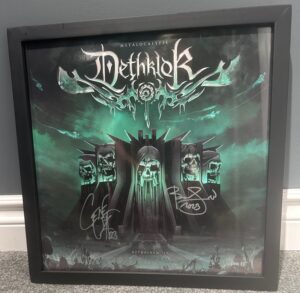 Other 'high'lights tonight include "I Ejaculate Fire", "Thunderhorse" with Skwisgaar Skwifelf having sex, and my personal favorite from their Dethalbum the brutal "Murmaider".   The animation on Murmaider was gory and spectacular of course.   Most of the set is still heavily weighted with 10 songs from the 1st album Dethalbum, only 2 from the new Deathalbum IV.
Keep in mind a lot of these 17 songs played tonight are in the 3 minute arrangements, so they played for roughly an hour.   The band sounds as wicked as on the show and at one point Brenden even gets into some of the voices of the band himself.  Did this mix of Live band and Animated action work?  I think it does, best it can.   You know what would be cool is if they could do holograms of the band members on stage and do animated skits with that?  It was a pretty slick performance by the band and both Vancouver and Seattle crowds were fist pounding pretty hard through this one.   Fantastic performance visually and as a band, you cannot go wrong with Dethklok!