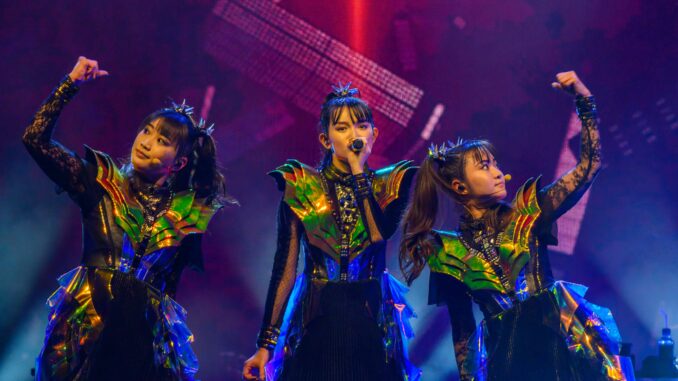 Japan's J-pop metal band 'Baby Metal' have invaded Pacific Northwest, did they entertain us? Maybe.
I remember back in 2014 when we were first introduced to Baby Metal's music back in 2014, yes, 9 years ago now. Watching video "Gimme chocolate!!" from their first album Baby Metal, on YouTube and wondering what the hell did I just watch. Three young Japanese girls singing in Japanese about their chocolate addiction with 4 ghoulish musicians wearing black metal-like corpse paint. Is this the future of metal I thought? So, yes I did get a copy of the album and listened to it a few times, they had some catchy songs but it didn't really have the power to make me listen to it over and over. That is until my 6 yr old daughter got into my truck and I introduced her to "Gimme chocolate", for about 6 months it was on every time we went somewhere.
This past week Baby Metal arrived in the Pacific Northwest with co-headliners Dethklok and I got the chance to see Baby Metal in both Vancouver and Seattle. I attended the Vancouver show at the PNE Forum as a audience member, as my wife is a big fan of Dethklok, and of course we stuck around for Baby Metal as well. Another thing to note, is that I believe this was Baby Metal's first performance in Vancouver. Then the next evening, I was shooting the band courtesy of Live Nation for Loudflash.com in Seattle at the Wamu Theatre. Both shows were sold out, with both venues having capacity of 7000 to 9000 people. Baby Metal have played Seattle a few times in the past, but first time in the Wamu Theatre.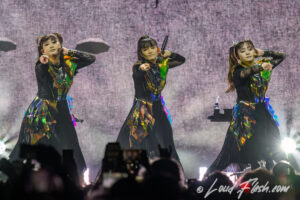 Baby Metal are a manufactured Japanese pop band, based out of Japan, produced by Kobametal from the Amuse talent agency. All songs are primarily sung in Japanese with the odd English shout-out in some of the songs. The core of the band is Moa Kikuchi ("Moametal" stage name), Momoko Okazaki ("Momometal") whom both are dancers along with some singing. In the middle of these two is the taller Suzuka Nakamoto (Su-Metal) who does all the singing in all the songs we hear tonight. They have four albums in the discography, with the latest called The Other One which was released this past March of 2023.
They start off at 9:30pm with "Babymetal Death", which is more or less an instrumental from the backing Kami band behind the 3 girls. I want to say this a track that keeps the momentum going from the prior Dethklok set, as well as the girls get a few words out to check the microphones.
As for the "Kami" band, they are largely ignored in my opinion, as they all wear masks that would work for Slipknot or Ghost and hang back in the dark. I recall back in the early years of the band, that they were all in corpse paint and had some character but now they seem restricted which to me is un-metal like. Later, on song 8 with "Metal!" they do get some spotlight with some solos from the guitar players and drummer.
Surprisingly, they waste little time getting to "Gimme Chocolate!!" at song 2 and the crowd just eats it up. I heard a lot of people months ago saying they were just going for Dethklok, but I will report that I saw no mass exodus to the doors, and both shows I was at remained heavily packed for Baby Metal too.
"PA PA YA!!" and the fists are clenched and pumping. Even for the 40-50 something generation X fans in the crowd with Slayer battle vests were totally into it. I think there is a lot more Baby Metal fans than you think at the Dark Funeral concert you might be at.
Song 5 we get "BxMxC", its a well constructed song and very hooky from their Metal Galaxy album. I quite enjoyed this one actually, might be my favorite of the setlist.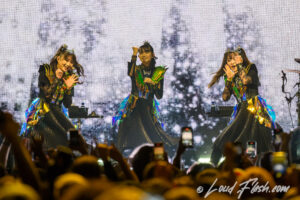 Song 6 "Mirror Mirror" from The Other One album, was probably the slowest one of the night. Some solid modern guitar playing in this one and Su commands the audience to light up their phones to light the place up. Welcome to 2023, where phones outnumber lighters. I remember 25 years ago, I brought a Bic lighter along just for this reason.
Another highlight came in at Song 8 with "Metal!!", which is another barn burner of a song. The energy level from the 3 girls is immense, and the dancing is heavily choreographed for all these songs tonight. In fact, to me, it's most of the core entertainment. Lots of backing vocal tracks, and even wonder how Su-Metal handles the vocals while dancing at the same time (?). Su tried to get everyone down on their knees during one of the slow parts and have everyone jump up as the band kicked back in. It mostly worked. Tom Morello does a guest spot on that song, not sure I picture him as "metal" but they milk it anyway on the large screen behind them.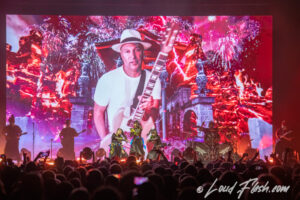 No pyro, or huge daunting light displays or wicked lasers. The sound is ok considering these halls don't seem to handle it very well and is quite boomy at times. Nice large screen with some visuals and videos that accompany the theme of the song played.
They end this 11 song, and almost exactly 60 minute set, with another raucous song called "Headbangeeeeerrrrr!!!!!" and lastly "Road of Resistance" from 2016's Metal Resistance album. If I had to choose which audience was better between Seattle and Vancouver…..I'd go with Vancouver this time.
This was an extremely polished show in both Seattle and Vancouver, with the dancing, singing and well crafted songs. It was pretty much what I expected from Baby Metal and what you see from all the videos, is what you get live as well. How they keep that energy level and happiness from night to night, is quite an accomplishment. Unfortunately, we were only approved a very limited amount of photos by the bands management and at their discretion. We had a lot of amazing photos of the entire band, not just the core of the 3 up front. But to leave on a high note, yes, I would have to say this was a unique and highly animated performance which did not disappoint either Vancouver or Seattle fans alike.