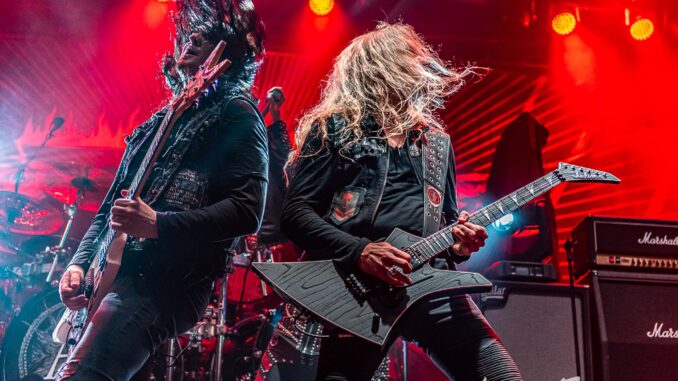 The ever talented, Arch Enemy, were back to crush Vancouver in support of the Amon Amarth Berserker tour that trekked across North America in 2019.
This time they are behind Amon Amarth in a backup position so unlike last year's headlining visit at the Vogue, we will get an abbreviated set tonight. Arch Enemy is a heavily talented bunch led by Canadian vocalist Alissa White-Gluz, Michael (Amott) Guitar, Jeff Loomis ( Guitar), Sharlee D'Angelo  (Bass) and Daniel Erlandsson (Drums).   I have seen them quite a few times over the years and their brand of melodic death metal (should I call it that?) is among the best in the business.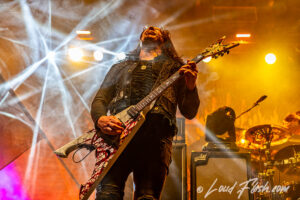 Tonight, not a lot of flair with the stage setup, but again this is a backup situation so they will have a lighter setup.    Daniel is visible first and the spotlight is on him for the first few seconds and then Amott and Loomis rip into the insanely fast riff of 'The World is Yours' from their latest album from 2017 "Will to Power".   Alissa hits the stage and begins her searing vocals with Sharlee on full headbanging beast mode.  Laser lights all over, its just the epitome of a metal show!
'Ravenous' (2001's Wages of Sin) is next and the dual axe attack is back with Amott and Loomis trading off solos and riffs.  Watching these two metal masterminds at work is simply mesmerizing, and both I would consider the top guitarists in the genre.  Alissa is all over the stage, headbanging with her signature blue (looking rainbow now) locks, and getting a workout while she is winding up the fans at the same time.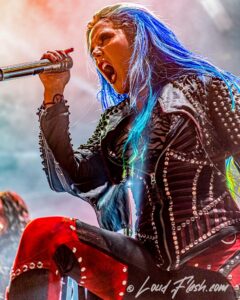 Tonight it's an 8 song set, which they concentrate 6 of the 8 mostly on the last 2 albums with Alissa (Will to Power, War Eternal).   I think for me this night, I am going to go with the last song on the set as my favorite of the night 'Nemesis' (2005's Doomsday Machine).
Arch Enemy are likely getting close to ending this tour cycle and we are hoping they are heading to the studio so we can get see what they come up with next.    Check them out on the Berserker tour with Amon Amarth this fall.