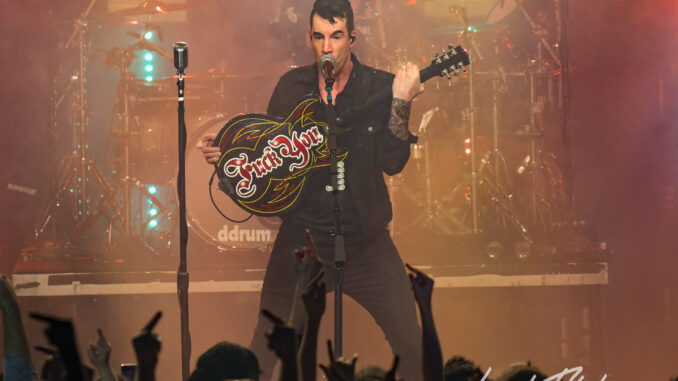 Vancouver rockers Theory (formally Theory of a Deadman) are at the Commodore Ballroom for a couple sold-out shows to promote their just released new album "Say Nothing".   I got hooked on this band with a couple albums back in 2005 "Scars and Souvenirs" and 2008's "Gasoline" which had some heavier rocking songs with some hooky chorus's.
However, we see the band has started to drift since those albums to a more softer tone, is this the same band we come to expect from those earlier albums and how well does the new stuff translate live?   I am also confused over the bands name at this point, as I see all the Facebook site and new merch, like T-shirts say 'Theory' rather than 'Theory of a Deadman'.   Are they trying to get away from their harder more rocking edge of the past?  Only time will tell.
The 4 piece band has been around for some time now with not a lot of changes.  Tyler Connolly is still on vocals, Dave Brenner on guitar, Dean Back on bass and the Joey Dendeneau on drums (since 2009).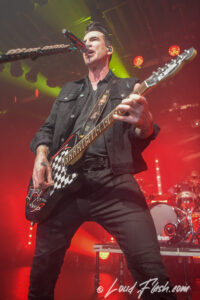 The band hits the stage with "Low Life", a catchy rocker from 2011's "The Truth is…" which is a good starter to get the crowd into a rocking mood.  Song 3 keeps the momentum with "The Bitch came back".   We get a track from the new album "History of Violence" a song about domestic violence but this is no longer your dad's music that he is used to hearing from these guys as you begin to hear the change in direction with their music   Sadly missing from this set is "So Happy" or "No Surprise"?  How can we not have these?  These are core songs that their fans came to see tonight and I overheard a lot of fans miffed at not hearing them, but rather we hear 'Hallelujah' at song 11 (Leonard Cohen) and 'Wicked Game' at song 8 (Chris Issak) that pretty much killed any momentum this show had.   The show picked up near the end with the last 3 songs with 'Hate My Life', 'RX' and the song everyone was waiting for, 'Bad Girlfriend'.   Now, granted, I was at the first show, so I am not sure if they changed up their set with these other songs that were noticeably missing.   Give the new album "Say Nothing" a spin, you might enjoy their new direction in their musical journey.