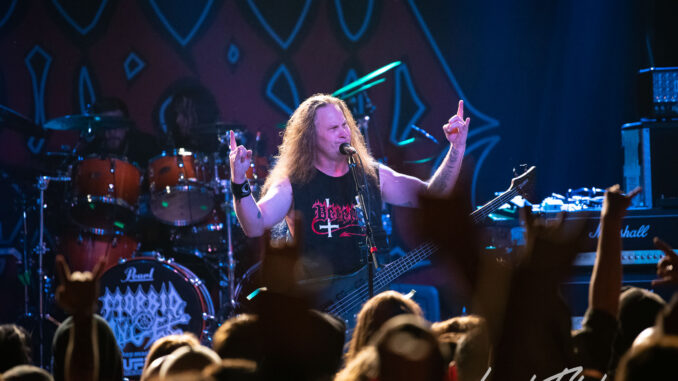 Death metal pioneers Morbid Angel from the Showbox Theater in Seattle!
The legendary band was part of the Decibel Tour of North America with Necrot and Cannibal Corpse for 2019.
If there was a Death Metal BIG 4 concert, these guys would definitely be part of it.   This band has been around since 1983 and can easily be considered one of the inventers of Death Metal, with those deep growling vocals (sometimes really fast as compared to other Death Metal bands of that era), fast picking single notes and a lot of palm muting technique on the guitar.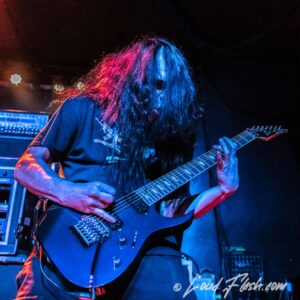 The latest edition of Morbid Angel has Steve Tucker on vocals/bass, Scott Fuller on Drums, Dan Vadim Von on guitar and the sole original from 1983, guitarist Trey Azagthoth.   Trey is such a fantastic guitar player, techy-shreddy solos and amazing riffs created over the 35+ years, put him in the class of Riff Lord.
The show starts off with 'Piles of Little Arms', wasting no time with intense drumming and lots of that fast guitar picking, which sounds pretty clear and concise.  Both Dan and Steve have the fans blowing in their face and hair, which looks pretty cool for death metal.   'D.E.A.D' is which is even more intense, and they slow it down with 'Garden of Disdain'.   'Garden of Disdain' is a good song to give the guys a rest from the first 2 (all three are from the latest 2017 album "Kingdoms Disdained".  Drummer Scott Fuller is a beast behind the kit with the double bass blast beats that karate chop your rib cage.    'Garden of Disdain' was actually produced by Erik Rutan, whom is playing guitar with Cannibal Corpse on this Decibel tour to fill in Pat O'Brien (See the Cannibal Corpse review in Loud Flash.com for more on that).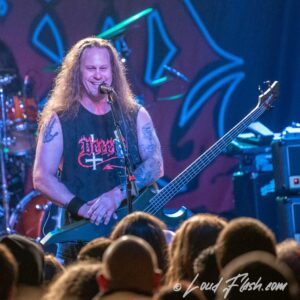 The sixth tune is 'Say of Suffering" (short but sweet one, under two minutes) is one of those songs that starts slow and ends 100 miles an hour.   They don't miss a beat either and do another from the 1991 "Blessed are the Sick" album called "Abominations.  Such a catchy riff at the chorus in that song with some sick guitar solos from Trey.   Last 2 songs (of the 13 played) were Architect and Iconoclast (from Garden of Disdain, 4 off that album played tonight) and from the Covenant album "Blood on my Hands".   'Blood on my Hands' is a blistering way to end the evening, which had a lot of happy faces in a very active (and huge) mosh pit.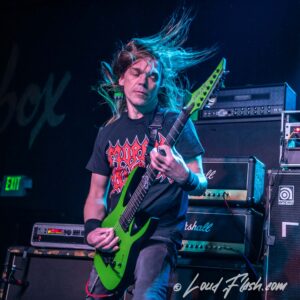 I was impressed with what I saw. All in all, the band is still a force to be reckon with to see and hear live.  Rumour has it that they will be cooking up a new album in 2019 and we can only pray to the Morbid Angel that we see that!