When I think of Black Metal, I think of high pitched vocals, guitars typically in standard tuning, black leather, upside down crosses, and lots of corpse paint.
Well Sweden's Dark Funeral ticked off all those boxes during a memorable show at Vancouver's Rickshaw theatre who are in town supporting Belphegor.
There is no going half way with these guys, and we certainly get everything required from one of the best and well known from Europe.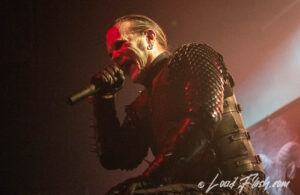 The band is composed Lord Ahriman (Guitar, and the only original from inception in 1993), Chaq Mol (Guitars)  Jalomaah (Drums), Heljarmadr (Vocals since 2014) and  Adra Melek (Bass).   Dark Funeral has had quite a few lineup changes over the last 26 years.  However you have to respect a Black Metal band that has this much experience with a dozen EP and full albums to their credit.  Although the last album is 2016's Where Shadows Forever Reign, they may be due for a new album soon.
Tonight they start off with King Antichrist (from 2005's Attera Totus Sanctus), if that doesn't set the theme for the rest of the set, I don't know what will !  This song has it all with the fast guitar and powerful intense vocals from Heljarmadr.  The audience is really digging it too, lots of headbanging and moshing about on the floor.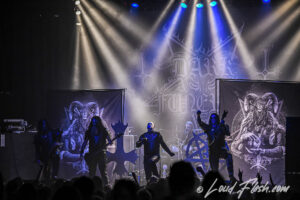 Not much light on the stage, (maybe a little too dark for my photography) which is atypical of these shows. They had a couple high beam lights surrounding the drumkit that would go off and provide some cool images through those upside down crosses on the stage.  They also had a couple giant satanic art as backdrops as well to add to the ambiance to the show.
Tonight they get to 13 songs in the set, some highlights include Temple of Ahriman, The Arrival of Satan's Empire, Nail Them to the Cross as well as The Secrets of the Black Arts.    My favorite this night was 'Unchain My Soul' (from Where Shadows Forever Reign, lots of fast guitar picking in this one which is glory to my ears.   At the end of the last song, 'Where Shadows Forever Reign we see the large Dark Funeral Flag being waved by Heljarmadr and that concludes a very entertaining set from one of the best Black Metal bands around today.  Check them out on the Devastation of the Nation Tour!