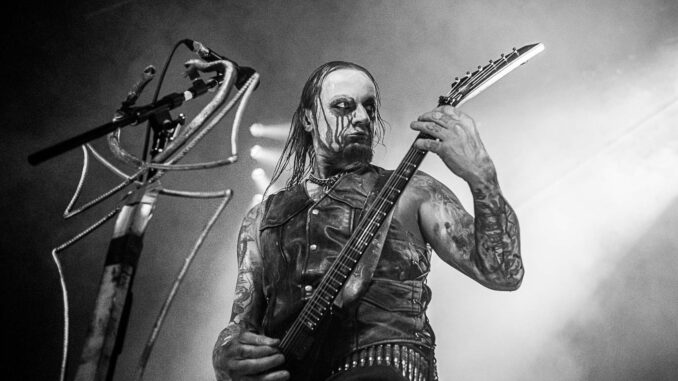 Loud Flash was  summoned back to Vancouver's Rickshaw theatre to witness blackened death metal artist's Belphegor.
They had arisen Austria in 1993,   and are currently supporting their latest opus "Totenritual" which was released in 2017.  The 4 piece band is lead by Helmuth Lehner who is lead vocalist and guitar player, Serpenth on bass, Horus on guitar and Pavulon on drums.   This is the "Devastation of the Nation" tour and they are alternating headline duty with Dark Funeral.   Tonight Vancouver gets to see the almighty Belphegor Headline!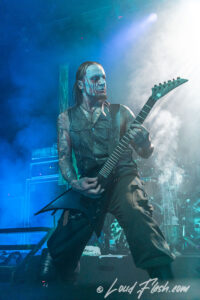 I really dig bands that build the ambiance of the stage setup and put a full effort to entertain the audience.   Belphegor have done just that with all the black metal and satanic stage art imagery, such as 2 huge upstide down crosses, candles on upside down candle holders, skulls, bones piled up on bones, and lots of fog on the stage.   Helmuth and crew also are in full corpse paint and in full black leather.  Also we get the fog and the lighting ……light….ummm….ok well not a lot of light, but that is atypical of black metal shows..  But it looks really cool when they do turn it on and how it shows through this stage setup.
They start off with some eerie ambiance instrumental, facing opposite the audience then begin this ritual with Sanctus Diaboli Confidimus.  A song that starts off kinda slow then picks up the pace with lots of fast drumming from Pavulon.   Helmuth's voice is absolutely pulverizing to listen to this night, he has such great range with death metal vocals, deep guttural throaty to higher pitched levels like that of a satanic witch.   He is a rather imposing figure on stage as well, face covered in blood dripping makup, not one you would like to meet in a dark alley!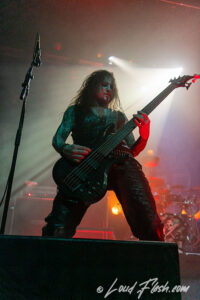 They play one next from the new album called "Exegesis of Deterioration', a slower paced one that gets the hair flying in the audience with the headbanging..  Other than the 4 they do from the new album (see set list in pictures), they do some real gems like Stigma Diabolicum, Lucifer Incestus and Belphegor – Hell's Ambassador.   My favorite song tonight was 'Conjuring the dead' which has some really cool back and forth guitarwork.
This is a really solid show they put on.  All in all I was really impressed with Belphegor headlining, they have a really strong set of songs presented and I will be sure to catch them again next time.  Do so if you dare!