Touring for weeks on end and in different countries can take a physical toll on a band.   The show must go on if you are sick, as so many are dependent on your performance either financially or to the fans that worship your band.   All you can do is basically fight through it, and let the adrenaline during the show mask the issue.
Just ask lead vocalist Andy Cizek of Monuments as they played at the Rickshaw Theatre in Vancouver last night with support from No Light Escapes, Sammy Boller and Essenger.  He was under the weather with likely the flu, but still managed to get through the full set of 11 songs.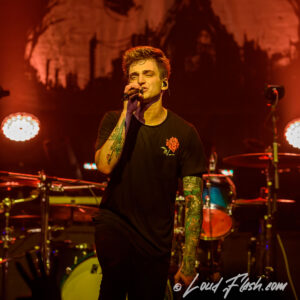 They just released a seriously great album called In Stasis back in April (2022) and it is a melting pot of metal genres with progressive metal, metal core and some melodic death styles.  If you are a fan of those styles of metal (which I am), then you are in for a delicious tasty metal treat.
But tonight, we get to see them perform 4 songs off In Stasis and witness the latest version of Monuments who have not toured here since 2014.   The band consists of Adam Swan on bass, Mike Malyan on drums, founding member John Browne on guitar and vocalist Andy Cizek.  The band has fluctuated in the past between 1 and 2 guitarists, now down to 1 with Browne.   Also they have had 5 vocalists prior to Cizek which is rare to see that much turnover in that position in less than 10 years.   This is Cizek's first visit to Canada.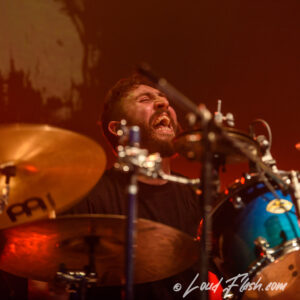 So tonight we see this band from the UK hit the stage at 9:45pm and start off with "Cardinal Red" from the In Stasis album.   Cizek appears to be doing rather well so far as I overheard one of the VIP members mention he was suffering with a sore throat.   But the hardcore Monument fans were VERY excited at the front, and he was not hesitant at all to engage with them.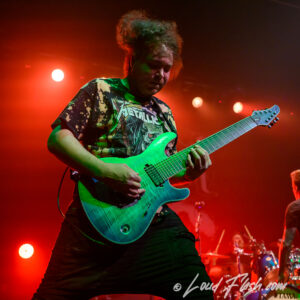 I really think that set the tone for Cizek for the rest of the night knowing he had a lot of support as they kicked in with "Animus" as song 2.   That song has a mix of a lot of clean vocals and screamo style which he did not do too bad at handling it.  Browne's guitar prowess was on full display with some nice solo pieces in this song.
But the band is a lot of fun to watch as a whole too.  They don't take themselves too seriously on stage and appear to actually like one another having a lot of fun in the process.  All of them move around and utilize the stage space assuring that the crowd gets a good view of them.  During song 5 "Regenerate", they had the whole crowd sitting the floor and then thereafter the whole jump  up and jump thing.    Adam was spinning around with his bass on the other new one called "Opiate" (song 7).  At one point Cizek standing on the monitors on the side above the band,  or even balancing on the skinny railing in the photo pit, which I nearly walking into him.
Were there points in the show that they could've used that 2nd guitarist they no longer have? Sure.  Especially on the older stuff like "Orgin of Escape" (song 3) or "Atlas" (song 9) where some holes in the rhythm could've been fuller.    But overall, I think it really didn't suffer with just Browne on guitar.
The only disappointment might of actually been the crowd size tonight.  Maybe 200-300 people there tonight for a Wednesday.  I was anticipating a larger crowd since not a lot of metal in the past couple weeks here in Vancouver.
They ended the night with an actual encore, which is getting rare these days. It might have been just so Cizek can get a few minutes of rest and refreshments as they finished "I, the Creator".  You can tell his voice was deteriorating as the night when on but he battled through it quite well.
All in all, it was a really good show, lots of talent from this band and I hope they can keep this version of the band together for the next Vancouver visit.