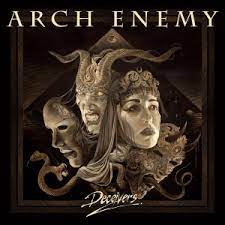 Arch Enemy has always had the corner my eye for close to 20 years now.    They have be around for at least 27 years and have been fairly successful in producing some top notch metal.  However,  we haven't heard any new material in sometime from them since 2017's Will to Power.  We can almost guarantee a few big hits off each album at least judging by past history.  But will we be 'deceived' this time?
Let's face it, the band's founding guitarist Michael Amott has built practically an all-star team around him with longtime drummer Daniel Erlandsson, Sharlee D'Angelo on bass, Alissa White-Gluz on vocals and guitar wizard Jeff Loomis.   They are pretty much a well oiled machine for the most part, but let's take a look under the hood of the newly released album called Deceivers and see what we find.
Starting with track 1 with 'Handshake with Hell' and its nutty fret board tap fest at the start which sounds like something Loomis might have been involved with writing.    Then the train hits the track and Angela kicks in with her death vocals.  But thereafter she is singing clean vocals, which is one whale of a start. I wonder if we are going to hear a lot of clean vocals on this album.   I am actually not bothered by this as her clean vocals in my opinion are better than her death vocals.  It's a catchy song with a good mix.
'Deceiver, Deceiver' is where Daniel's drumming is in the limelight right at the start and along with some interesting arrangements thereafter.    It's a really strong and polished song with a lot of speed that is sure to fuel future mosh pits
'Eye of the Storm' at song 3, pretty heavy and slower paced.  I like the buildup in this song as it drops you down into Alissa's vocals thereafter. It's a super heavy song that sounds good in my truck.
'The Watcher' is next at song 4 with a nice hook at the start to draw the listener in, then to the trap of heaviness that awaits them in 20 seconds.   It contains a hint to what the chorus will do later on in the song.  But for the most part it is another extremely high RPM riff fueled mayhem that stops at the catchy chorus.  There is of course lots of ripping solo work by Loomis and Amott in this one.
'Poison Arrow' song 5 – This is the albums ballad.  The music is great, but Alissa's death vocals just don't work well with this song at all.   She has such an amazing skill set of clean vocals and it should've been used here.  Much of the album is written by Amott and Eraiadsson, however I see Chrstopher Amott had a hand in this song as well.  Alissa writes the vocals on this album for 4 songs, but not this one.  Michael did this one.  Just kind of weird for me.
Song 6 'Sunset over the Empire', this song is classic Arch Enemy.  Nice guitar tones and some great fretwork. Not to mention Sharlee's bass presence at the start and end
'House of Mirrors' – ok this song is THEE brain bug of the album.  That starting riff has infected me for days. Well done.  Plus it comes back in the chorus.  I absolutely love this song.  Brings you up and you just await that satisfying chorus each time.
'Spreading Black Wings' is dedicated to late Entombed vocalist LG Petrov.   I love that crunchy palm muting that just engulfs you.  At times I wait for the crunchy guitar rather than the other parts.  Anyone that dedicates a song to LG gets points just for the dedication.
'Mourning Star' is abit of instrumental fill.  It's like one of those songs you hear when you are on a train looking out the window.  It seemly has no place to go but it's rather sublime.  It lasts roughly 90 seconds.  It will be Fast forwarded next time….
'One Last Time' – Starts to pick up the pace then has one of those feel good chorus's in it with;  "…gonna break free, get out of these chains, I've got nothing to lose, but everything to gain…",   It's alright but lyric value kind is iffy to me.
'Exiled from Earth' – Hear some keyboard work on this one, which might be experimental for 'Enemy and that's ok.  At least they are trying some new ideas here but I will add this to the filler category.
I look back at all these and most of the better lyrics are written by Alissa (Handshake, Watcher and Mirrors).  The album is VERY polished and mixed, nearly perfect from Producer Jacob Hansen.   The sound is great to crank LOUD.
As for more of Alissa's clean vocals, we heard a few whispers here and there but you only hear clean vocals on song 1 which surprised me, as I think Alissa has a vocal tool box that is underutilized on this album.  But overall, this is a pretty decent Arch Enemy album that I have played quite abit in the last couple weeks.  That tells me something right there….we were not deceived!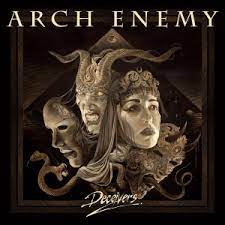 Arch Enemy Deceivers (Napalm)
Released: August 12 2022
Produced by Jacob Hansen
"Deceivers" track listing:
01. Handshake With Hell
02. Deceiver, Deceiver
03. In The Eye Of The Storm
04. The Watcher
05. Poisoned Arrow
06. Sunset Over The Empire
07. House Of Mirrors
08. Spreading Black Wings
09. Mourning Star
10. One Last Time
11. Exiled From Earth