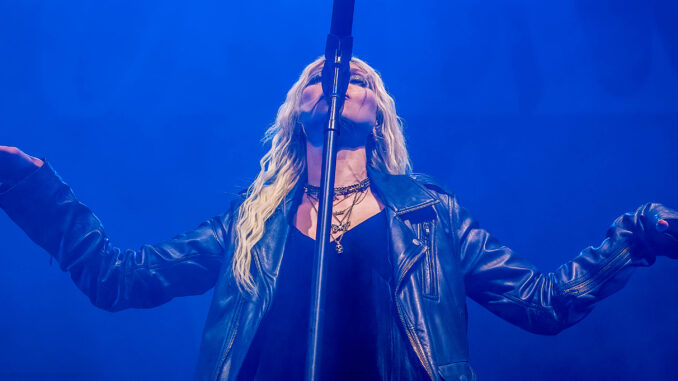 Did the Pretty Reckless do a good job of supporting Greta Van Fleet tonight?  Lets talk about this performance from this New York based Rock band that is warming up the Vancouver crowd just prior to Greta Van Fleet at Rogers Arena.
This is the 6th appearance by them in Vancouver since their formation back in 2009. Just looking at the venues they have played in Vancouver you can see how they have steadily become popular.   Starting with the Plaza Club in 2009, Rickshaw Theatre (2012), Rio Theatre (2013), Vogue (2014) and Rogers Arena (2015,2022).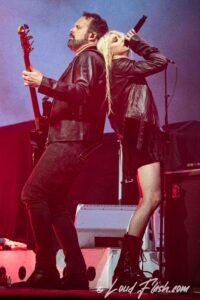 Totally respect for any band that can keep it together for over the past 12 years as they haven't had any new members since 2010.  The band is comprised of Jamie Perkins (Drums), Mark Damon (bass), Ben Phillips (lead guitar, backing vocals) and their charismatic front woman on vocals Taylor Momsen.   
They have released 4 albums at this point, with the newest being Death by Rock and Roll (2021).
So being a support act, they have a really simple stage setup tonight as most do with just a large "The Pretty Reckless" backdrop.   They start off with a hard hitting riff from Ben, and Taylor strolls out 'on her own' to the stage with "Death by Rock and Roll".  Her voice is pretty solid too this night and matches the albums we hear accurately.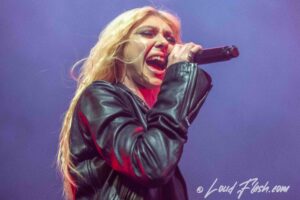 Song 2 was "Since You're Gone".   It's a great song, but it is time for a changeup as that song has been played every time she has visited Vancouver as with song 4 "Make me want to die".   Great songs, but I think she has others too!
Taylor is not one for standing around in front of the mic too long, as she is the type that will move from side to side on the stage and keep the audience lively.  I also appreciate Ben who comes up with some of these really catchy hooks as he sounds fabulous on Song 6 with "Going to Hell".
They understandably lean on the newest album Death by Rock and Roll  with 3 songs with "Death by Rock and Roll", "Only Love Can Save Me Now" and "Witches Burn".  Song 7 is "Heaven Knows" which is a nice audience participation song that got a pretty good reaction from the crowd.  But you know what, I think a pretty good chunk of the audience wanted to see this band, and Greta Van Fleet made a good call in having them as support.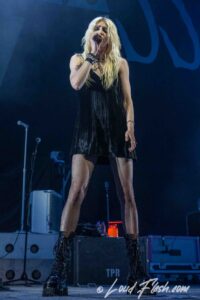 I think the surprise song of the night from them was "Take Me Down" which I later find out that has never been played in front of a Vancouver audience.  To me that is shocking, as song is frequently played on my wife's YouTube playlist.   This song we saw Taylor picking up the guitar and filling in for some back end rhythm during the chorus.
So back to my question, did they do a good job supporting Greta Van Fleet?  Absolutely!  They had a electrifying performance without any crazy lights or pyro, just basic straight ahead rock'n'roll.