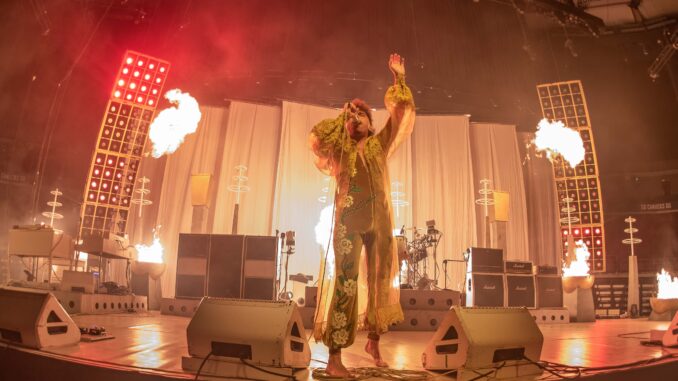 Tonight, I just had to see what all the fuss is about with this band called Greta Van Fleet.
For the past several years I have had my head clouded with others saying they are a Led Zeppelin clone band and totally unoriginal.   I mean there is absolutely no denying the resemblance with the vocals, guitar playing and general hippy aura about them.
But what really gasses me is that they are same people that listen to AC DC and many of their clones, or Cannibal Corpse and all their 10000 clones, or Nirvana or Black Sabbath.  At some point the rock'n'roll algorithm is going to come around with the thousands of bands out there and start to sound alike.  Get over it!
So who is Greta Van Fleet (I will refer to them as GVF)? Well, they are made up of a core of 3 incredibly talented brothers of the Kiszka family in Michigan that go by the name of Josh (vocalist), Sam (bass, keyboards) and Jake (guitar).  They also have a very talented drummer in the way of Danny Wagner who reminds me of Tommy Aldridge (ex Ozzy Osbourne drummer).  They only have 2 full length albums at this point with Anthem of a Peaceful Army (2018) and The Battle of Garden's Gate (2021) and a few EP's. They have been nominated for a few awards in the past, winning the Grammy for Best Rock Album (From the Fires EP) in 2019.   So, yes they have been rather successful early and broke out quickly in just these past 4-5 years which is kind of rare unless you are this talented.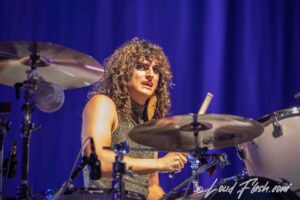 Tonight GVF are playing the 'big barn' aka Rogers arena in Vancouver in front of a good crowd (estimate 14-15000?).   They have brought along some awesome tour support too from Hannah Wicklund and The Pretty Reckless on the Canadian portion of the tour that ends tonight.
The have a big stage curtain with some Sigil or Chaos Magic symbols (?) printed on it, then it comes down, and they start off song 1 with "Built By Nations"  from the The Battle of Garden's Gate album that sets the tone with this guitar-centric song.  It's all about the riff with these guys though, and they didn't leave their big song "Highway Tune" to the end, as this is song 2. They kept the predominantly female crowd rockin' and blasting the pyrokinetics to remind everyone they are at a bigtime rockshow.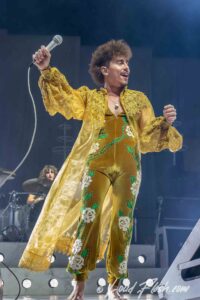 Josh is wearing some sort of crushed velvet or velour jumpsuit with white roses and a yellow detailed see-thru floor length lace coat. Very sixties, early seventies styling, as both Josh and Sam play the entire show barefoot (a la Greta Van Feet, LOL).   Josh talks a lot about "…bringing the love if there is none…" in some of his in-between song chat tonight, but overall the whole band exudes this very positive and happy vibe.  "Smoke'em if you got'em" he mentions at one point…that prompted a few light ups in front of me in the stands as they move to song 6 "Heat Above".
The stage is quite large with some large grid lights on either side, all white with some large fire pots and a large screen on either side of the stage.  Along with that, the sound was quite outstanding and an excellent mix.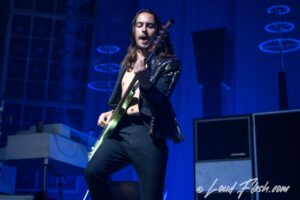 Sam leaves the bass after the first 5 songs then does a run of 5 songs on the keyboard.  They are a pretty talented family of musicians as he gets featured more on song 7 with "Light of My Love" and the crowd pulls the cell phones out to light the arena up.  A security guard told the girl in front of me to put her lighter away…..I felt old at this point.
But tonight, to me, it was also a showcase of Jake with his mad guitar skills on his Gibson SG especially with song 8 "Broken Bells" or Song 10 and "Weight of Dreams".  Lots of emotion on that guitar solo, you just get the feeling that he can rip on that guitar all night if he were allowed to.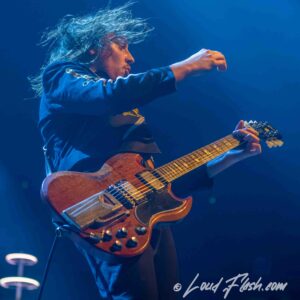 Josh's vocals are hyper amazing though as we saw in the encore of "Age of Man".  He may not have that Robert Plant swagger, but wow!  How he keeps that range up the entire night wailing and screaming (in a good way) is just beyond what most could do in rock these days.  Song 12 of the encore was a rocking finish with "My Way, Soon".
It was a dazzling  12 song performance that really made me look past the Led Zep comparisons.  I  think this band will evolve and move on in the future, but for now I think you need to see these guys in person so you really get a sense of how they got to this point so quickly.
Wait, he sounds like Geddy Lee!