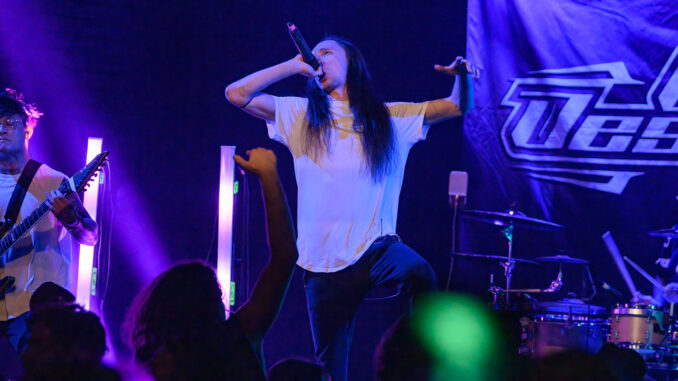 Within Destruction have embarked on their first headlining tour of North America and we were certainly excited to see them in Vancouver!
They have made the trek all the way from their Slovenian home town of Jesenice and Vancouver is 5th stop on the 28 date tour with tonight's support from Fox Lake and Carcosa.
The band itself, is a 3 piece with Luca Vezzosi (drums), Howard Fang (guitar) and Rok Rupnik on vocals. No bass, which I am seeing a lot of lately, especially tonight with all 3 bands having no bassist.  However exception here with Fox Lake as their bassist didn't make it over the Canadian border.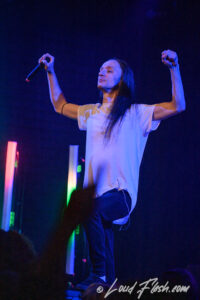 Within's music can be described as leaning heavily to deathcore, but have in the last couple albums incorporated a lot of groove synth,  trap drums, progressive, modern metal and metalcore.   There is something for everyone with this band, don't get turned off though, they are still have retained some deathcore elements, and but it does sound fresh at least to me.  The latest opus is from 2022 which is called Lotus, and its abit of a departure, or shall i say, maturing from 2018's brutal deathcore album Deathwish.
I had the chance to stroll over to the merch table and you can certainly tell the influences with this band and the anime!  Some pretty impressive art too, if you are into that as I bought my daughter a cool "Hate Me" hoodie.
They start off with "Lotus" the first track off Lotus which sets the theme for a couple large colorful LED light sticks on stage. That track has a slight rapcore feel to it as both Howard and Rok are wearing white t-shirts which is distinct from black most bands are clad in. The metamorphosis of this band is happening right onstage before us.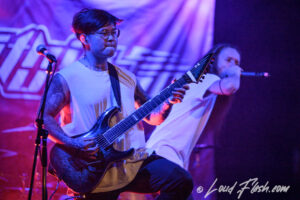 They move to "Toxic", which is more a metalcore-ish feel to it from Lotus.   The mostly sold out Wise Hall (The Wise), is feeling the new direction of this band however.  Roks vocals mostly kick in on the deathcore side, as there is fill from backing tracks, however on cleans, as well as the synth instruments.
Next they go with "Hate me" from 2020's Yokai album, which they really didn't get to tour with much due to the pandemic but can feel that transition from that album to Lotus.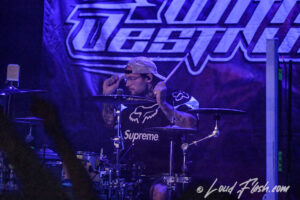 They lean heavily on Lotus with 6 songs, others like "Nightmare", "Scars", "Survival" and my personal favourite from the night "Neo-yakuza".   4 songs from Yokai and only 2 from Deathwish.
Older fans, not worry as things get heavier as the night progresses, with "Yokai" then slamming with "Human Defect" off Deathwish.  Rok does some mosh instruction to the crowd and believe me the pit was nice tornado at this point!
They end the 12 song set night with one more slapper with "Deathwish". Rok gets the Wise Hall split in 2 and a wall of death kicks in as the song proceeds.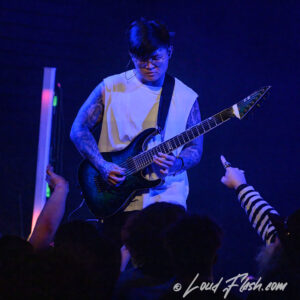 I really digged this show.  I mean yes, the band has evolved, I would say dramatically since 2018, but they sound great, and the variety in the music makes everything fresh.  They started off the show with the new "aggressive entertainment"  material, then turning it up towards the last 4 songs to super heavy with the slam deathcore roots. Many bands have moved on in styles, just look at say Devin Townsend or Opeth.  I think they have found a good mix here at this point and maybe headed towards Electric Callboy territory (?)
I would love to see these guys at say the Commodore Ballroom or the Rickshaw next go around (or larger) as I think those venues have superior sound as compared to what we heard at the Wise.   They have lots of tour dates left, don't miss out on Within Destruction!  Give the new Lotus album a listen too! BLEGH!