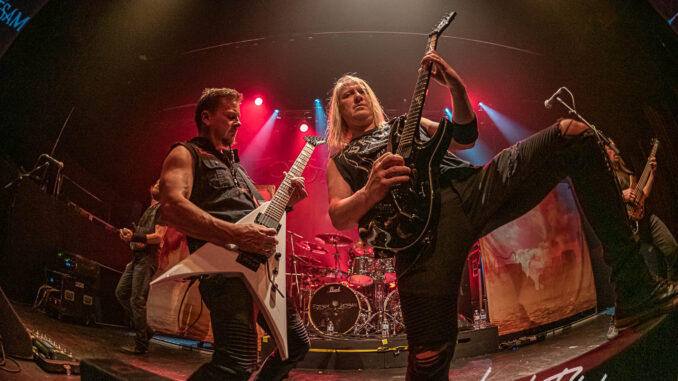 Legendary Phoenix-based metallers Flotsam & Jetsam are featured at Vancouver's iconic Rickshaw Theatre to support their latest crushing album "The End of Chaos", just released in 2019.
I am a renewed fan of this band based on this new album that has some great songwriting, shredding solos and of course some great power metal vocals from Eric Knutson.  I am literally shocked how well put together this album is, its pretty rare that these older bands (they've been around since the early 80's) can release such a amazing piece of work that the new metal bands cannot even touch.   It's really sad that this band does not get the respect it deserves and I will say they are among one of the most (if not thee) UNDERRATED bands in metal.  Based on this, I was not missing my FIRST Flotsam show and damn happy I did.
The band has had its share of lineup changes, Eric Knutson on vocals (who has been there since day 1) , guitarists Michael Gilbert (also since day 1) and Steve Conley, bassist Bill Bodily (whom is a touring member since 2016), and drummer Jason Bittner (filling in temporarily for Ken Mary).  Wait Jason Bittner?   This is Jason Bittner who is from now from the defunct (sadly) Shadows Fall, and as well as with Overkill currently as of late.  This band is UBER Talented and experienced, not one slouch in this band at all here tonight.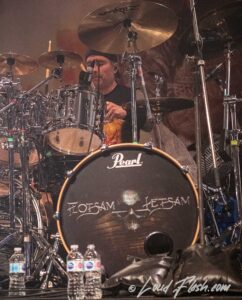 Sadly when one talks of Flotsam, what is the first thing that comes to your mind?  C'mon, we know, "oh that's the band Jason Newsted from Metallica came from!".  Bingo.  I was reading the discussion in facebook and I saw those comments "the band Newsted was in" or "Jason still in the band".   Cant deny that back in 1987 when I first bought "Doomsday for the Deceiver" (oops did I age myself?  I bought when I was 3, LOL), that Newsted was an influencer in my purchase decision.   However, upon hearing this album, it was great thrash metal that always was in Newsted's shadow.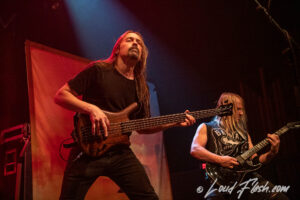 Starting off with "Prisoner of Time", from the new album, it contains alot of power metal styling in this song, if you are a fan of Iron Maiden, you are going to love this one   Great guitar solos, galloping style drumming, and Eric's voice is spot on to the album.  Wow, what a great start to the show!
Eric explains that we will get new songs from the early 80's and new stuff from the new album; I was delighted to hear this as well as the rest of the old guard of metalheads in the crowd.  So they do just that with, 'Desecrator' up next, a super high speed metal song with some scorching solos.   Man, I miss these days with the solos.  Speaking of Iron Maiden, that is the name of song 3 which is an ode to the iconic metal super studs.
As for the show itself, you get your typical speaker and huge backdrops, and the usual lighting, no fog or lasers here, but that is just fine with me.  The sound was great tonight and every song was tight as Bittner's drum playing.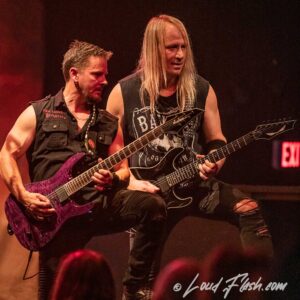 Lots of highlights in the 16 song set, basically for me, "Hammerhead", "She took an Axe" and the other 3 songs "Control" "Recover", Demolition Man" really made my evening.  The shredding guitar licks from Steve and Michael were off the hook breathtaking too. I won't fail to mention Michael Spencer's bass playing as well, which was bang on and kept the bottom in check.  I will say that Eric's vocals are just amazing at 2019 and I believe his voice has gotten even better with time.  "No Place for Disgrace" ends the evening, which is another song that hits just about everything you want in a metal song!   PHEW, what an ending.
METAL HEADS – rejoice, Flotsam & Jetsam are indeed a force to be reckoned with today, either seeing them live, or hearing their new dynamite album "End of Chaos" which will have you saying "WOW" after you listen to it.  They are not abandoned debris in the metal ocean yet!