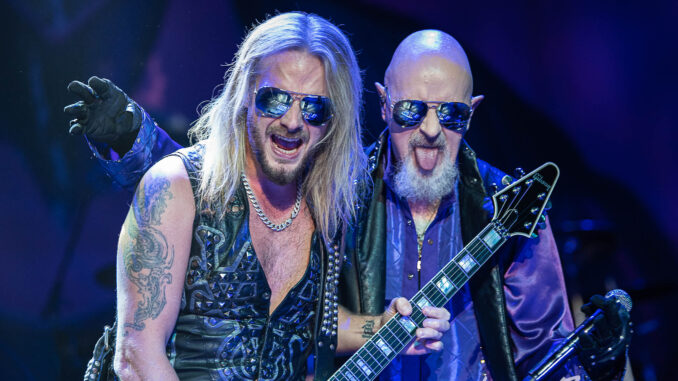 METAL GODS – Judas Priest – descend into a nearly sold-out Abbotsford Arena in support of their latest release from 2018 called "Firepower".
When most people think of Heavy Metal, Judas Priest is considered by many, the pinnacle what made heavy metal as it is today.   This band has had a resurgence these past couple years, heck back in 2015 they played 2 shows at the Hard Rock Casino in Vancouver and could not sell those shows out.  The turnaround has really occurred due to the last couple albums being absolutely stellar. The new genres of metal fans have embraced them and are in full force tonight to see these metal heroes for the first time.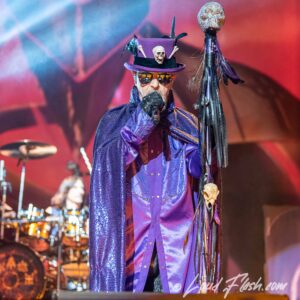 As we all know, a band that goes for close to 50 years will have lineup changes.   Currently the lineup includes Rob Halford (Vocals since 1973), Ian Hill on bass (since 1969), Scott Travis on Drums (since 1989), Ritchie Faulkner on guitar (since 2011) and touring with them is Andy Sneap (2018).   If you are wondering who Andy Sneap is, he is a world renowned record producer/mixing engineer for MANY heavy weight metal acts such as Accept, Arch Enemy, Trivium, Saxon and even the new Firepower album for Judas Priest.   He is filling in on tour for Glenn Tipton who was diagnosed with Parkinson's disease in early 2018.   Glenn was actually accompanying the band and playing a couple songs on the tour but on this leg of the Firepower tour, he decided not to participate.  That said, Sneap is a VERY adequate fill-in as I we saw tonight.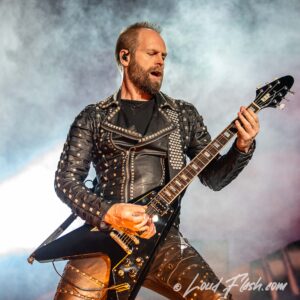 Tonight we see Priest hit the stage, with Scott making the first appearance at the drum set then the two guitarists entering the stage.  Then the two vets, Ian and Rob who is wearing a flamboyant purple voodoo shaman outfit with a staff with a skull on it starts singing with 'Necromancer' from the Firepower album.  Then we move into a couple of epic songs first being 'Heading out to the Highway' which is a staple song that just about every Priest fan can sing along to and thereafter 'The Sentinel' from the Defenders of the Faith Album.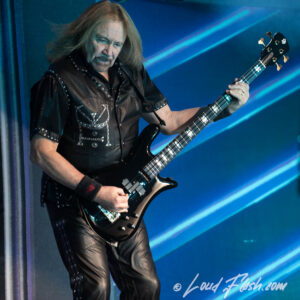 That was my first Priest show back on the Defenders tour cycling through Winnipeg.   They had such an elaborate double layer stage back then with that head that looking like an angry robot lion with gazelle antlers.  It was pretty damn cool, must have had like 15 semi trucks back then for that entire production back in 1984. Times have changed a little with what I saw today with 4 or 5 semi trucks for this stage setup.   Lots of light, big screen projection and I will note that the sound on this was also absolutely top notch in the Abbotsford Arena (at least where I stood on the floor).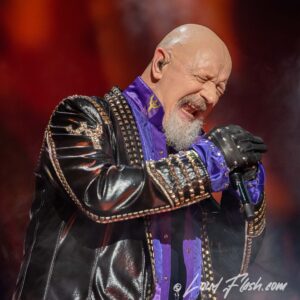 After doing photos (after 3 songs we get ushered out of the pit area as per usual), I decided to get more into the thick of it and went to the floor area and stood next to a couple ladies that were dancing and headbanging in their seats.   Note my word there, seats.  Been awhile that I have gone to a metal show with seats on the floor, am sure they do this to get better return value on the tickets sold.  So no mosh pits and notice not a lot of crowd action, in fact,  I see people standing with their arms crossed.  I think a lot of the 'old guard' metalheads are there to hear their old favorite songs from the past, but not me!  I am headbanging along with the other ladies to 'Spectre' (song 4) off the new Firepower album.
Some interesting song selection tonight however with '(Take these) Chains (from Screaming for Vengeance, song 5), 'Out in the Cold' (from Turbo, song 7) and 'All Guns Blazing' (Painkiller song 15) .   I was thinking instead we'd hear more along the lines of "You've Got Another Thing Comin', Turbo Lover', or Painkiller, but in a way it was sort of refreshing to hit other songs on those albums.  So that was a pleasant surprise.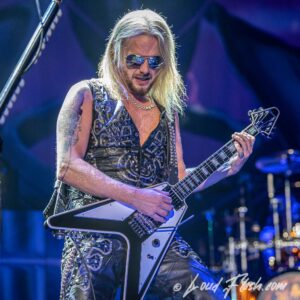 'Victim of Changes' song 14 tonight was amazing to hear.  I was really wondering if I'd ever hear this song again with the band slowly disintegrating over the years.  With the loss of Tipton, they had him on the large screen behind them during one point of the song which was kind of a nice tribute.  One thing I will say, is that Faulkner and Sneap do one helluva job on guitar, very impressive playing from both of them this night over the course of 18 songs.
Being that Halford is 67 years young, he can still sing amazingly well.  No, I don't think we are going to hear something as wild as 'Screaming for Vengeance' type vocals, but he plays it conservatively on some of his screams likely to keep things even all night, but damn, sounds good!  Not a lot of in-between song chat with the audience from Halford.  However at one point he mentioned he was very grateful that the "metal community has supported Judas Priest all these years".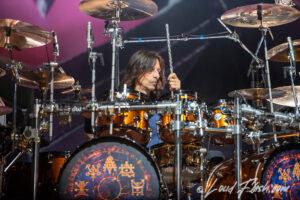 Although we had some song variety, I can t imagine them not playing 'Hell Bent for Leather' when Halford gets on that Motorcycle and rides it 20 feet or so on stage.  I wonder how many miles he has road bikes on stage over the past 50 years, I think to myself.   We gleefully get 'Breaking the Law' and 'Living after Midnight', two more songs that would leave me hollow if they didn't play.  Both sounded amazing!
This was a super show tonight.  Priest is playing like a well oiled machine.   It was quite an incredible performance from the metal gods!