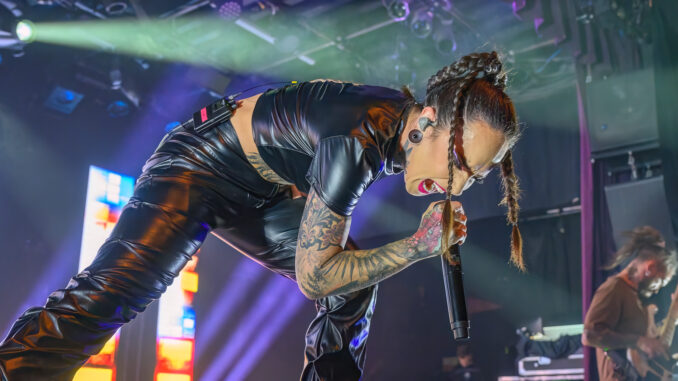 Ukraine's most popular metal export has arrived in Vancouver but they didn't exactly 'Sit Stay Roll Over'.
Back in February 24 2022 Russia invaded Ukraine as Jinjer were prepping at the time to do a large tour with Slipknot.  They decided to pullout of that tour, and understandably remain in Ukraine to help with relief efforts and to be with family at that time.  So last April we didn't get to see this band in a large arena setting in front of 16000 people but we are fortunate that they are safe, and back on tour.
Tonight we get a more intimate show at the nearly 1000 capacity Commodore Ballroom in Vancouver (thanks to Live Nation) with support from UK prog-metal band Monuments.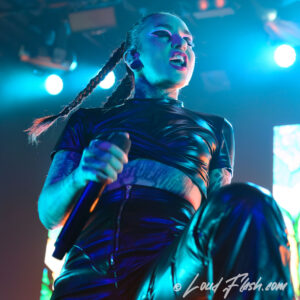 If you recall back in Oct 23 of 2021 the last time they visited Vancouver, they arrived without drummer Vlad Ulasevich as he was diagnosed with Covid19, and was not allowed over the border into Canada.   However, they made the extreme effort to still come to Vancouver and use recorded drum tracks, which made for an odd visual with no drummer behind them.  But it did work that night!
No changes in the band either, as Vlad is still the drummer (and is healthy!), Roman Ibramkhalilov (guitar), Eugene Abdukhanov (bass) and Tatiana Shmayluk on lead vocals.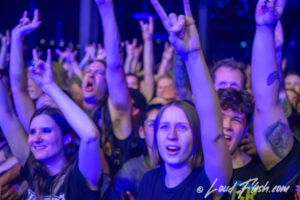 I am really curious about what we will hear from this band tonight. Maybe we get a different setlist?  I got a picture of it, and it was definitely different, as whoever made it, changed all the names to the songs to reference cats (see below).  So yes, I guess it was different that way, but will we hear anything new?  When they were here in the fall of 2021, they did play 7 songs from their current album Wallflowers so will we get the same show or some deeper cuts from the 4 full length albums they have in the discography?
They start off the evening with "Perennial" from 2019's Micro EP as the band makes it way out with Tatiana coming out last.  I will tell you that they set the benchmark right away with that one as all of them are on point, and Tatiana's voice is just as powerful as ever, going from clean singing to outright screaming chaos the next second.
Song 3 "Copycat" another from Wallflowers was one we didn't hear from the last time.   There is some intricate, but super heavy guitar playing here from Roman on that one.
Not the same laser light show we saw the first go around back in 2019 however, but the sound was fantastic at the Commodore as per usual, a nod to the sound person for that.  Some cool visuals in the background but overall they keep it pretty dark mostly with the lightning.
At song 4, "Teacher, Teacher!" (Micro EP) then a string of other Jinjer staples like, "Who is Gonna Be the One" (Cloud Factory album) and "I Speak Astronomy" (King of Everything album) give us abit of variety over the discography.  The pushing and shoving in the audience increased when these songs were played. Eugene's bass playing didn't go unnoticed either  on  with his finger taps near the end.  This guy definitely fills in the gaps quite well and provides some heavy low end tones throughout this set.  He really shined on "Home Back" with it's bass focused riffs.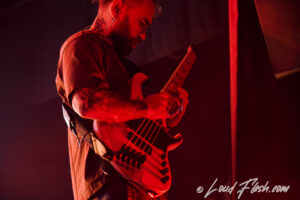 "Anyone want to hear a new one?" shouts Tatiana. Then they oddly get into Song 10, "Pisces" which was a highly anticipated song tonight as they didn't play that on the last tour in 2021.    However, they didn't play my favorite "Over the Top" from 2019's Macro album, so there was a tradeoff.
Song 11 another from Wallflowers we haven't heard here was "Dead Hands Feel No Pain".  Vlad's hands looked fine to me as his drumming on this and others was quite impressive.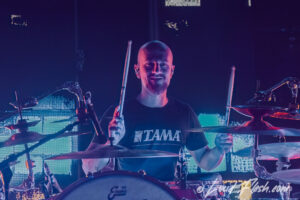 The reggae influenced "Judgement (&Punishment)" from Macro was an interesting break from the metal onslaught and shows they can diversify their brand of metal with other genres.  That was quite well done tonight and showcases Tatiana's vocal abilities.
Song 13, was the last of the 6 Wallflowers songs they played tonight, with "Sleep of the Righteous and ended the night with another Jinjer favorite "Sit Stay Roll Over" from the King of Everything album.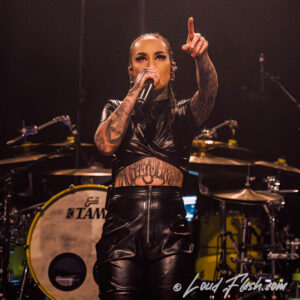 So, am I happy with this setlist tonight?  I am content, a little top heavy with the Wallflowers album however, and would've preferred a little more from some of the others but they did touch all the other full albums (unlike last time where they didn't hit anything from Cloud Factory).   I was also hoping they would've come all this way and played something brand new during these 75 minutes, as am sure they must have something on the go they could've surprised us with (?).   But overall, it was a solid performance that we've come to expect from Jinjer, with great musicianship, as well as Tatiana's vocal prowess and stage presence.   I really get the feeling the next album they do with Napalm records will lift them to the next level, as their talent immense.