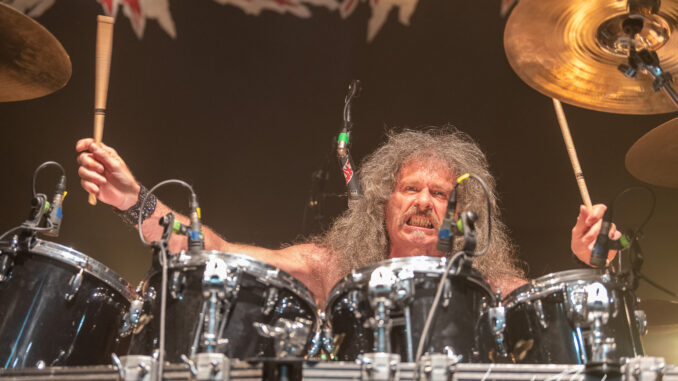 One of the forefathers of Canadian Metal, Exciter, make thier way to Vancouver's Rickshaw Theatre and fittingly enough, they were with the other Canadian Thrash legends Sacrifice.
The band started waaaay back in 1978 in Ottawa Canada and was at one time one 'the' Premiere Speed metal bands in Canada, if not the world, that produced 11 studio albums.  In the 80's I bought their 1986 album "Violence & Force" and still to this day, I have the chorus of 'Pounding Metal' in my head which is one of the best metal songs ever in my opinion.   44 years later, yes, I said 44 years later they are live at the Rickshaw Theatre in Vancouver this night and I FINALLY get to see at least 2/3rds of the original band.   I think that's bloody amazing, but what am I in for with 2 senior citizens in a speed metal band?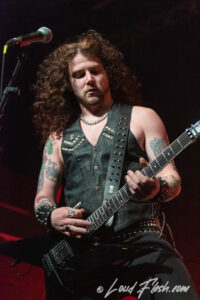 Sure, original guitarist John Ricci has left the band back in 2018.  However, original Bassist Allan James Johnson, and drummer as well as vocalist Dan Beehler still keep the metal heart alive.   They have replaced Ricci with a young hotshot guitarist named Daniel Dekay.
So out they come onto stage, and start off with one of my favorites 'Violence & Force' the from Violence & Force album.  Bloody hell!  Dan sounds amazing as the boys are all in black leather.  Dan still has a full head of hair too, doing amazing drumming and vocals at the same time.  I rarely see the drummer doing lead vocals these days.  I think the only band I've seen in the last 4 years is Cody Bowles of another Canadian hard rock duo called Crown Lands.   But Dan is impressive this night with the next one,  'Stand Up and Fight' from 1983's "Heavy Metal Maniac".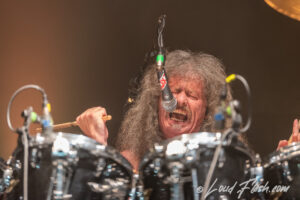 I was really taken back with the energy of these 3 on stage.  Particularly James, and the new kid Daniel who are constantly moving around on the stage.   Daniel is an absolute shredder too!  Where did they find this kid? Bouncing around and appears to be an absolute perfect fit for the depart Ricci.  At one point in the show, they unleashed him and he did a stunning old fashioned guitar solo for a few minutes.  He was outstanding.
They had great lighting in this show too along with some great sound which made it very enjoyable to photograph or take video on your cell.
But what I really liked about this show is they only played songs from the first 4 albums – which us older soldiers of metal really were content with.   They know their fans but as well, James and Dan know those songs well.  Some others they got into were 'Die in the Night', 'Iron Dogs', 'Black Witch' and of course 'Heavy Metal Maniac'   My obvious sentimental favorite 'Pounding Metal' had yet to be played but I was deeply relieved they got at it with song 10.   I was happy, and singing along "Pounding metal, pounding metal!"  with everyone else in the crowd.
They finish the night with the very appropriate 'Long Live the Loud' which is the end of the 12 song set.   It is the ultimate speed metal anthem and they are definitely making us all loud and proud of them.  You have to see Exciter.  They certainly put on a extraordinary performance, and pointing back to the energy they created between the 3 of them, it was far from my imagination of old guys just lethargically playing their instruments.  True metal is still here with Exciter if you want to see it.