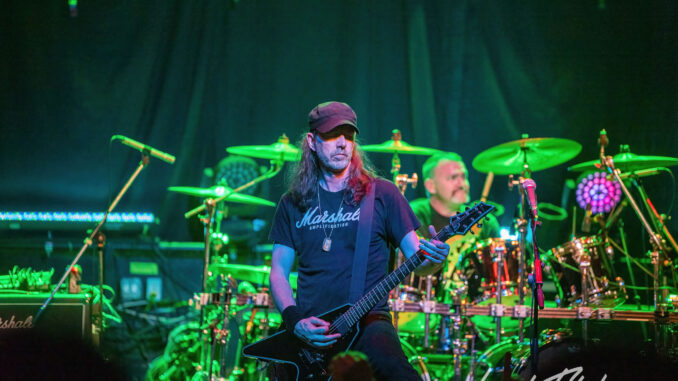 If Canada had a 'Big 4 of Metal' show, who would the big 4 be?  Who would be those bands that really led the charge back in the 80's?   My big 4 would be Annihilator, Voi Vod, Razor and Sacrifice.   Believe it or not, all these bands are STILL active today.  All are of the Thrash metal/speed metal genre for the most part.  Voi Vod maybe a little more avant-garde thrash metal these days but the others remain true to where they started.
Way back in the late 80's as a teenager I used to listen to Sacrifice's 1987 "Forward to Termination" album on my ghetto blaster non-stop.  As well as recording the video on Betamax with 'Re-Animation' ripped off Much Music's power hour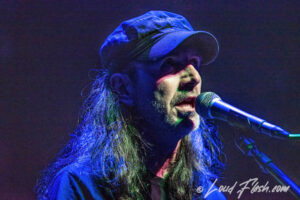 and cranking it though my parents hi fi system.   I couldn't wait to see them in Winnipeg at the Le Rendevous and I was deep in the mosh pit slamming around like an angry monkey.  I was not disappointed, as they put one helluva show that night.  I didn't see them again until 2018 and boy, what a trip that was down memory lane.   I thought that this maybe the last time I would see them and then this show was announced by Modified Ghost.   I really needed a re-boot after seeing a lot of modern metal lately, and this was going to be the show that does it.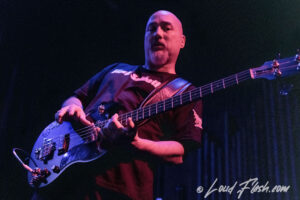 This night the Toronto-based band Sacrifice is headlining the Modified Ghost Festival with a Sold-out show at the Rickshaw theatre (with Witches Hammer and Exciter) in Vancouver.  Sacrifice are playing their very first show in 4 years in due in part to the complications of the (hopefully) out-going pandemic and are ready to rage the Rickshaw. The band has the same lineup since I saw them back in the late 80's too, along with singer/guitarist Rob Urbinati are Joe Rico on guitar, Scott Watts on bass and Gus Pynn on drums.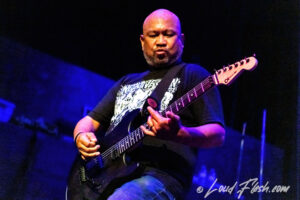 The boys start off with 1987's lead track with "Forward to Termination" and believe me the goose bumps and excitement kicks in for me in the photo pit as the opening riff begins.  Rob's voice sounds just as violently jilting as ever, considering they have not done many shows.   The guitar tone is pretty much the same from back then too, considering they are using modern EVH amps in the show.  Believe me, it was hard taking photos as a lot of the time as I was fist banging in the air along to Rico's riffs in front of me.  The next was 'Sacrifice' from the first album, but I super loved the super heavy 'Soldiers of Misfortune' later played at song 5.  Scott was smiling away and holding the bass bottom end with that youthful smile he has. They do have a newer song that maybe not a lot know about (including me), which was the 6th song of the night called 'World War V'. It is not on any recording as far as I know (?).
We get a lot off my favorite Album "Forward to Termination", with 5 songs, which I am really happy with.   They certainly didn't need to prompt the crowd to mosh (I think its lame when bands have to say that), as they ripped into the 12 song of the night with 'Pyrokinesis'.   IF they were taking recommendations on what to play this night, my other choice would've been 'Cynide'.  Cynide has a lot of high pitched screams so maybe Rob cant reach those notes quite yet since this is the first show back.  But overall, he did quite well on the vocals, sounding as pissed off and fierce competing with Rico's tremolo bar whaling on 'Afterlife'.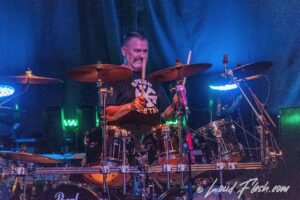 They ended the night with an encore, and the last being of course, 'Re-animation'.   How could they possibly NOT play that song, right?
I realize these guys all have fulltime jobs to survive these days, but wouldn't it be great if they could do this full time again? I for one would love to see them do another album and do some touring again.   Why doesn't a promoter do a Big 4 of Canadian metal?  That would be amazing.