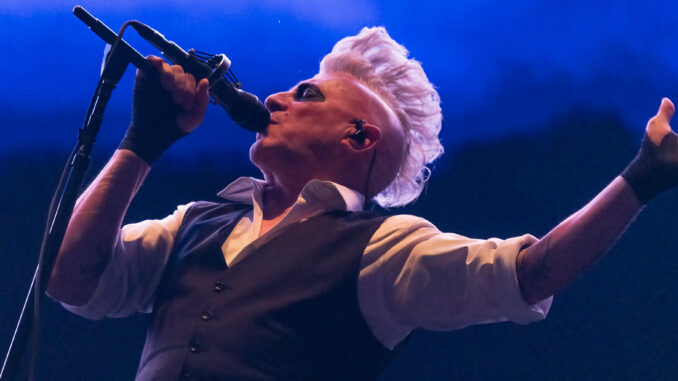 Tool is like a box of chocolates, you never know what you're gonna get….
The enigmatic band Tool has finally arrived with their North American Tour to Vancouver's Rogers Arena with support from Steel Beans. Unsurprisingly, the 17000+ capacity barn is packed to the rafters and completely sold-out, even when ticket prices at a premium at 200$+ (and those are upper deck ones if your lucky).   The hardcore fanbase is here in full force and cant wait to see what this band comes up with tonight.
Sure, no cameras, no videos on the cell phones as its a strictly locked down in that regard.  But you know, it is refreshing in a way, that you don't have someone in front of you holding a device in your face recording the entire show.  It kind of felt like a trip back into the 90's, where there were no such things and we all concentrated on the band.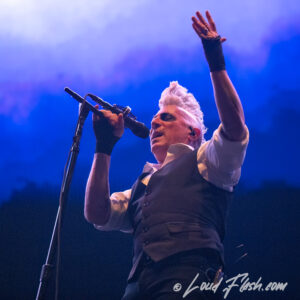 Speaking of the band, originally from Los Angles, they have been around since 1990 and have all been together since then.  Well, maybe exception with bassist Justin Chancellor who came into the fold in 1995, but that is phenomenal for 28 years.   The other 3 immensely talented members are Danny Carey (Drums), Adam Jones (guitar) and vocalist Maynard James Keenan.  Maynard has a few other side pieces with Perfect Circle and Puscifer, so he is constantly cooking up new material which is why Tool don't come around too often.
From 1992, they have only produced 1 EP, and 5 full length albums, which has been a torturous amount of time for the Tool Army, especially with the 10000 Days album produced in 2006 and the "new album" back in 2019 with Fear Inoculum.   They certainly take their time making their art, as each album is a concept album and to quote guitarist Jones "It's not good when it's done, it's done when it's good" and further states that "never gonna put something out where later, I go, fuck I wish we hadn't done that".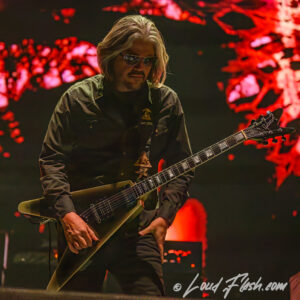 Tonight, as expected, an elaborate show is upon us with large screens with unique visuals floating from one side to the other.   Adam and Justin are facing drummer Danny as they start off with "Fear Inoculum".   Having seen Perfect Circle in the past, the stage setup isn't that much different with risers on both sides of the drum set as Maynard stays exclusively on them the entire evening singing the haunting vocals which are dead on to the album.   It's his safe space out of the spotlight, to showcase his vocals without the distraction of  the physical.  They want you to focus on their music which have carefully masterfully constructed visuals that accompany them.  
"Finally Vancouver" Maynard states, as Adam's guitar kicks in with "Jambi" from the 10000 Days album as we get a good taste of Justin's bass which is a little more louder and awakens the entranced audience. Speaking of which, the floor is all seated, no open pit for moshing tonight.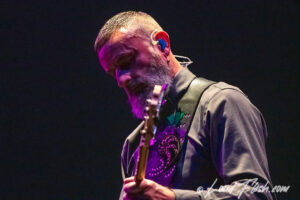 "The Pot" I watched alot of people singing along to this one as Maynard's voice was spot on and sounded great.    Then song 4, with "Rosetta Stoned" from 10000 Days ,  which we haven't heard in Vancouver since 2006.  This was indeed a rock show, with lasers and amazing lighting all over the place.  "Jambi", "The Pot" and "Rosetta Stoned" were consecutive and that was it from that album.
The band refocuses back on to the Fear Inoculum album with Pneuma next. I want to mention about the visuals of Pneuma. The word in Greek means breath or spirit and that's exactly what the visuals portrayed from breath made from a body right down to what looks like parts inside of the lungs like bronchi.  What a visual spectacle!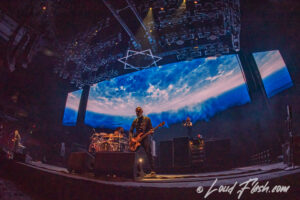 Over the last 4 years, Tool fans have had time digest latest offering of Fear Inoculum as "Descending" from that album was at song 6.   However, they dig a little deeper in the last couple of the set with "Swamp Song" and the more raucous "The Grudge" which ended with a 12 minute intermission.  From what I have seen, most of these Tool shows play roughly the same first half dozen songs but they do like to switch it up.   
After the intermission, Danny performs a drum exclusive here with "Chocolate Chip Trip" that showcases his phenomenal talent behind the kit.   He seemly uses every instrument that surrounds him like as well as the laptop for some additional sounds.  Pretty epic performance I must say.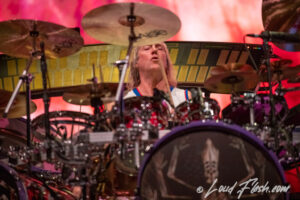 They get into the last Fear Inoculum songs of the evening with "Culling Voices" which is characterized a softer sound for the most part highlighting Maynard then in the last bit the band cranks it up to a crescendo.  Then, thereafter with "Invincible", as well from Fear Inoculum.
Ok so here we are, the last song.  We haven't heard "Sober", "Stinkfist", "Schism" or "Forty Six & 2". Vancouver gets "Ænema", as our surprise song tonight and that's all from that ground breaking album.
All in all, this was quite the tour package with Tool playing 6 of the 12 songs off the last album Fear Inoculum.   That might not sound like a lot, but the songs are long, as the show started at 8:45 and ended at close to 11pm for 2 hours of music.   And let's not forget about the visuals behind them, Psychedelic Rorschach Kaleidoscope of liquid and smoke at times resembling a circulatory system, at other times looking like a gas nebula in space. And let's not forget all the lasers. The giant eyeball in "Fear Inoculum" did give a sense of fear the way it twitched around with black sun bleeding into a sunset that exploded into a blue giant.  If you have been a hardcore Tool fan since the beginning or a new fan, you probably loved this show.  If you were expecting a greatest hits show, especially from the first couple albums, then you might have been disappointed.  But in saying this, this is high grade entertainment musically and visually as Tool calls the shots whether you like it or not.  From what I observed people left very satisfied as Abba's "Dancing Queen" via tape,  was played on exit after this splendid show from Tool.