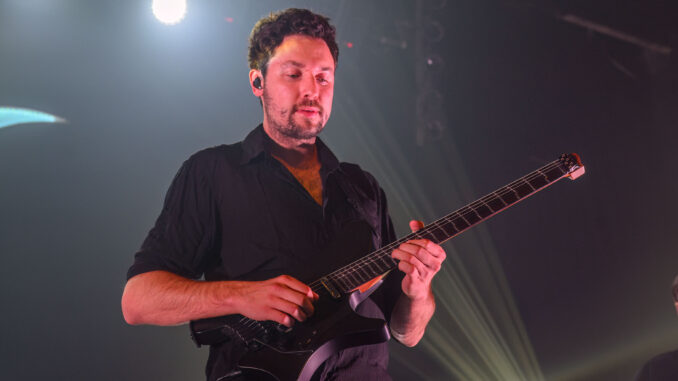 This première progressive guitarist is back on tour and tonight Vancouver is the first stop on the tour.
It's been a solid year if you are a guitarist and looking to be inspired by some of the best.   This year in Vancouver, we witnessed some really great players such as Zakk Wylde, Nita Strauss, Steve Vai and Polyphia to name a few.
Australia's Plini Roessler-Holgate, who goes simply as 'Plini', is another talented guitar player who is back to Vancouver to start off his new tour in support of his next EP coming in December 2023 called Mirage.  No vocals and just instrumental, and is more of a jazz fusion/hard rock with a tinge of metal influences.   He has mentioned in the past that one of those influences is Joe Satriani and we definitely hear that in his playing.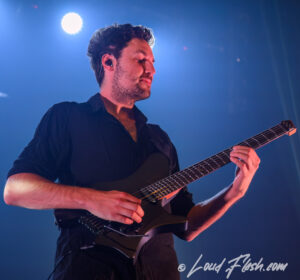 Tonight, courtesy of F7 Entertainment, we are at the SOLD OUT Rickshaw Theatre as Plini has brought just one supporting act with him over the border with the 2 musician band Standards. This show was actually sold out from sometime now as this essentially is a make-up date, because they were supposed to be here in May but they did not receive their travel visas in time.  Strawberry Girls were also to be on the bill prior to Plini, but did not make this evening unfortunately.
It's not just him plucking a guitar by himself however, as he has with him a very talented group on this tour that supports him with Jake Howsam Lowe on guitar, Simon Grove on bass and Chris Allison behind the drums.  From what I read, both Chris and Simon play on the new EP Mirage.
It's a 9pm start and all dressed in black, as they begin with "I'll Tell You Someday" from the 2020 full length album Impulse Voices.  The audience was ecstatic to see him on stage and there was plenty of cheering and excitement on this opening song as well as on song 2 "Papelillo". Plini is center stage position as both these songs have their slow moments and heavy pieces as they progress.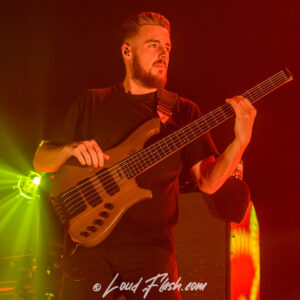 On song 3 "Away" from , I really noticed Simon's bass playing, this guy is fantastic to watch with very precise finger taps but all eyes are glued on Plini and on song 4 "Kind"  you really see why he is so revered as a progressive player.
I really loved "Impulse Voices" at song 5, that hook at the start of that song just draws you in which later gets a little more rowdy near the end of it.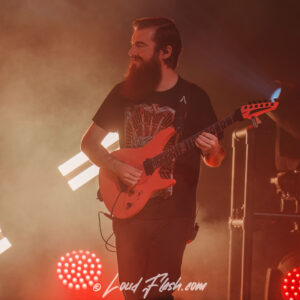 Plini's in-between song banter game is quite humorous.  I would characterize it with dry humor as prior to song 6 "…Asked Jake what song is next and he told me the wrong song so I feel I played bits of the other ones that made up for it".  That got a lot of laughs.  He also mentioned that someone placed limes where the set lists where supposed to be, he ended up throwing those into the audience.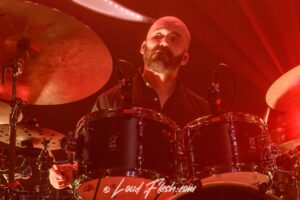 Song 6 "Ember" is a new one from the upcoming EP Mirage, which is characterized with an abundance of intricate riffs and soulful passages that again, gets really heavy towards the end.  If this is an indicator of things to come, I am really digging it.
Other songs up were the heavy "Paper Moon", and then "Flâneur" which has some of that cool delay he likes to use. He brings along his own sound and lighting team and certainly shows as was done extraordinarily well, as some of these songs really chimed and echoed beautifully in the Rickshaw Theatre.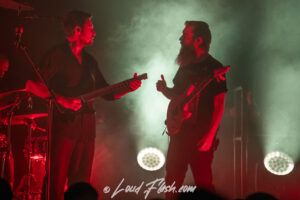 Song 9 "Cascade" from the acclaimed Handmade Cities album was actually my favorite of the night, I think it was one of the heavier songs he does all the way through.   Lots of that Joe Satriani influence in that one.
Thereafter we hear more amazing ones like "Handmade Cities", "The Glass Bead Game", more delay effects on that one, and thereafter, "Pan".  All guitarists use the Neural DSP Quad Cortex pedal that shapes tone and adds all the FX's that we hear tonight.  I first heard of Plini through one of the plugins i have from Neural DSP called the "Plini".  Who the heck is Plini I thought at the time.  His plugin has alot of these FX and amazing delays that we hear tonight.  No old fashion Marshall stacks here…..its all electronically produced and quite well I might add.
The 31 year old Plini ends the evening with his 13th song of the set with "Electric Sunrise", one of his hit songs.   It was quite dazzling to watch him play this one, after that I think I might of just witnessed one of the best modern young players out there today.  If Plini is coming to your city, don't hesitate!  Definitely need to check out that new EP Mirage in December!