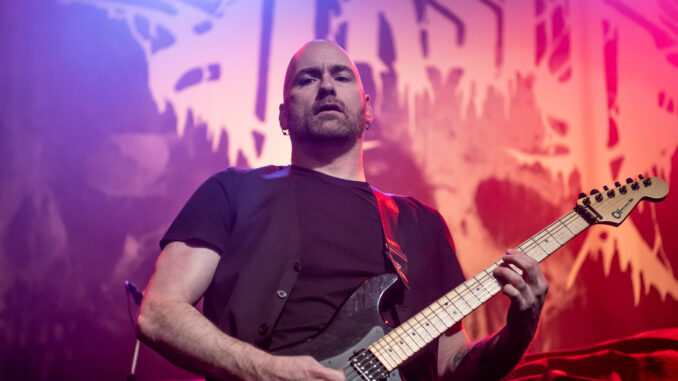 Definition of arsis. 1a : the lighter or shorter part of a poetic foot especially in quantitative verse. b : the accented or longer part of a poetic foot especially in accentual verse. 2 : the unaccented part of a musical measure — compare thesis. 3. Extreme Metal band from the USA with killer riffs and 'in your face ' vocals.
Ok, I added number 3 in!
Tonight we got to see that definition #3 of Arsis in play at the Rickshaw Theatre in Vancouver who are supporting Septic Flesh and Ensiferum on this tour. 
I FINALLY get to witness Arsis ever since I fell in love with their album "We are Nightmare" that I purchased back in 2008. Last chance I had, I came to the show late due to some traffic issues and only saw half the last song of that show, CRAP!.  But not this time, I am in the front row in the photo pit, excited to take photos of a fav band of mine.
Arsis have had quite a few lineup changes since that 2008 album however.  Much like Dave Mustaine and Megadeth, this is James Malone's band.   James handles vocals, much like Mustaine, and calls the shots as to who is in this band.  Tonight we see Taylor Washington on lead guitar (not Brandon Ellis), Noah Martin on bass and Shawn Priest on drums.  Both Noah and Shawn have been in the band off and on since 2008, which appear to keep the lowend of the band stable.
Sporting a new album in 2018 "Visitant", they start off with lead track of that "Tricking the Gods" and move to another "Handbook for the Recently Deceased", both with some nice guitar work.  But I have to admit, I totally lost my mind in the photo pit with the third song "We are Nightmare", much like a fan boy, I swooned, yelled and punched the air with my camera in hand.   So love that song!  Been awhile since I acted like that but I wasn't embarrassed!
It was a six song set with Arsis, short but sweet!  Check out their new album "Visitant"