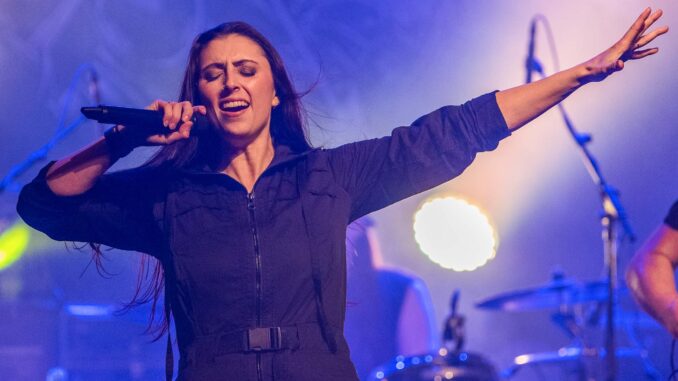 British Columbia has had an insanely terrible 2021 with a dreadful Heat dome, ravaging fires, strict Covid rules, a tornado, and this past week hit with cataclysmic flooding.   Frankly, at this point we just want to be taken away from all this and be put in some 'out of this world' power metal from Victoria's Unleash the Archers.
This band has had alot of ups and downs themselves in the past 2 years as well however. but let's focus with the 'UP's, and they are HUGE.  One being the release of 2020's 'Abyss' right in the middle of the covid pandemic crisis which garnered plenty of attention at that point and lots of rave reviews,  But the biggest is the Juno award for 'Heavy Metal Album of the year' beating heavy weights like Annihilator, Kataklsym and Protest the Hero.  Huge Accomplishment!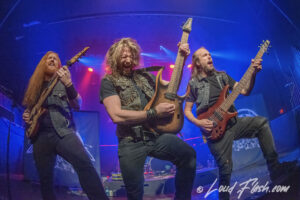 Covid really has steered this band to frustration with many, many tour cancellations in the USA along with full cancellation of their fall European tour that included large festivals.  British Columbia has very strict covid rules, and were going to disallow the concert on the Friday as the Rickshaw was going to be beyond restriction capacity. So what they did was that they separated it into 2 shows and made tough decisions to ask fans to change tickets from the Friday show to the Thursday show.   Invisible Orange promotions skillfully got this accomplished just days prior to the Thursday show and were allowed to proceed.   The Rickshaw is normally a standing type of theatre for the most part so it was super weird to see chairs instead of what would be a slamming moshpit.  But we swallowed our pride and were happy we get the first big metal show at the Rickshaw for 2021!
We reviewed this band back in October of 2018 last and they have definitely leveled up since then as they entered the stage with a lot of confidence and swagger!  They are now a big time band and definitely hit it on all cylinders as they start with 'Abyss'.  The core band has not changed with Grant Truesdell and Andrew Kingsley on guitars, Scott Buchanan on Drums and Brittany Slayes on Vocals.  As with that 2018 show, they still go with the outstanding Nick Miller as their 'live session' bassist.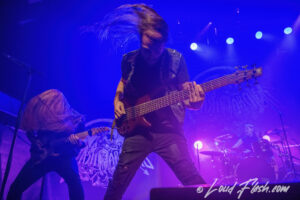 One thing I notice about this band is that they are just 100% balls to the wall entertainment.   Always happy, smiling, making faces at one another…..its just so fun to watch. Grant stealing poses from Eddie Van Halen and sliding across the floor on his knees like he was in the 80's band Poison.  Andrew blistering fast solos (song 5 – Faster than Light, leaves you breathless just watching) that would make Dragonforce blush with envy and bassist Nick jumping about on full windmill with the hair.  All were extremely on point and bang on with musicianship this night too.  WOW.  They play a lot of interesting melodies and they are not afraid to steal bits of black metal that can be heard on the third song 'Legacy'.
Brittney, I will tell you right now……is 'thee' best vocalist in metal right now.  No one at this point that I have seen or heard lately even comes close.  She has definitely taken than mantle from Lee Aaron as the 'Metal Queen' and I've noticed a lot lately she is doing more and more guest vocals with other artists.   What a vocal performance this night!  I mean 'Tonight we Ride' and 'Awakening', both vocal heavy songs back to back and hitting the notes like the album was simply awe inspiring stuff here folks
I am really struggling to say which song is a standout because ALL were just so well done.  BUT if I were forced, it would be the song 'Soulbound' (Song 4 this night) from the Abyss album.  That song has been an earbug of mine since 2020!   It's just so catchy with that chorus.
They concentrated this show on the previous 2 albums (Apex, Abyss) and I believe just 'Tonight we ride' as the lone song from the Time stands Still album.  Brittney did poll the audience if they are more Apex or Abyss.  Turns Vancouver is more Apex according to the cheering of the half capacity crowd (forced half capacity).  I found that interesting as I am more of an Abyss kinda guy since I think the new album is just so much more polished.
They end the show with an encore featuring 'Carry the Flame', a great sing along that left a lot of fans wishing they could attend the next nights show.
Go see this band!  It's only going to be a matter of time before we start seeing them in big arenas next!