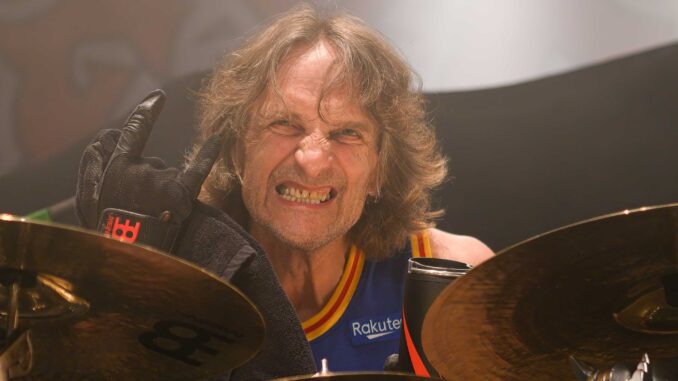 There was a lot of grey hair in the audience tonight.  When is it time to quit listening to metal?
Never.
Our parents thought it was a phase, and seeing all the old guards of metal (like me) at the SOLD OUT Commodore Ballroom in Vancouver to see our idols Death Angel, Exodus and Testament in the Bay Strikes Back Tour, was pure glory.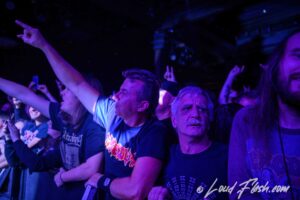 Exodus has been a band I listened to since the Bonded by Blood album, and I have had my eye on them ever since.   We all know about the Big 4 of metal, but if there was a big 5, I know Exodus would've been in that.  Who knows, maybe with Slayer down, we could consider Exodus in the Big 4 now?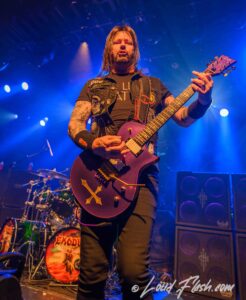 All kidding aside, Guitarist and founding member Gary Holt has managed to keep the band alive throughout its rather somewhat turbulent history.  They have longtime drummer Tom Hunting on drums, Jack Gibson on bass and Lee Altus on guitars and Steve "Zetro" Souza on vocals.   Things have remained pretty steady since 2014 which is good, and hopefully this is the version we see for years to come.
They have released a new album in 2021 called Persona Non Grata and we will no doubt hear some of the ferocious tracks off that album.
Queen's hit song "We Will Rock You" plays over the monitors, and that gets everyone  in a tizzy for what I predict is a crazy time in the mosh pit..   They start off with an new one with "The Beatings Will Continue (Until Morale Improves)" which is pure thrash metal at its best.  Fast guitar and drums with super pissed off sounding vocals from Zetro.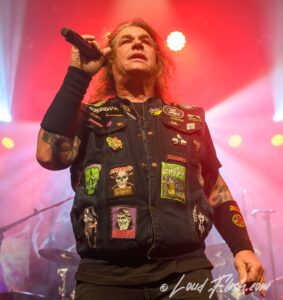 Next song 2 was my all time favorite Exodus song "A Lesson in Violence" from 1985's Bonded By Blood album.  Zetro is not the late Paul Baloff but certainly puts all his aggression behind it.   This is definitely the highlight song of the night for me.
Song 5 is "Deathamphetamine", that choice was a head scratcher for me though.  Frankly, I question that one on the setlist as it's a 8:32min song and I would've rather heard something off Pleasures of the Flesh (1987) or Fabulous Disaster (1989) instead.   Or even the title track off the new album "Persona Non Grata" would've been killer.  Shocked they didn't play that one.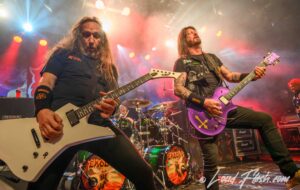 But from song 6 on, they get it right and the Commodore is positively LIT.   Song 6 with Blacklist, then "Piranha" got the audience going completely bonkers on the dance floor.   I am so happy they played "Prescribing Horror" from the new one, that one is such a great slow guitar grinder.  Other than not playing "Persona Non Grata", they picked the 2 other gems on the new one.
One thing I will say about the Commodore Ballroom, their sound system was upgraded and it sure sounds absolutely crushing with this band.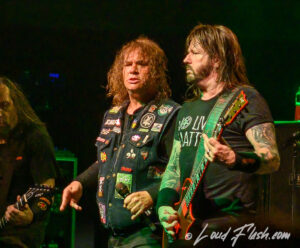 But wait, it just gets better from there with "Bonded by Blood" then song 10 about moshing "The Toxic Waltz" from Fabulous Disaster.  It started off with 30 seconds of Slayer's "Reign in Blood".  Gary probably can play that in his sleep since he was with that band from 2013 to 2019.
Last song of the night, with Song 11 was another classic off Bonded By Blood "Strike of the Beast".  I noticed the crowd wasn't as much into it as the previous 2 songs.  Maybe it should've been song 9 and had Toxic Waltz as last song?  Either way, it was a killer show by these guys who still have the attitude and energy as they did back in the 80's.   I hope we see them for a few years yet but you always have to attend these shows because you just never know when it ends.   Don't hesitate when bands like Testament or Exodus show up in your town!