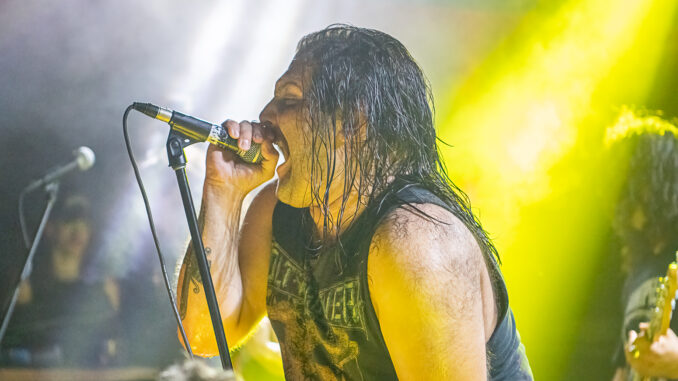 What's the first band you think of when you see the title?
 Creeping Death?!  Metallica right?
 Does it matter?  I was watching an interview with Trey Pemberton of Creeping Death and he addresses that and years back they were more of a hardcore punk band.  He mentioned that naming a band after a song is a sign of respect to the band they named it after.  Little did they know that 2018 they would be signed to a major label E-One years later and they kept the name.  But no, they are not a Metallica tribute, nor do they sound anything like Metallica other than both are metal.  But guess what, there are some big bands you may know that were named after others songs, for example – Between The Buried and Me (Counting crows song), Seether (Veruca Salt song) and Radiohead (from the Talking Heads song).
Creeping Death from Denton Texas have made their 2nd visit to Vancouver's Red Room (Thanks to Modified Ghost) since their inception with outstanding tour support from 200 Stab Wounds, Ingrown, Spirit World and Tribal Gaze.
The main 'Creeps' in the band are A.J. Ross (guitar), Trey Pemberton (guitar), Eric Mejia (bass), Lincoln Mullins (drums) and Reese Alavi (vocals).   They are a fairly young band yet in the world of metal, starting back in 2015 with 3 Ep's under their belt and a full length album called Wretched Illusions.   Their Death Metal sound is old school to me, kinda in the vein of Bolt Thrower or Entombed.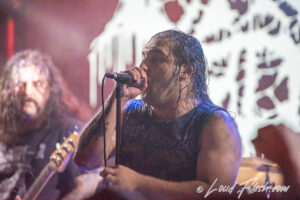 They make their way to the stage at about 11:10 pm and start with "Humanity Transcends" from the latest EP The Edge of Existence (2021).  It's all heads down banging with a slow trudging start which then pickups of speed and starts the vortex of a mosh pit in the dance floor.   That's the moshing I am used to – but this night we saw a lot of "Ninja" Moshing from the other bands which is characterized by martial arts-like arm flailing and kicking.  Not a place I want to be in since there is NO photo pit at the Red Room.
The sound is pretty good this night and not insanely loud like it was the last time I was at the Red Room which featured Hypocrisy.  I think my ears are still ringing from that show!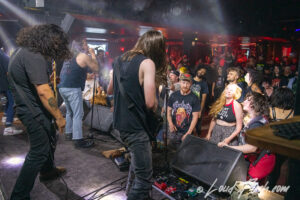 Song 3 is The Edge of Existence which is their top song on youtube.  This song feature some higher screams and some nice cat growls along with a nice little solo ¾ the way through by OJ on his 50watt EVH Stealth guitar amp.   But slow sludgley rhythms are the name of the game with this sort of style of old school Death Metal.  Not much solo wank here folks.   Reese's vocals are on point too, very close to the recordings.
Guitarist Trey is not one to stand around and is constantly dancing and kicking his way with Song "Bloodlust Contamination" from Wretched Illusions.   Trey is definitely the most animated on stage but they all send it on stage and give it to this crowd in the hot'n'sweaty Red Room.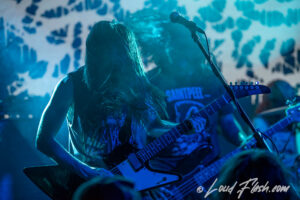 These young bands tonight are eager to please though; they give it 100% and Creeping Death were no exception with this performance.
The last song of the 9 song set, "Specter of War", is ferocious 2:25 minute palm muted meat grinder that ended the show.   They made sure everyone was thoroughly pummeled with that one, and I would say it was my favorite this night too.