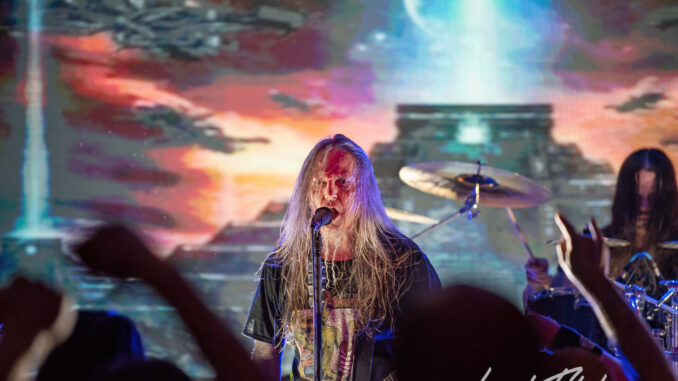 Its been a cold wet spring in Vancouver and nothing is more fitting to perk up ones soul than going to see some Swedish Death metal.   Hypocrisy is in town and ready to play a more intimate show at The Red Room.   A little smaller venue as compared to the last few times they were here but I think it was possibly some scheduling issues that forced this venue of 480 people capacity (rough estimate of 250-300 at this show I figure.  Which is kinda cool actually as the Red Room has a pretty nice sound system, with a nice digital backdrop instead of the band having to put up its cloth version.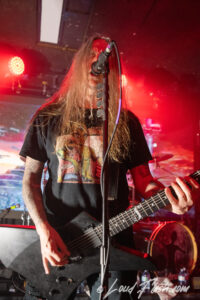 Hypocrisy is a 4 piece band let by it's vocalist/guitarist Peter Tagtgren along with bassist Mikael Hedlund, guitarist Tomas Elofsson and a brand new drummer of Henrik Axelsson.   They have been around since 1991 and have released 13 albums thus far, with the latest being released in 2021 called "Worship" (first in 8 years).   You might have heard a lot of Peter on other artist's albums as well, as he has produced many extreme metal bands in the past like Borknagar, Children of Bodom, Dimmu Borgir and Immotal. He also collaborated with Till Lindemann of Rammstein in Lindemann and created a couple albums with that project.  Rumour has it that he may not tour North America with Hypocrisy much more after this year.  Hopefully he doesn't follow through!
The boys hit the stage and start the night with a new called 'Worship' from the new album.  After a gentle start the main guts of the song kick in and the mosh pit begins to move.  I am in the front trying to get a few pics and surprisingly thus far I am not really tackled yet from behind, as there is no camera pit in the front.   Peter's vocals this night sound really strong from deep guttural death vocals to the more high pitched vocal parts.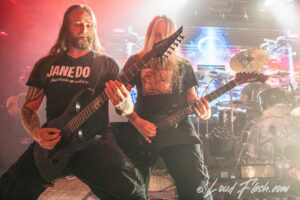 IF I can mention one thing that I wish was different this night was the sound volume in this smaller venue.  It was atrociously too loud, bordering on dangerous.  I had hearing protection in place after the first song as it was so loud, it was just muddy and distorted at times in the mix.   I have been to likely hundreds of gigs in my lifetime and this is certainly one of the loudest I have ever attended.  Metal sounds great loud but this loud was abit overwhelming.
On a more positive note, what was cool about this set of songs on this tour is that they play at least (1) song from each of their 13 albums.   They hit 3 from "Worship" with a total of 17 and roughly a hour and 15 minute set but you get a pretty good taste of the entire catalog which to me is brilliant.  Plus the band rolled through these songs with ease with no issues or lengthy in-between song banter. All in all, these guys totally ripped the place up with one skullcrushing song after another.  Checkout the new album "Worship" and don't forget your earplugs!