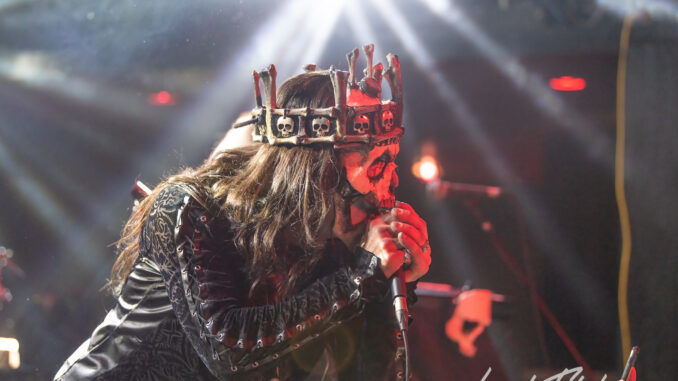 Do you have a favorite band or artist that comes to town and never fails to entertain you? One such band for me so far is Carach Angren from the Netherlands.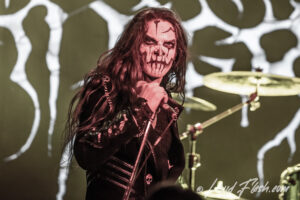 This evening (thanks to The Invisible Orange promotions), we are at the Red Room in Vancouver to watch them rip through some songs from their previous 6 albums. Their newest being 2020's "Franckensteina Strataemontanus".  What I love about these guys is the lyrical content, they focus on horror and folk stories for the most part.  They don't get overly gory or use a lot (if any if I recall) profanity in the lyrics either.   The great part is that the vocal phrasing is very coherent unlike the vocal shrieking that you hear from most Black Metal bands.
Carach are a symphonic black metal, with 4 members that being that of Dennis "Seregor" Droomers on vocals, Clemans "Ardek" Wijers on keyboards, Bastiaan Boh on guitar and Michiel van der Plicht on drums.   They are in full black metal costume and corpse paint for all performances which adds more to the aura of the genre.  I dig Bastiaan's look, as he looks like a maniacal butcher with that big leather apron.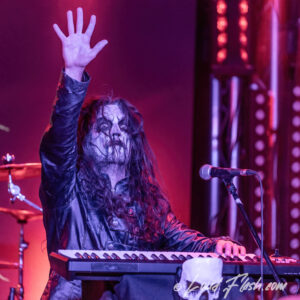 They start off with an old one with 'The Sighting is a Portent of Doom' from 2010's "Death Came Through a Phantom Ship".  Seregor's vocals cut through like a knife, just as pissed off as ever. It's kinda like he is a parent scolding the audience viciously, if I can describe his vocal style in that regard.  Keep in mind all their albums are very well produced and they make these songs translate rather well live too.   Another thing to note is that you will notice they don't hide their keyboard player either. Ardek is right at the front.  As he should be, as keyboards are used a lot in this band, particularly in place of a bassist
Song 3 we get 'Necromancer' From the Frankensteina' album.   Seregor is a madman pacing his 10 foot space on the small Red Room stage and coming back to face the audience with that angry demeanor.
They do 3 off the new Franckensteina album, in fact, with the others being 'Franckensteina Strataemontanus' and an more accessible one some might say 'Monster' with that hooky guitar riff. With 'Monster', Seregor adorns the skull mask and crown.   The Red Room has a good sound system (albeit it was a touch loud), it sure made them sound great tonight.
They do 8 songs in this set in total. Missing was one of my favorites 'When Crows Tick on Windows'. They didn't play anything from that album (of same name, in 2016) either.   But appreciate hearing older stuff too, so sacrifices happen. They end the set with 'Bloodstains on the Captain's Log'
I am really hoping these guys can level up to bigger stages some day.  I can certainly see some cool stage setups with the content that these songs have.   DON'T miss these guys live!