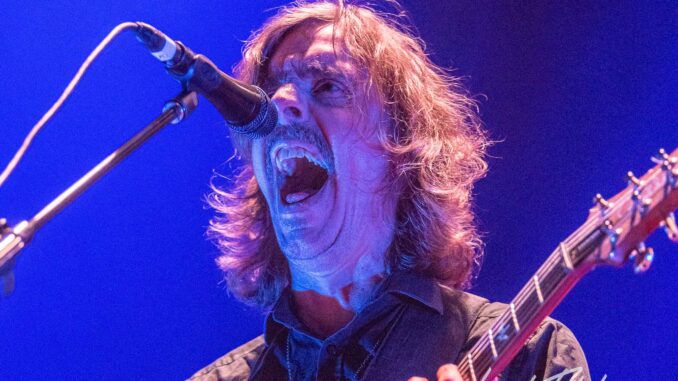 Over the years bands will change and evolve their sound and go through a maturing process.  Whether this is that they have just become better players, personnel changes, trends in music or financial gain?   It's a real gamble when you made a name for yourself in a particular genre and have decided that you have outgrown it and move on to something a little different.  Heck, we see it a lot when bands cut their hair and adjust their clothing style from album to album.  It can be a big risk, and can either alienate fans or grow a new fan base if have the talent to do so.
For example, this night we see a successful band that started in progressive death metal and have decided to go to clean vocals with a more progressive rock sound.  How do you appease your new fans without disappointing the old fan base?  It can create a schism that will need to be nurtured for years with hopeful acceptance to those changes.   Tonight Opeth (with support from Khemmis and Mastodon) are at the Doug Mitchell Thunderbird Arena in Vancouver and is one of these bands that have endured for over 12 years of evolving out of death metal.   I really admire this band that has the guts and talent to move in what some would say a radical direction.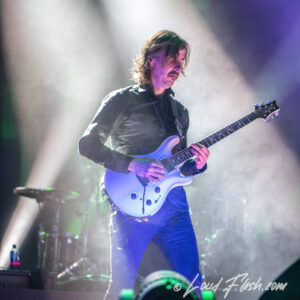 The main creative mastermind and centerpiece of the band is non other than Mikael Akerfeldt.  He is enormously talented with his vocal range and can play every instrument in the band if he wanted (other than drums I think). He handles the vocals and most if not all guitar leads while playing live.  Without him there is no Opeth.
The other members are Martin Mendez on bass (he's been around since 1997), Fredrik Akesson on guitar, Joakim Svalberg on keyboards, and Sami Karppinen who is their touring drummer.
They start the set with 'Hjärtat vet vad handen gör' (translated 'Heart in Hand') from the latest 2019 album called "In Cauda Venenum".  This song has a really catchy sliding riff at the start with clean vocals and lots of melody   To sing it in Swedish is quite an interesting start to the night, that forsure.
Fear not Death-metalers as song 2 is 'Ghost of Perdition' from the "Ghost Reveries" album from 2005.  The crowd perks up abit on this one and heads begin to bang and thrash.
One thing about Mikael that I adore is his between song comments.  Mostly hilarious as he teases the crowd saying that Sweden is the superior hockey power or others on Kiss and Sebastion Bach.  He doesn't follow the norm and pretty much portrays himself as just a normal personable gent rather than some fierce black metal alien.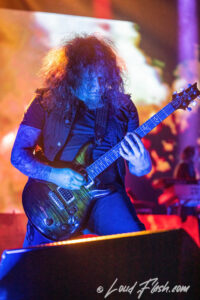 The stage setup is pretty typical for a big arena show with some nice lighting and a large screen behind them to provide some graphical ambiance to each song .  The sound is gorgeous.
So for this gig, we see taste test mix of Opeth 1.0 and Opeth 2.0 with this 8 song package.  That might not sound like a lot of songs, but most can go within a 8 to 15 minute timespan.  With 5 songs, with clean vocals mostly 1 from each of the last 4 albums like Cusp of Eternity, The Devil's Orchard and my personal favorite of the night 'Sorceress'.   They also appeased the hardcore fans with 'Drapery Falls', 'In My Time of Need' and the show ender with 'Deliverance'.  No we don't get 'Demon of the Fall' this time around, and I think over the next 4-5 years the older catalog will be slowly phased out.  But lets face it.  Mikael is in this for the long term and singing guttural death vocals is hard enough as it is. Get used to it!  I cant see him doing growly vocals for much longer but he has a lot of other talent in that voice of his, as well as instrumental-wise to take Opeth for many years ahead.
Check them out for yourselves and don't miss them on tour!  They never disappoint no matter what genre of music you are into.